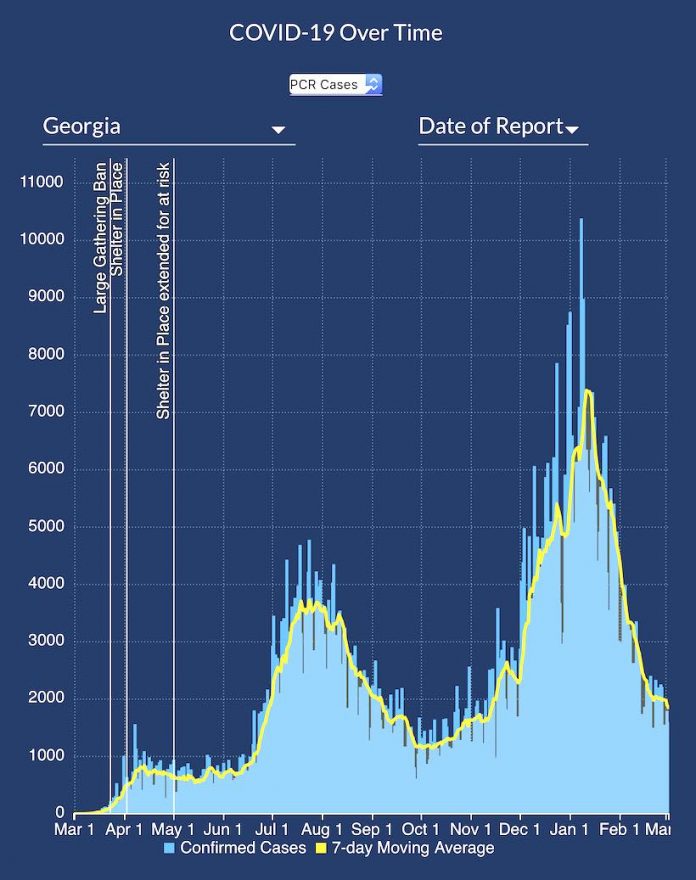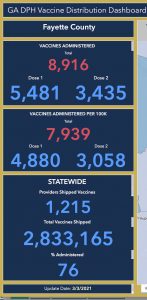 Three days of Covid-19 reports show additions of 3,276 new cases reported in Georgia on Monday, Tuesday and Wednesday to total 823,008, according to the March 3 report from the Georgia Department of Public Health.
In Fayette County, three days of reports showed 38 new cases, as well as a 2-week total of 408 new cases. That produced a 2-week confirmed infection rate of 7.5%, the lowest measure of that statistic since Nov. 30.
The county death total has remained at 129 for 7 days, but no such steadiness is seen at the state level. Across Georgia, deaths have risen by 201 victims since the beginning of March. The state total is 15,349 fatalities as of March 3, according to DPH data.
Locally, Covid claimed 26 victims since Feb. 1, and 68 fatalities since Dec. 1. The overall Covid death rate in Fayette for the past year stands at 2.09% of all confirmed cases. In addition the state estimated another 14 "probable" Covid fatalities — deaths that were first attributed to other causes, but that accompanied likely coronavirus involvement.
Virus experts point to a 5% infection rate sustained for a full 14 days in a row as being an official marker that the "pandemic" part of the Covid invasion has been brought under control. At 7.5%, Fayette after a full year of battling the infection is moving in the right direction.
Below are graphs of the 7-day moving total for Fayette County, the number of Covid patients in hospitals across the state and the number of intensive care hospital beds in use as of March 3.