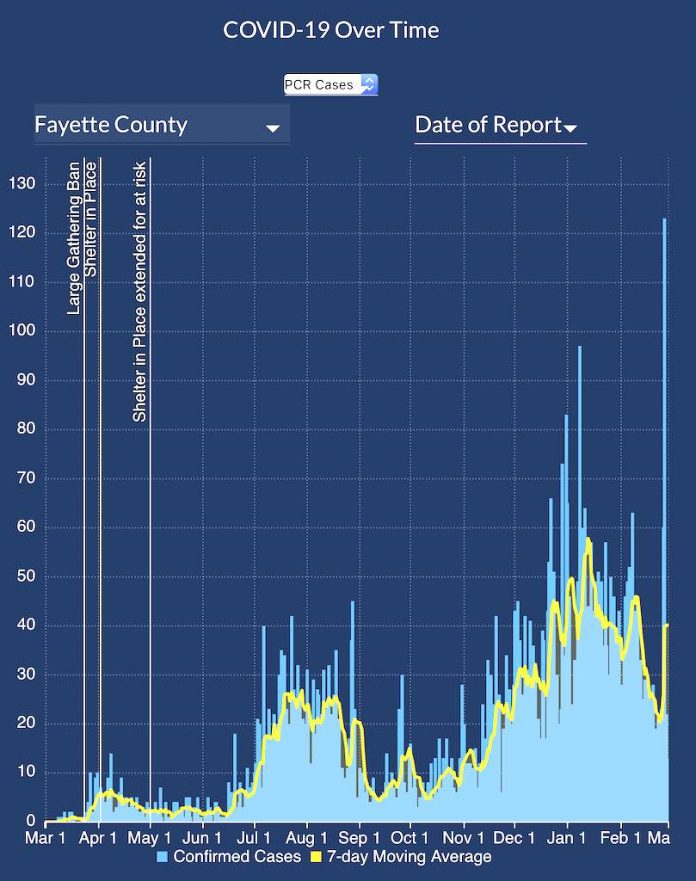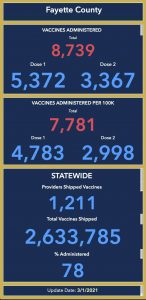 The big jump in supposed daily Covid cases Feb. 26 and 27 was actually the result of a data dump — labs reporting cases left over from December and January, with only a little over a dozen cases having occurred in February.
Nevertheless, the dump spiked the daily Fayette reports for Friday with 62 and Saturday with 123, which seemed to be a new 1-day record for the county. The Saturday dump actually contained 42 cases left over from December, 68 left over from January and 13 from February. So that's how many actual cases were reported, but it wasn't an accurate picture of how many people had received confirmed diagnoses in the past 24 hours.
Since these all were confirmed Covid cases that had not been reported previously, they had to be counted somewhere, and the daily report was where they entered the database of the Georgia Department of Public Health.
Prior to those dumps, daily cases had been running in the 20s and low 30s for Fayette for several days. After the dump, the daily case numbers have returned to a much lower level: 22 new cases on Feb. 28 and 13 new cases on March 1, according to DPH data.
So, Friday and Saturday numbers — despite causing a spike in daily numbers and reflected as a sudden uptick on the chart for Fayette's 7-day moving average  (see graph above) — were an artificial surge, an inflation of daily numbers caused by a deviation from expected reporting practices.
What did not happen was a sudden wave of new people showing up and testing positive. Instead that process happened over more than a 2-month period.
Back to statistically accurate numbers: Fayette's 2-week positive test rate has fallen dramatically since last week. The 2-week rate before the Friday and Saturday dump was at 9%. After the dump, the rate has fallen to 7.9% on Sunday and to 7.6% on Monday.
Here are the Monday numbers: 13 new cases March 1 with a pandemic total of 6,156 cases. Fayette has recorded 129 Covid-confirmed fatalities with another 13 deaths listed as "probable" for being Covid-caused.
Statewide, daily case numbers fell to 1,543 on Sunday and to 1,214 on Monday, bringing the state total to 819,730 cases. The state added 80 new deaths to bring the Georgia toll to 15,148, a death rate of 1.85% on all confirmed cases.
Meanwhile, vaccinations administered in Fayette County during the past few days rose from just under 8,000 on Feb. 25 to 8,739 on March 1, according to DPH. About 61% are first doses and 39% are second doses.
The shots went to people from multiple Georgia counties, not just Fayette residents.
To make an appointment for a Covid shot at the vaccination site (175 Johnson Ave. in Fayetteville, and administered by the Fayette County and Fayetteville fire departments) call the District 4 Public Health's vaccine scheduling line — 762-888-8180.
Beginning March 8, schedule your appointment online at https://dph.georgia.gov/Covid-vaccine.