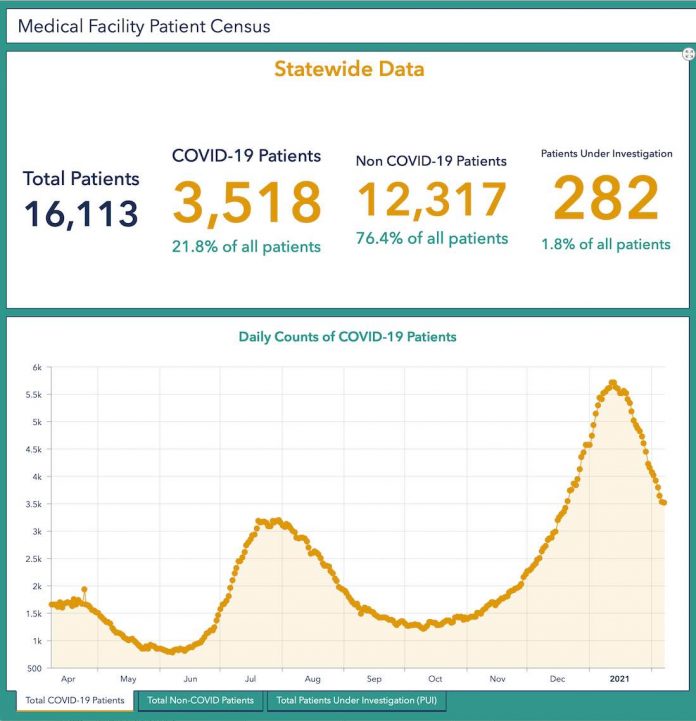 The state-reported numbers Feb. 7 indicate a continuing downtrend in both new Covid-19 cases and in the severity of the newer cases, as depicted by the numbers of Covid patients occupying hospital beds across Georgia.
Nearly 2,200 fewer patients occupy hospital beds than just 4 weeks ago, according to statistics published by the state Department of Public Health.
In the chart above, as of Feb. 7, hospitals are reporting 3,518 Covid patients being treated for serious cases of the coronavirus infections (21.8% of all persons in hospital beds for all causes).
That compares to the peak number of hospitalized Covid sufferers on Jan. 13, which tallied 5,717 patients in medical facilities around the state (33.7% of the total of all patients). That's a decline of 2,199 hospitalized Covid patients in the month since the pandemic peak.
Fayette County has recorded a total of 205 Covid patients requiring hospitalization since last March, 1 more than the previous day.
Locally, 48 new cases were reported to bring the Fayette total to 5,429. During that 11-month period, 108 local residents succumbed to the disease. The county has 531 new cases in the past 14 days, a 2-week infection rate of 9.2%.
Statewide 3,153 new cases were reported Feb. 7, bringing the state total to 772,978. The pandemic death toll statewide has been 13,326.