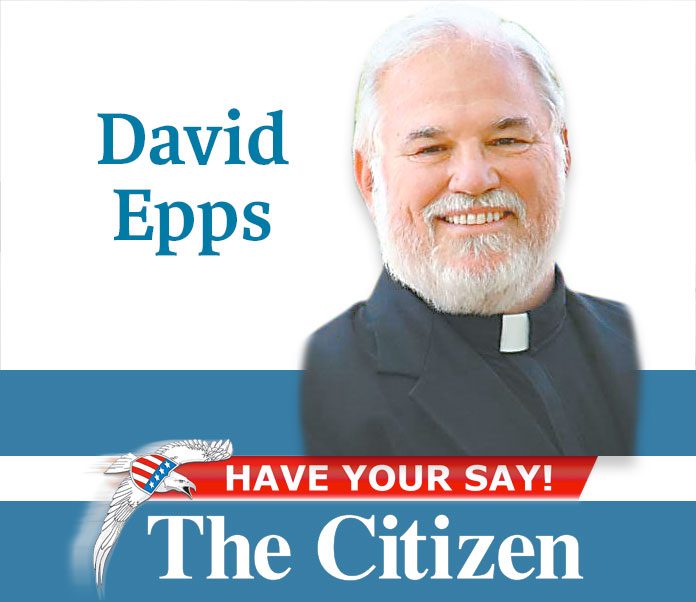 A few months ago, our grandson, Tristan, ended his enlistment with the U.S. Marine Corps and returned home safely. We are thankful.
In just over a month, another grandson, Isaac, will come to the close of his active duty with the Marine Corps and will return home safe and sound. We are grateful.
Another grandson, Sam, has gotten married to Rebecca this year and they are expecting their first child, a boy. It will be our first great-grandson. We are, yet again, grateful.
In fact, there are many things for which we are grateful this year, regardless of the turmoil in the country and the uncertainty of the days ahead. As we approach Thanksgiving, we are grateful. I really do not know which is the stronger word: "thankful" or "grateful." Whichever it is, that's what we are.
Of all the sins committed by the Israelites during their 40 years of wandering in the wilderness, perhaps the sins that grieved God the most were murmuring and complaining. It seemed that the people would always complain about something, about some need or lack. So God would meet their needs. Then they complained about that too. God was not happy with their ingratitude.
I remember growing up that my mother would slave over a hot stove cooking a bountiful dinner every night. No microwave, no instant dishes. If I complained about what was served, I was strongly "invited" to leave the table and do without. My dad, who also worked very hard, had little sympathy for gripers, complainers, and whiners. In that, I think he had something in common with God.
I do not know why humanity seems hard-wired to see the negative ( although I think it's part of our fallen nature) but I believe that most do. It is the positive person, the optimist, that is in short supply these days. Self-help folks like Norman Vincent Peale, Robert Schuller, Zig Zigler, and others, built entire careers on teaching people to turn from negativity to thinking positively about life and life's circumstances. Schuller advocated cultivating an "attitude of gratitude."
Certainly, there are unpleasant realities in the world in which we exist. But it is not so much the realities themselves that determine our course in life but out attitudes about them and our response to them.
A number of years ago, I needed to get rid of a refrigerator that finally died. I do not own a truck and I hate to borrow vehicles so I found an ad that informed me that I could pay $50 to have the dead fridge removed.
When the man came to pick up my unwanted appliance, we struck up a conversation. He and his wife were from Knoxville, Tenn., and, after high school graduation, moved to the Atlanta area to work in a cookie factory. Both had worked there for years and then the factory closed, throwing them both out of work at the same time. They considered options, including moving back to Tennessee to live with the wife's parents. In their 40s, they were reluctant to follow that path.
The man told me that he assessed what he had left. He had only a high school education, no other skills, and finally concluded that what he had left was a pick-up truck, a strong back, and a willingness to work. In the midst of searching for a job a friend called and offered him a few dollars to haul an old appliance to the dump. He did and an idea emerged. The idea morphed into a plan and then into a business. He and his wife began a salvage company.
By the time we met, he was making more money than did the both of them at the factory. In fact, he had branched out and did a number of things in his company. He admitted that there had been the temptation to lament his misfortune and give up. But he knew where that would take him.
He shared that he was grateful that he lived in a nation where a man with a truck and an idea could build a business and have a good life. "Only in America," he said. His "attitude of gratitude" was infectious and I have never forgotten him although that incident must have occurred nearly 30 years ago.
Psalm 118:1 says, "Give thanks to the LORD, for He is good; For His lovingkindness is everlasting" (NASB). That's always a good place to start.
So, on Thanksgiving, I will gather with as many members of my family as possible. I will be thankful for each one of them, including the ones who are absent. I will be grateful that I live in a nation that, so far at least, promotes freedom and acknowledges the ability to choose and I will be thankful that, for all of my life, God has been faithful even when I was not.
It is, after all, the "giving of thanks," that is the point of the holiday. Not the food or the football games.
[David Epps is the Rector of the Cathedral of Christ the King (www.ctk.life). During the crisis, the church is live streaming at 10:00 a.m. on Sundays at http://www.facebook.com/cctksharpsburg/ He is the bishop of the Diocese of the Mid-South He may contacted at davidepps@ctk.life.]