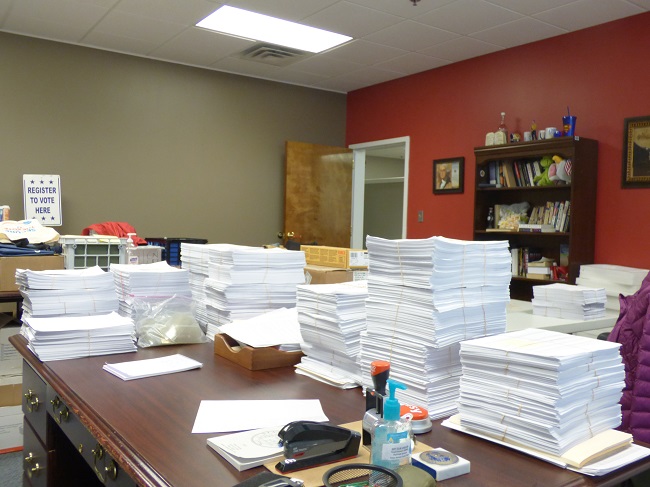 Fayette County has 92,354 active voters, and as of 2 p.m. on Oct. 31, 59,549 of those had cast a vote for candidates and questions in the Nov. 3 general election. That translates into a 64 percent voter turn-out before the regular voting precincts open Tuesday morning at 7 a.m.
That's nearly as many voters as those who cast ballots in 2016, the most recent presidential election.
Providing a breakdown of the voting prior to Tuesday where 64 percent of active voters had cast a ballot, Fayette County Director of Elections and Voter Registration Floyd Jones said:
• 43,064 voted in-person
• 16,236 voted by mail
• 249 voted electronically, as with military overseas
That brings the total, by 2 p.m. on Oct. 31, to 59,549 ballots cast.
That leaves 32,805 Fayette voters who have not voted or whose mail-in ballots have yet to be received.
Early voting is closed, but the Elections Office continues to receive mail-in absentee ballots.
Looking at the numbers from 2016, Jones reported that Fayette had 73,831 registered voters, of which 61,766 cast a ballot, equating to a voter turnout of 83.66 percent.
A deeper look at the 2016 numbers showed 19,038 ballots (25.79 percent) cast on election day, along with 39,709 people (53.78 percent) voting early in-person, 2,996 (4 percent) voting by mail and 23 voting with a provisional ballot.
Given the turnout this year, it is reasonable to conclude that this year's turnout could eclipse that in 2016.
In the ensuing four years since the 2016 election, the county has seen its registered voter numbers increase by 18,574, a stunning 25 percent expansion of the voter rolls in Fayette, according to figures from the Secretary of State and the Fayette County Elections Office.