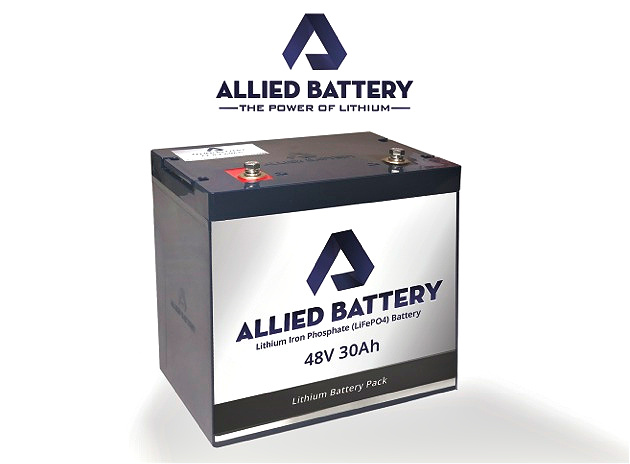 SPONSORED FEATURE
Atlanta, GA: Allied Lithium Battery, the leading brand in golf car lithium batteries announced their 48 volt, 30AH battery that is ready to be installed into any E-Z-GO, Club Car, Yamaha, Star, Icon, or Polaris model golf cart. This new battery, designed by their engineering team at their headquarters in St. Louis, MO, is designed to be wired in parallel so the batteries voltage stays the same at 48 volts, but the amp hours (AH) are multiplied for every battery added. This versatile solution allows drivers to connect 2, 48 volt 30 amp hour (60AH) batteries all the way up to 6, 48 volt 30AH (180AH) batteries to convert your golf cart from lead acid to lithium.
After years of dealing with watering and taking care of acid leaking lead acid batteries, Allied Lithium Southeast Regional Sales Manager, Brett Clayton, says lithium is the best solution for anyone with a personal golf cart.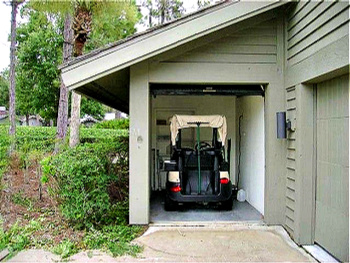 "For me, it's about the reliability and performance. Our engineers have many years of experience in lithium technology. They work daily testing them in all the popular golf car makes and models to assure the end-user gets peak performance from the batteries. Each battery is less than half the weight of a traditional lead acid battery so you only need 2, 3, or 4 batteries compared to 6 or 8 lead acids. Total weight of the vehicle drops from nearly 400 lbs. to roughly 100 lbs. depending on the number of batteries you want or need. The engineers designed them to be customizable for the customer and for how long of a charge they want, or how fast they want to go. All while taking off that unnecessary weight that just puts more wear and tear on the golf cart."
Features and benefits of Allied Lithium Batteries include:
6 safety certifications (only lithium battery approved to ship FedEx)
Each battery is roughly 30 lbs. compared to 70+ lb lead acid
60AH have been tested by our engineers to reach 35-40 miles per charge (upgraded motor and controller will need more batteries to reach same mileage)
No maintenance means no corrosion, no watering, no acid leaking onto the driveway/garage floor
3,500+ lifetime cycles, compared to 500-750 lifetime cycles with lead-acid
3-5 hour full charge
8-year warranty
Free shipping FedEx ground direct from the Allied Lithium warehouse in St. Louis
12, 36, 48, and 72-volt options for golf cart, marine, RV, and solar needs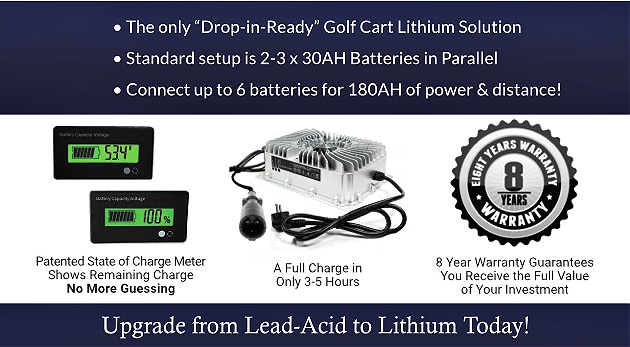 About Allied Lithium Battery: Allied Lithium Battery is a manufacturer of lithium batteries for golf carts, boats, RV's, and solar plants and based out of St. Louis, MO. Allied Battery LLC is a wholly-owned subsidiary of Fabritec Industries, Inc. and has been in operation since 1994 and has customers throughout the U.S., Canada, Europe and Australia.
What customers are saying:
"Very happy with the batteries. Doing everything as advertised so far. Much lighter, maintenance-free, recharge quickly, no messy acid, higher voltage making the cart 10-15% faster. Now if they just last 15 years and I am alive to verify that and I will be happy." – David G.
"So far it has been an amazing experience with Allied lithium batteries, it was easy to install and I can't believe that I took 300 pounds off my golf cart. It runs amazing and so far, I'm super happy!!" – Eduardo G.
These batteries are available today for $905 per battery + $295 required charger. Shipping is always free, price includes sales tax. For more information on Allied Lithium Battery, visit www.alliedlithium.com. Call 770-280-9977 or email SE@alliedlithium.com