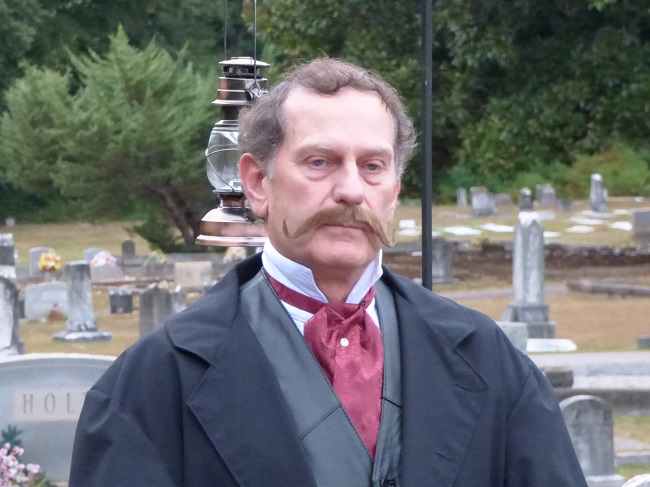 Fall is here, and with it comes the annual Cemetery Spirit Walk at the Fayetteville Cemetery on Oct. 16 and 17, sponsored the Holliday-Dorsey-Fife Museum.
Now in its 13th year, the Cemetery Spirit Walk provides a unique experience for visitors to meet the early citizens of Fayette County and learn something about their lives.
The annual event will be held on Friday, Oct. 16 and Saturday, Oct. 17 from 6:30-9 p.m. at the Historic Fayette Cemetery on Stonewall Avenue, just west of downtown. The tour, along with parking, will begin at Regions Bank, located on Tiger Trail across from the cemetery.
Costumed spirit guides will lead small groups through the cemetery to meet 12 Fayette County citizens who will share their stories. The tour lasts about an hour. Due to Covid, masks are required.
Guests can enjoy live music while they wait for their tour to begin or after its completion. After the event, ticket stubs double as free passes to the Holliday-Dorsey-Fife Museum until Oct. 31 to see the special Mourning exhibit.
Tickets are $7 for adults and $3 for kids under age 12, and are on sale at the Holliday-Dorsey-Fife Museum from Tuesday to Saturday from 10 a.m. to 3 p.m. Tickets will also be available on tour evenings in the Regions Bank parking lot from 6 p.m. to 8:30 p.m. Tour tickets are sold in half-hour segments (for example, 7 to 7:30 p.m.) starting at 6:30 p.m.
This year the proceeds from the tour will be used to restore the cemetery.
The Holliday Dorsey Fife Museum is located off the Fayetteville square at 140 West Lanier Avenue. Normal operating hours are Tuesday through Saturday, 10 a.m. to 3 p.m.