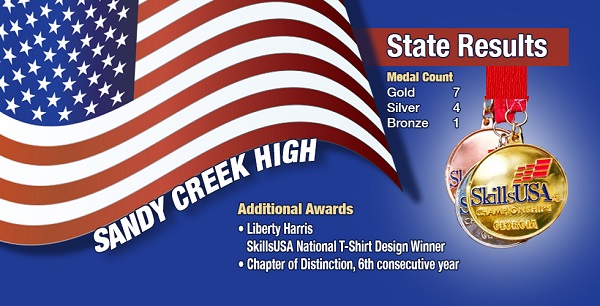 Twelve Sandy Creek High School students recently earned medals in their events at the SkillsUSA Georgia State Leadership and Skills Conference. The medal count includes seven gold medals, four silver medals, and one bronze medal.
School system spokesperson Melinda Berry-Dreisbach said the gold medal winners include:
– Ben Dykes, Customer Service;
– Micah Teasley, Extemporaneous Speaking;
– Noah Bridgeman, Information Technology Systems;
– Liberty Harris, SkillsUSA Georgia Pin Design; and
– Liberty Harris, Kayla Brooks and Endia Jenkins, Promotional Bulletin Board.
Students who earned silver medals were:
– Arianna Simpson, Advertising Design;
– Daphne Bryant, Applied Communications (11th/12th);
– Miguel Campos, Pin Design; and
– Abby Paver, Related Technical Math.
Endia Jenkins also brought home a bronze medal in Promotional Graphics.
Additionally, Liberty Harris won the SkillsUSA National T-Shirt Design Challenge, and was recognized during a national streaming ceremony in June.
For the sixth consecutive year, the Sandy Creek High SkillsUSA chapter was named a Georgia SkillsUSA Gold Chapters of Distinction, said Berry-Dreisbach.
SkillsUSA is a national nonprofit partnership of students, teachers and industry working together to ensure America has a skilled workforce.
SkillsUSA helps high school and college students enrolled in career and technical education programs to excel by teaching employability skills such as communication, problem solving and leadership in conjunction with their trade, technical and service occupation skills.