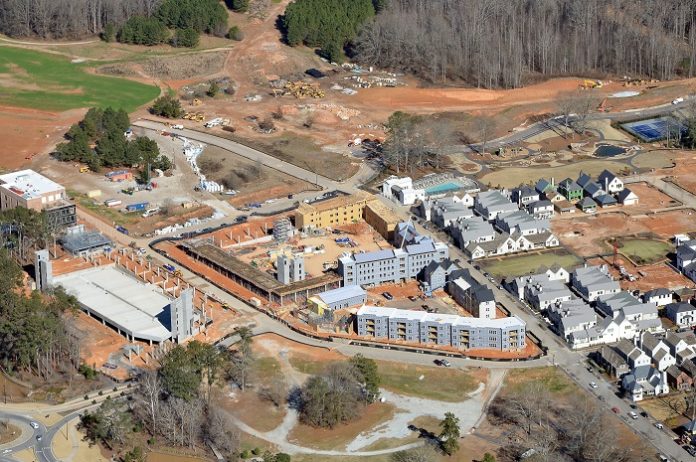 The mixed-use Pinewood Forest development in Fayetteville recently announced the next residential phase that will include 181 homes, ranging from the mid-$200,000s to $3 million. Phase II construction will be completed over the next three years.
The second of a three-phased development will consist of 181 new residences, including single-family, canopy, micro and custom homes. Similar to all Pinewood residences, the new homes will be within walking distance to the community's Town Center and across Veterans Parkway from Pinewood Atlanta Studios.
"We are excited to continue the intentional growth of Pinewood Forest," said Rob Parker, president of Pinewood Forest. "Just like the rest of our community, these homes are intended to provide a simpler way of living for our residents, so they have more time to enjoy experiences and build relationships."
The first step of Phase II construction will include 22 single-family village homes located along High Street at the south end of the community. Available in five floor plans, ranging from 2-4 bedrooms and 1,200 to 2,600 sq. ft., the homes will be priced from the mid-$500,000s.
Intentionally designed by award-winning town planner, Lew Oliver, Pinewood Forest is intended to evoke the warm feel of a European village. The High Street homes will be nestled in the Black Forest portion of the community, which consists of exterior colors inspired by nature as well as modern and Nordic architectural influences, according to a Pinewood Forest press release.
Black Forest will also house the new urbanist community's third micro village. The 535 sq. ft. micro homes designed by Jefferson Browne and Brett Baker will be priced from the mid $200,000s.
Construction also slated for Phase II includes treetop canopy homes near the nature preserve, located in the rear of the community. Designed by architect Kenny Craft, homes will be approximately 1,200 sq. ft. and include three bedrooms and two bathrooms. Offered for pre-sale only, the houses will start in the high $400,000s.
Another addition in Phase II is The Enclave, a collection of 10 gated custom homes overlooking Central Park and the nature preserve. Designed by architect Keith Summerour, homes will incorporate unique architecture designed to create tranquility of place. Gardens and rooftop terraces will enhance views from the homes, which will be priced from the high $1 million range to $3 million, according to Pinewood Forest.
Pinewood Forest said Phase II construction will be completed over the next three years.