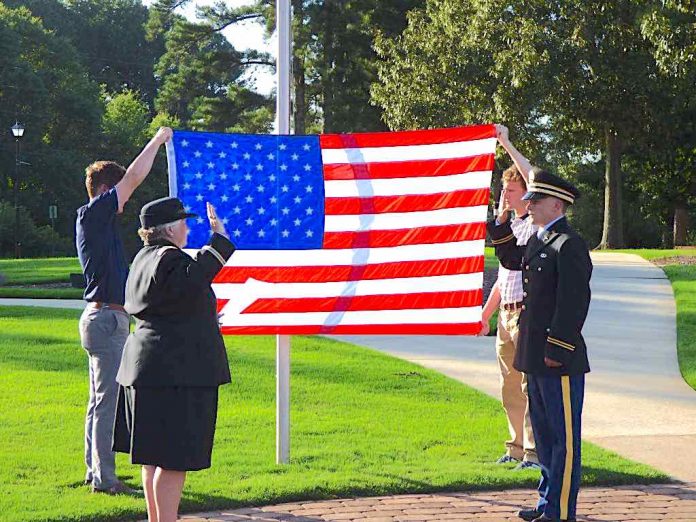 Nearly 100 people assembled at Shamrock Park in the late evening hours of July 10 to witness Tyrone resident Connor Dial sworn-in as a 2nd Lieutenant by Gold Star Parent and Lt. Col. Sharon Collins (Ret.)
Connor was "virtually" commissioned as a 2nd Lieutenant in May after graduating from Furman University, but family and friends thought it would be fitting to have another ceremony in Connor's hometown.
The administration of the oath, with family and friends looking on and brothers Langdon and Lawson holding the flag, was performed by Gold Star Parent Sharon Collins, mother of Robert Collins, a Sandy Creek High School and West Point graduate who was killed in action on April 7, 2010.
Connor received the Robert Collins Scholarship as a senior at SCHS.
After the ceremony, Connor cited the many people who supported him over the years.
"I'm most proud that all of you are my community," he said. "I'm so thankful that God has given me this support group."
Minutes earlier, Collins said she first met Connor when he was selected as the 2016 recipient of the 1st Lt. Robert Wilson Collins Patriot Spirit Scholarship.
Just prior to administering the oath of commissioned officers, Collins said, "I have followed Connor's college and Reserve Officer Training Corps experience while he was a Proud Paladin at Furman College. I am honored Connor asked me to be a part of this ceremony. We were supposed to commission Connor on May 8 in South Carolina. The Covid-19 pandemic caused us to 'pivot.'"
Collins said Connor demonstrates the traits that are essential to being leaders of character in the U.S. Army.
Shoulder boards were pinned by Connor's parents, Cheryl and Eric.
Connor's first salute was to local resident Command Sgt. Maj. Fred Hammond (Ret.)
Rev. Howard Dial offered a prayer to conclude the ceremony.