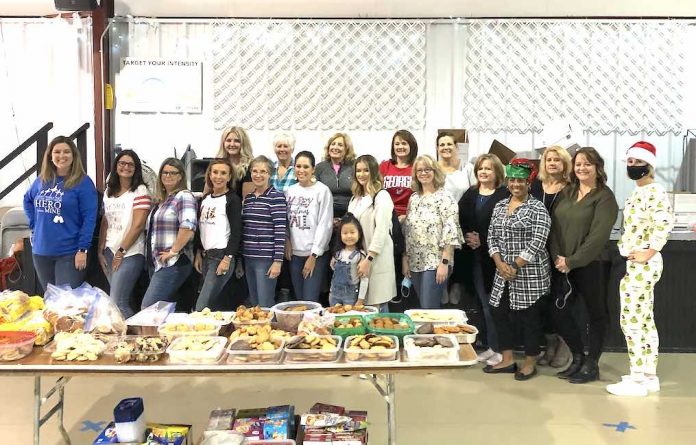 It was five years ago that Tyrone resident Theresa Clay had the idea of sending Christmas cookies and other homemade baked goods to troops overseas. This year, with the help of her now 19-member "elf crew," Clay shipped 93 boxes to the troops.
Clay has a son currently deployed with the U.S. Air Force, and a son-in-law in the U.S. Navy.
"I bake for my customers, so I thought the troops would enjoy homemade goodies," Clay said, reflecting on how the effort first began. "I have a passion for baking and I wanted to give some Christmas love."
Clay contacted her acquaintances with relatives in the military and asked if they would provide an overseas address to send the homemade delights. During the first year, 25 boxes were sent.
As word of Clay's effort spread, other local residents brought their own goodies to help with the effort.
As for the criteria, Clay said the baked goods have to be homemade.
These days, the effort has grown to become an "elf crew" of 19, with items such as cookies, candy, mini muffins and waffle sticks among the holiday gifts sent to troops.
"I've been overwhelmed by the support and help, here and from out of state," Clay said.
This year, Clay and her husband shipped 93 boxes, with the families of the troops providing the money to pay for shipping. Some of the families, many of whom are out of state, send Clay thank you notes and family photos.
Given the way the effort has grown, more space was needed this year for Clay and the 19 elves on her crew to package 93 boxes. That is where the Tyrone Recreation Department came in.
"The recreation department this year was very gracious to provide the space for us to package everything," Clay explained.
For Clay, there is an overarching goal in making the Christmas holiday special for troops overseas.
"I would like to bring the country together, especially the military families," she said.
There are many ways of looking at life and one's participation in it. One of those perspectives suggests that the only way to make a difference is to "be" the difference. For Theresa Clay and her elf crew, they are "being" the difference.
Those interested in learning more about Theresa's effort or lending a hand can contact her through Facebook Messenger or email her at clay.theresa93@gmail.com