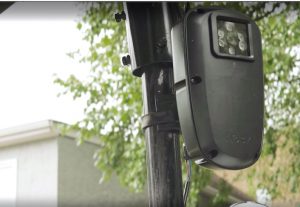 The Fayetteville City Council on June 18 unanimously approved the lease of 25 fixed-position license plate reader cameras to be installed at locations entering and exiting the city. The effort carries a $50,000 price tag, offsetting the more expensive cost of purchasing additional patrol unit cameras and the required data storage space.
Finance Director Mike Bush noted that in the past, the police department has purchased license plate readers to be placed on patrol cars. The major issue with this type of purchase is that the cameras only work when the officer is in his or her car working.
"We recently purchased two speed limit trailers that tell you your speed as you travel by the trailers. These cameras continue to work 24 hours a day when they are in place on the streets of Fayetteville," Bush said. "The police department would like to enter into an agreement to lease 25 cameras that will be fixed in place and operate 24 hours a day, 7 days a week."
The city currently has six patrol cars outfitted with cameras. The car-based cameras, of which the city needs more units, would come with a cost of $9,000 per camera, along with the cost to the city of storing data. The lease of the fixed-position cameras negates the need for additional cameras on patrol units, said City Manager Ray Gibson.
The solar-powered cameras supplied by Flock Group Inc. will be installed at 25 locations entering and leaving the city, and will operate continuously. On its website Flock Group says its cameras capture license plates, not faces.
Data obtained from the cameras can be accessed only by agencies certified by GCIC (Ga. Crime Information Center).
The project is scheduled to start Aug. 1. The police department negotiated a rate of $2,000 per camera and with 25 cameras, Bush said, adding that the $50,000 line item is included in the FY 2021 budget.
The contract is for one-year and will only carry over to the next year with written notice by the police department to the vendor.