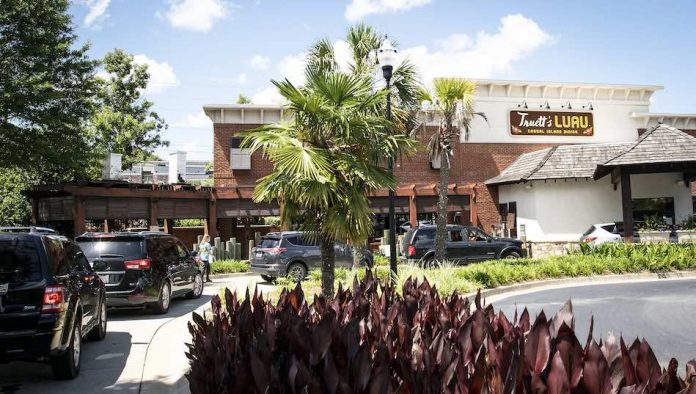 A mass of people earlier this week from outside Fayette County learned about something known to locals for the better part of a decade — the Truett's Luau restaurant at the Waterfall commercial center in Fayetteville.
TikTok influencer @jazzyinnis6 began what turned out to be the trek to Fayetteville by large numbers of people wanting to sample the menu at Truett's Luau, that comes with a unique Hawaiian flare and Polynesian décor throughout the restaurant.
Trying out some of the menu items led to a post that generated a flood of customers at the restaurant, including long lines of vehicles making their way to the drive-thru given that inside dining is temporarily closed due to Covid-19.
"If you live in Georgia, you definitely need to try this place out. It's so good," said a woman on social media, adding that she drove more than an hour so get to the location on Grady Avenue and Ga. Highway 54.
"We are thrilled at the overwhelming enthusiasm for Truett's Luau," said Brandon Bennett, Executive General Manager of Truett's Luau. "It's been our pleasure to meet and serve Chick-fil-A fans from all over the country who have come out to try the unique food and experience that Truett's Luau offers."
Conceived by Chick-fil-A founder Truett Cathy, the new restaurant opened to much fanfare in Fayetteville in 2013.
"At the age of 92, Truett wanted his last project to be a special restaurant with an environment focused on having fun and celebrating life with family and friends. For Truett, that brought to mind Hawaiian luaus," according to truettsluau.chick-fil-a.com. " From the start of the project, Truett knew exactly what he wanted on the Luau menu. As the recipes were developed, he tasted each one and provided feedback on how to make each dish just right. Truett's hands-on involvement made the Luau menu what it is today – a direct reflection of his taste for quality, great tasting food."
"Nearly every piece of décor used in the restaurant was handpicked by Truett himself. Throughout the planning and building process, Truett made frequent trips to the site to ensure everything was in line with his vision to 'bring Hawaii to Fayetteville,'" according to Chick-fil-A. "Beginning with Truett's notes and doodles on a 3×5 index card, this Restaurant has now become the largest in the Chick-fil-A portfolio at 8,000 square feet, providing guests with a one of a kind experience that combines the hospitality driven spirit of Chick-fil-A with the casual, family loving essence of Hawaii."