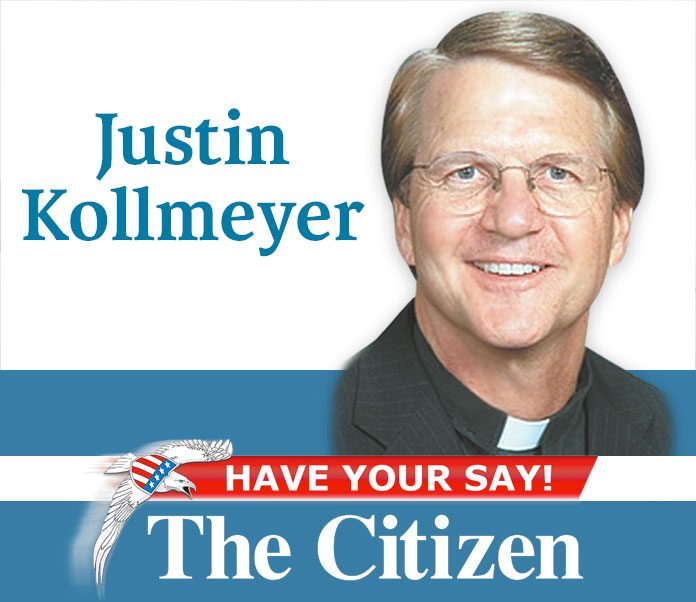 Since the beginning of the pandemic and sheltering in place, my lawn has been mowed and careful eyes have kept guard over my property and belongings. No, I'm not bragging on my homeowner skills, nor am I reporting things of little value in critical times such as these.
Let me go back to my article here in The Citizen on March 22. I related how my wife and I had gone to Michigan for a two-week trip to help out our daughter and family right after the birth of their fourth child, a beautiful granddaughter, I might add, to add a princess to three "ruff-n-rowdy" boys.
After only one week, however, the virus raged and quarantine shelter-in-place was ordered. As I wrote March 22, that changed everything. Well, as I also wrote and professed, it changed everything except the glorious everlasting Truth that Jesus was and is still Lord of our lives, and we're still at rest and peace in His Almighty Hands.
Aside from that everlasting Constant, yes, everything did change. One of my sisters-in-law has noted that when we left Fayetteville, we believed we had just embarked "on a three-hour tour."
For you non-Baby-Boomers, that's a reference to the zany TV sitcom of the 1960s, Gilligan's Island, in which an excursion boat trip, intended for three hours, turned into a shipwreck tale with crazy characters doing crazy things on a deserted island for three years, or some such time.
Anyway, that pretty well describes the general idea of our two-week trip to Michigan, because we sheltered-in-place here on March 13 and have been here ever since. My son-in-law, bless him for his loving and generous hospitality to his in-laws (sic!), looked at the calendar last night and announced that today, Friday, May 22, marks our seventieth (70th!) day at-home-together.
And let me say at this point that our staying here and sheltering-in-place here, with our three grandsons and new baby granddaughter has been one of the most marvelous experiences my wife and I could have ever imagined. Yes, of course, we miss our son and family in Atlanta, but chances are we couldn't have seen them all this time anyway, right?
So here we have been, giving what my daughter and son-in-law have declared valuable aid and assistance with the kids and work and chores of their most busy household. And at the same time, we have gotten to live and love the days of "a grandparent's dream."
By the way, the neighborhood here sits on a one-time golf course, so there's plenty of wide-open spaces with paths for running and playing and riding bikes and big-wheels. And also by the way, we've had two big snows yielding the great joy of Grandpa building two big snowmen with the boys out in the back yard. Pretty cool.
Now, back to the reality of leaving and locking our house for what we believed was a two-week absence from it, but instead we are still here in Michigan nearly three months later. In case you're interested, my son and family did come down to our house after those first couple of weeks and cleaned out the refrigerator and perishables. All good. But how were we to manage our yard in the spring days of fast-growing grass and have any confidence that "our house would still be there" when we get back.
So, enter my good neighbor Bob Dalton. Many of you might know him or recognize his name. I have not seen his official bio, but I know his life and his background have been outstanding. He graduated West Point and served our country for an entire career. Upon his retirement with great honors, he contracted back to the Army his vital services. Then, after that retirement, he sought a way to bring joy and goodness into people's lives, so he has delivered flowers to people's homes.
Bob also is a runner and an advocate for the sport of running. He has given his support to the high school track and cross country teams of Fayette County for many, many years.
Again, I don't know the exact particulars, but I know in his younger years he competed in the international world of racing marathons, even — I believe I have this right — making the U.S.A. Olympic Team, but for the Olympics the U.S. boycotted because of the Soviet Union's world aggression. He still competes, although I know he has suffered through a few runner's injuries over the past few years.
If you live anywhere near New Hope Road and New Hope Baptist Church, I bet you have seen him pounding the pavement. You can't miss him, a true runner's stature with blonde hair still flowing behind his rapid gait. Your only disadvantage for seeing him run is that his military training has him out for a run long before many of us are out of bed every morning.
And speaking of New Hope Church, he and his wife Theresa are active members there and have been for many years. He recently went on a mission trip to a part of the world where our Christian Faith is against the law. He went anyway. Their son David is a Georgia Tech grad and produces contemporary Christian music.
So, my good neighbor Bob … when I called him after the first week to be so bold as to ask him if he'd cut my grass "this week," he graciously responded, "Yes, I'd be glad to." Then it was another week and another week and another week. Of course, he said, "I'll just take care of it 'til you get back. And I'll look out for anything the house might need." What an additional blessing my good neighbor Bob has been for us while on our "three-hour tour."
Thank you, Bob. Bless you. And thank you to all of you "good neighbors" out there who have showed up over and over through these crazy times. You are Christ to us. Amen!
[Kollmeyer is Pastor Emeritus at Prince of Peace Lutheran Church in Fayetteville. Follow Pastor Scott Ness and find resources for your life at www.princeofpeacefayette.org.]