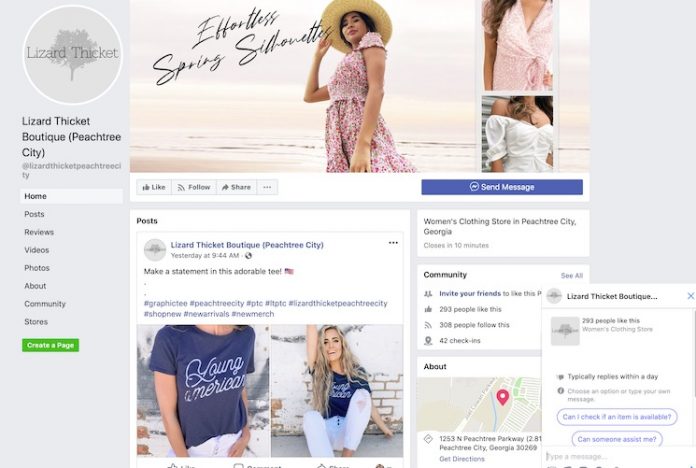 OPEN FOR BUSINESS!
Name of Your Business or Organization
Lizard Thicket Boutique
Describe your business, service, or product.
Women's clothing and accessories
What is the most important thing you want people to know about you, your company or organization?
Peachtree City has supported Lizard Thicket for decades. We have been a part of family pictures, graduations, weddings, holidays, and any special event in their lives. With their support, we have been able to provide dozens of jobs each year to people in our community. We recognize how these go hand in hand and we are so grateful to reopen our doors again!
Are you open or available for business?
Yes, 11 a.m. to 5 p.m., Monday through Saturday. Sunday 12-4.
What COVID-19 mitigation strategies are you employing?
We are following the CDC recommendations daily and are asking our guests to wear masks during the first few weeks of operation. Our employees will be wearing them as well!
What are a few things you can do to solve problems and improve the lives of your customers?
We are here to make moments meaningful and memorable. We believe in making each guest feel beautiful and boost self-esteem by finding the item that gives them confidence to tackle a chapter or event in their life!
If you sell products, tell us about them and list some of the most popular items you sell.
Women's Clothing such as tops, dresses, bottoms, denim, accessories and jewelry, and home decor!
What sets you apart from your competitors?
Not only customer service, but the overall customer experience.
What special offerings, seasonal or upcoming events would you like people to know about?
We have graduation dresses in stock for our class of 2020! Let's help them find the perfect piece and normalize the month that hasn't been quite the same for this class.
What do you love most about what you do?
We love watching our guests grow up and seeing the generations of shoppers. Some of our guests start shopping with their mom when they are four years old picking out a tiny bracelet. We have seen these same young girls go through school, graduate college, and start families of their own. It's a beautiful place where grandma, mom, and daughter can find something they love. That shopping local is the most important role to maintain a healthy community.
Address
Kedron Village, 1253 North Peachtree Parkway, Peachtree City, Ga.
Instagram or facebook. @lizardthicketpeachtreecity
770-487-7449
carly@shoplizardthicket.com
— Carly Isaacson