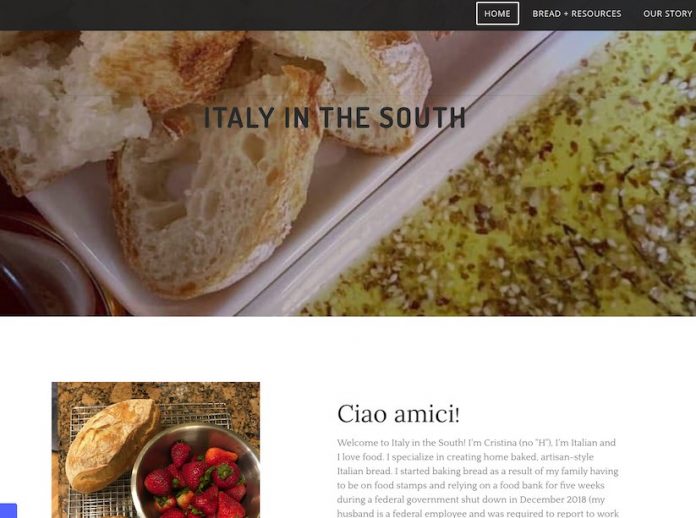 OPEN FOR BUSINESS!
Name of Your Business or Organization
Italy in the South
Describe your business, service, or product.
Home-baked artisan Italian bread and simple Italian cooking classes.
What is the most important thing you want people to know about you, your company or organization?
That I am a small business operating a micro bakery out of my home where I bake Italian bread and offer simple Italian cooking classes in your own home.
Are you open or available for business?
Yes, I am only taking pre- orders at this time. I plan to have a more regular schedule at the end of the summer.
What COVID-19 mitigation strategies are you employing?
I sanitize all equipment as per my regulations. I provide electronic payment options via cash app, Venmo or invoicing.
What are a few things you can do to solve problems and improve the lives of your customers?
I improve the lives of my customers by offering an excellent standard of customer service as I am the only point of contact they have instead of an unreachable CEO. If customers are not 100% satisfied they contact me directly and I solve their issue.
If you sell products, tell us about them and list some of the most popular items you sell.
I provide several types of Italian bread such as a rustic wheel, ciabatta and cinnamon raisin. I use non-GMO ingredients. I use organic ingredients as often as possible and use eco-friendly packaging.
What sets you apart from your competitors?
My bread has no preservatives, no chemical fillers or ingredients that you cannot pronounce. Each loaf is mixed, prepared and baked by me rather than by a factory machine. I offer excellent customer service and a direct line of communication. I take custom bread orders as well.
What special offerings, seasonal or upcoming events would you like people to know about?
I currently have a YouTube channel where I provide free videos regarding Italian cooking and bread making. I assisted in the creation of an on-line bread course which will be rolling out within the next few months. I also offer in-home cooking classes where I come to your own home and bring all the food.
Awards, Accolades, Certifications
I created my own YouTube channel and regularly send out a newsletter which has exclusive offers to email recipients only.
What do you love most about what you do?
The look on people's faces when they taste my bread.
Is there anything else you want us to convey to customers or the community?
Supporting local business, not just mine, is crucial to our trust with our community and to our success. Order some bread and please subscribe to my YouTube channel!
Address
I have no brick and mortar address as I bake out of my home; however, I have a free pick-up location in Peachtree City. Customers may contact me for details.
Contact information: website is https://italyinthesouth.weebly.com. Facebook is www.facebook.com/italyinthesouth. Email address is italyinthesouth@gmail.com. Phone number is 770-609- 4963.
— Cristina Stephenson, italyinthesouth@gmail.com