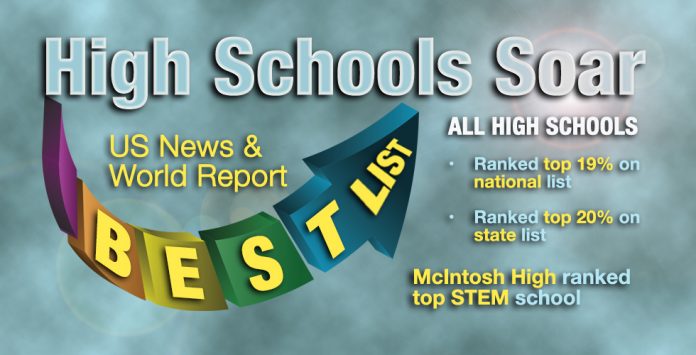 McIntosh High Ranked as a Top STEM School
U.S. News and World Report has ranked all five of Fayette County's high schools in the top 19 percent in the nation on its annual 2020 Best High Schools list. Schools must rank in the top 40 percent to make the list.
Out of the 17,792 schools that made the list across the nation, McIntosh High came in at 484 followed by Starr's Mill High at 762; Whitewater High, 1,758; Sandy Creek High, 3,086, and Fayette County High, 3,439.
 As for statewide rankings, all five high made the top 90 out of 455 Georgia high schools that made the list. The rankings are as follows: McIntosh High, 17; Starr's Mill High, 27; Whitewater High, 42; Sandy Creek, 71 and Fayette County High, 84.
McIntosh High has earned a national STEM (Science, Technology, Engineering, Math) ranking for the second consecutive year. Last year marked the first time the ranking was added for schools whose students excelled on Advanced Placement (AP) science and math tests. To be eligible, schools had to appear in the top 1,000 of the overall national rankings. A total of 250 high schools across the nation made the cut; McIntosh High came in at 108.
For the 2020 list, U.S. News ranked 17,792 public high schools out of a review of more than 23,000 in all 50 states and the District of Columbia. Schools are ranked on their performance on state-required tests, graduation rates, and how well they prepare students for college.