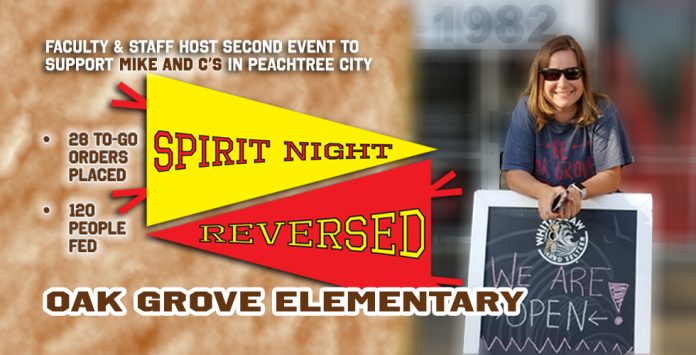 Business partners are important to a school's success, donating their resources and time to help students and staff succeed in their educational endeavors. Although business partnerships are a two-way street, a business typically gives more to schools than they receive. Now, in these unprecedented times, the tables have turned, and it is the schools that are stepping up to help those who support them.
In March, shortly after Georgia's state of emergency was issued, closing non-essential businesses and schools, and ordering everyone to shelter in place, the staff at Oak Grove Elementary started what they call a "Backwards Spirit Night" to help their restaurant partners. Restaurant partners often help schools raise money throughout the year by hosting spirit nights where a portion of the sales for a particular evening are donated to the school. So, now that it is the restaurant partners who are in need, the idea of "spirit night" has been reversed.
Although restaurants are an essential business allowed to operate under the closure, many still lost money since they cannot open their dining rooms, with only takeout or delivery allowed. Oak Grove's first spirit night was to help Carrabba's Italian Grill of Peachtree City. On March 26, over 30 staff members ordered takeout from the restaurant, leaving larger than normal tips for the cooks and wait staff.
The school's staff just supported another partner with their second "Backwards Spirit Night" on April 16, this time benefitting Mike and C's Family Sports Grill in Peachtree City. The staff placed 28 orders that fed 120 people. It was Mike and C's biggest night since the shutdown, and they were able to bring in two additional employees to help for the evening.
Mike and C's owner Dan Roberts sent a heartfelt email to the school the day after expressing his gratitude for the outpouring of support. In part, the email read, "I just wanted to take a moment to tell you all how much last night meant to us at Mike & C's. The amount of support you all showed us last night was overwhelming and it's hard to put into words how much it meant to us. I cannot thank you enough for thinking of us during this time. Please know that you are very much appreciated and all of us at Mike and C's felt the love last night from the wonderful Oak Grove family. Thank you Oak Grove! You gave us our biggest night in sales!"
Oak Grove's principal, Dr. Felecia Spicer, says that the school believes in true partnerships and that they are excited to give back to those partners who give so much to the school throughout the year.