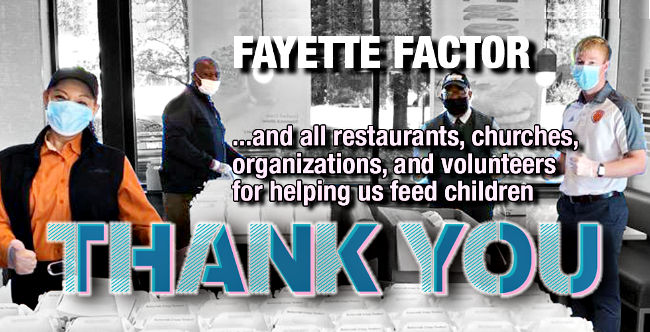 When the Fayette County Public School System had to suddenly shut down one of its food distribution sites for cleaning, several hundred children receiving free breakfast and lunch meals at four neighborhood sites were in jeopardy of not having food to eat the week following spring break.
That's when the school system's leaders turned to Fayette FACTOR for help, and in less than 36 hours later, the organization's executive director, Dawn Oparah, implemented a plan that engaged local restaurants, churches, a food bank, and volunteers to provide both food and monetary donations, as well help with distribution. By the end of the week, approximately 3,100 meals were served to children in need.
"One of my greatest pleasures of living and working in Fayette County is the responsiveness of our community when asked to help, serve and give," says Oparah. "I am honored that the school system asked Fayette FACTOR to fill in the gap when a need occurred. With the help of our awesome community, we were successful in responding to the need."
Among the many restaurants and organizations that stepped up to donate and distribute meals include McDonald's in Fayetteville, Highland Bakery and Kitchen in Peachtree City, Larry's Giant Subs in Fayetteville, Firehouse Subs in Fayetteville, Midwest Food Bank, Peachtree United Methodist Church, and Holy Trinity St. Vincent de Paul. Monetary donations from numerous individuals assisted with the purchase of food from local restaurants at a discounted rate.
Kokeeta Wilder, the school system's nutrition program director, says she is deeply grateful that Fayette FACTOR was able to step in to make sure children at the neighborhood sites had food for the week.
"I want to say thank you very much to Ms. Oparah for helping to support the children and our community. We greatly appreciate the partnership we have with Fayette FACTOR and our community-at-large," says Wilder.