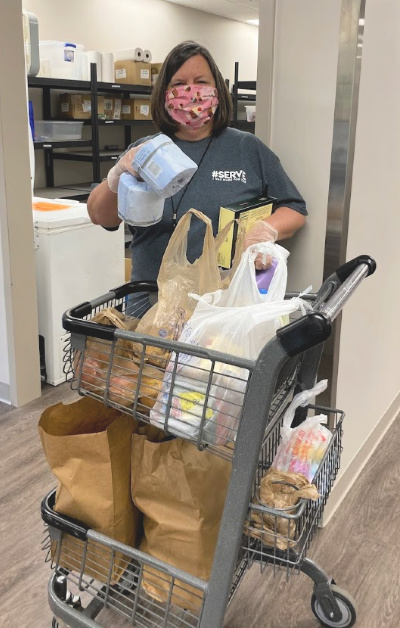 Right now it's hard to find toilet paper in the store. For many struggling families, it's not just the availability, but also the affordability.
That's why local company, IWS (Integrated Waste Solutions), which does commercial trash and recycling, as well as luxury restroom trailers to events and the film industry, decided to help out.
"We were looking for an opportunity to donate in these trying times. The Real Life Center has a motto that we like a lot, "Neighbor helping neighbor," said Sam Miller, Operations Manager.
IWS through their division MSS (Metro Studio Services) regularly orders bulk toilet paper for their luxury restroom trailers. Miller added, "We thought that was something that we could contribute."
IWS and their division MSS ordered and donated an entire pallet of bulk toilet tissue, 1416 jumbo rolls, to Real Life Center, a nonprofit serving struggling families.
According to Executive Director Cathy Berggren, Real Life Center provided a week's worth of groceries to 250 families last week. At the moment, they're not turning anyone away, and not requiring any applications to receive food. They are doing drive up service only—their recipients stay in the car and items are loaded in the car by socially distanced volunteers. Because it's been so hard to get, they've been rationing toilet paper to one roll per family per week. This donation will enable them to increase what they can give to each family.
"Many people don't know that when you get food stamps, you're not allowed to purchase the paper products with it. It's really just for the food. So that's why getting something like toilet paper is really important. It's a great way to meet a physical need, and again, just to remind someone that they're not walking this journey alone," said Berggren.
"If you are a family in need, please come to the Real Life Center. We're currently serving on Tuesday and Wednesday mornings between 9:00 and 12:00, and Thursday evenings between 5:00 and 7:00 PM."
"Often people ask how they can get involved. We would love to have your donations of food. You can give a cash donation. All of the necessary items that we're trying to purchase are on our website. You can also give directly on our website, it's reallifecenter.org," said Berggren.
"The reason we chose the Real Life Center is we know there are a lot of families out there that are struggling. We have the opportunity to donate, and we want to donate this. Hopefully, it'll make a difference," said Cem (Jim) Drake, President of IWS.
"Once again, we're just so grateful for IWS and this gift of toilet paper. What a great way to be a neighbor," said Berggren
The Real Life Center serves families who are struggling to make ends meet through a food pantry, financial support, an orchard and educational classes. In 2019 they distributed 616,258 pounds of food, and 9299 pounds of fresh produce. Their current hours for food distribution are Tuesday and Wednesday from 9 a.m. to 12 noon and Thursday evenings from 5-7 p.m. The Real Life Center is located at 975 Highwy 74N, Tyrone GA 30290. For more information call 770-631-9334 or visit www.reallifecenter.org.
Integrated Waste Solutions and their Metro Studio Services Division have offices in Atlanta, Fairburn and on the lot at Pinewood Atlanta Studios. For more information about Commercial Trash and Recycling with IWS, or Luxury Restroom Trailers with MSS, call IWS 678-854-8169 or visit iws-waste.com or metrostudioservices.com.