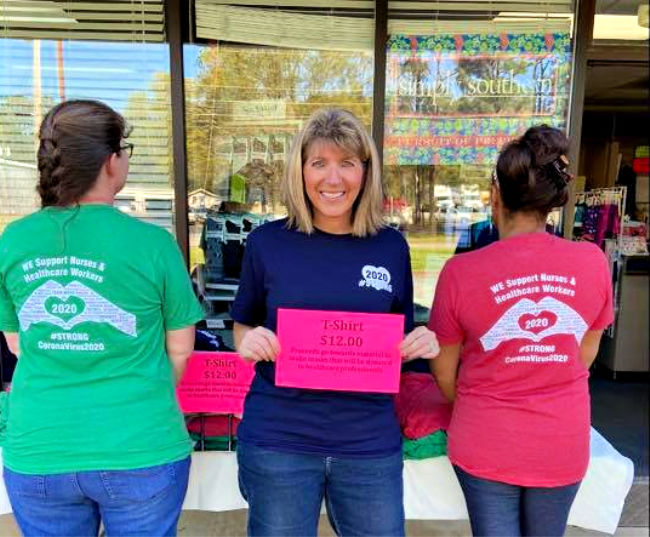 Uniforms for America, a small business in Peachtree City, is selling t-shirts to raise funds to make more homemade masks for healthcare workers.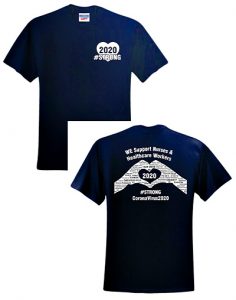 The business is working in partnership with Kim Julian, Peachtree City resident and founder of Sewing for Good Foundation, to sew masks for the healthcare workers. Since the start of this crisis, they have made and distributed more than 1,000 masks to local nurses, healthcare providers, first responders, police and fire departments, medical offices, cancer treatment centers (for the staff and patients), and essential personnel (mail delivery, etc.). The masks are designed to be work over N95 masks.
In addition, Uniforms for America has donated 125 bottles of hand sanitizer made at The Pharmacy place in Peachtree City, 125 packets of laundry additive to help prevent the spread of bacteria to uniforms, and 125 cell phone charges to Piedmont Fayette to give to patients to be able to call loved ones from the hospital when their phones lose charge.
To raise funds for these projects, they are selling "We Support the Nurses and Healthcare Workers" t-shirts to help pay for fabric, elastic and other items the nurses need to survive the virus. The employees of Uniforms for America are dedicated to serving healthcare workers through this time of need and encourage your support for healthcare workers as well.
For more information about how you can help, visit Sewing for Good Foundation's Facebook page (@sewingforgoodfoundation). Instructions on how to make masks, volunteer, or to alert them to a need may be found there.