Since the COVID-19 outbreak began, Piedmont Fayette Hospital has received a tremendous amount of support from individuals and organizations that expressed a desire to care for the staff that has cared for the community since 1997. The support has come in many forms, including donations of supplies, meals for staff, and prayer.
The uncertainty of how long the outbreak might last and how it might affect hospital supplies, particularly of personal protective equipment (PPE), has prompted groups and individuals to donate to the hospital. The Fayette County Board of Education helped coordinate donations of PPE from their healthcare classes and schools to the hospital. The Home Depot donated N95 masks and individuals from all corners of the community began sewing masks that could be used by patients in the emergency department and staff members in non-clinical settings. Another local business donated gallons of hand sanitizer to the hospital to use at screening stations and nursing stations throughout the facility.
More than 40 local businesses, real estate offices, physician practices, church groups, civic organizations, restaurants, and community members donated meals for departments. The Arthur Blank Foundation and Mercedes Benz Stadium food services donated boxed lunches for the entire hospital for several days, while the Rotary Club of Peachtree City, working with Georgia Shrimp Company, provided enough meals to cover the entire night shift one evening. Zaxby's Corporate provided 200 lunches and more organizations and individuals also donated meals for the staff.
Piedmont Fayette has also received some tremendous donations from Midwest Food Bank, which delivered boxes of snacks for the free day-care across the street for children of hospital employees and also donated hundreds of grocery items for staff members who might have trouble making it to the grocery store for staples. Boxes of bulk snacks, drinks, and more are being dropped off by local small businesses and large local industry partners on an almost daily basis. Recently, Adams Farm dropped off eight gallons of fresh-picked strawberries for the staff to enjoy. TCBY of Peachtree City brought a Random Act of Yogurt for the staff one afternoon and Card My Yard placed signs at the entrances of the hospital reading "Heroes Work Here" during the beginning weeks of the crisis.
The day-care center, located across the street from the hospital, opened after the initial announcement that local schools would be closed. The Piedmont Healthcare Foundation raised over $250,000 for the Daycare Support Fund. When it was announced that school would be out for the remainder of the school year, individuals from metro Atlanta began donating to help keep the childcare centers at Piedmont Atlanta, Fayette, Henry, Newnan, Newton, Rockdale, or Walton hospitals open.
"Our staff must continue to work for the safety of the community's health and we must do everything possible to make sure their children have an option to be cared for in a safe place," said Stephen Porter, CEO of Piedmont Fayette Hospital.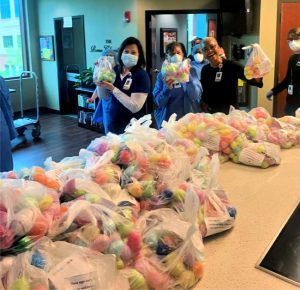 Lastly, the hospital was approached by many area churches who held drive-in prayer sessions. Community members stayed in their cars and flashed their lights to let patients and staff know that people were praying for them. Flat Creek Baptist Church donated 10,500 Easter eggs for staff needing to fill children's Easter baskets this Sunday. A local group also donated painted rocks with uplifting messages that have been placed in staff patio and break rooms.
"The outpouring of love and support from the community for Piedmont Fayette has been awesome in the truest sense of the word," said Porter. "It means a lot to have our staff and physicians recognized for the work they are doing. What a blessing to have the community care for the people who care for them in their time of need."
If you are interested in donating supplies or meals or snacks to Piedmont Fayette, please email pitchingin@piedmont.org. If you would like to support the Daycare Support Fund, or donate items to a particular childcare center at one of the hospitals, reach out to philanthropy@piedmont.org.