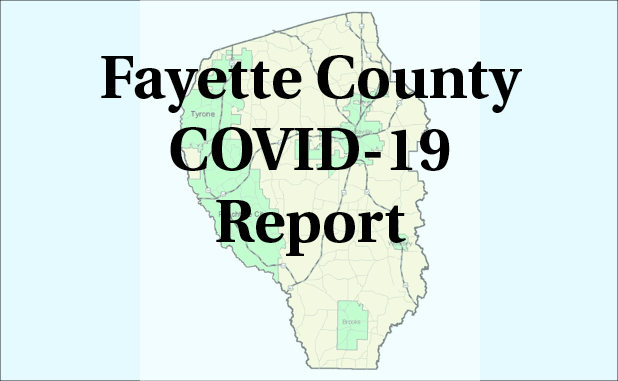 State fatality rate steady at slightly over 3% —
Both Fayette and Coweta counties have increased their numbers of total confirmed Covid-19 cases by two each: Fayette now has 14 confirmed cases of the coronavirus illness, while Coweta has 12, according to the March 26 noon report from the Georgia Department of Public Health.
Across the state, DPH is reporting 1,525 total confirmed cases. The total new cases over the previous day is 278, an increase of 22.2%.
As of March 26, 48 deaths have been recorded, a 20% increase over the March 25 report of 40 deaths.
The DPH reports that of the total cases, 473 are in hospital beds March 26 — 31% of the total. That's up 79 persons, a 20% increase.
The Georgia Emergency Management Agency (GEMA) is reporting as of March 25, 2 deaths from Covid-19 have occurred in Fayette, and 2 in Coweta. No other details are given.
The 48 deaths across the state caused by the coronavirus infection represented a fatality rate of 3.15% of the total number of cases reported. The rate as of the day before was 3.21%.
The median age of those dying from the Covid-19 illness in Georgia is 67, according to the Georgia Emergency Management Agency in its March 25 report. That statistic means that half the fatalities are above that age and half below.
The state's fatalities from the coronavirus illness range from age 33 at the low end and 99 at the high end, according to GEMA's report.
As of March 25, there were 23 male fatalities and 17 female deaths. Cases with pre-existing condition: 27 (12 unknown).
Today's reported cases by sex were 50% female and 46% male, with 4% unknown, the GPH report said.
Infection cases by age group were as follows: Ages 18 to 59 represented 59% of all cases; 35% of cases were in the 60 and over age group; 1% of young people under age 18 had contracted the illness; and the ages of 5% were unreported.
Numbers of confirmed tests in adjacent counties this geographic area are as follows: Fulton, 211; Clayton, 32; Henry, 25; Fayette, 14; Coweta, 12; and Spalding, 11.
Lab tests as of March 25: 7,280 commercial lab tests resulted in a positive confirmation of Covid-19 in 1,274 of the tests, a positive rate of 17.5%. DPH results from 1,646 tests showed a positive finding in 251 cases, just over 15%.
There are now four counties with more than 100 reported cases: Fulton, 211; Dougherty, 156; DeKalb, 129; and Cobb, 115.