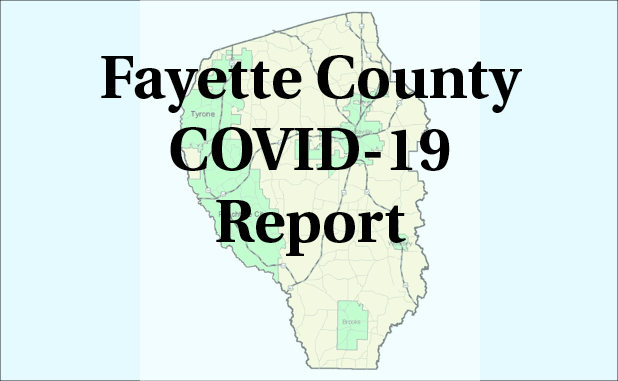 7 p.m. MARCH 20 UPDATE — With the Ga. Department of Public Health now updating its Covid-19 report twice daily, the 7 p.m. March 20 report shows Fayette County with 9 cases, but that represents one case added, one removed and one death — an 83-year-old man who died March 19.
Across the state, the total number of confirmed Covid-19 cases has reached 485 — an increase of 65 cases over the morning report — with 14 deaths recorded.
===========================================
The midday report:
In the March 20 noon report, the Ga. Department of Public Health reports Fayette County now has 10 confirmed cases of Covid-19, the respiratory disease caused by the novel coronavirus.
DPH also reports one death in Fayette attributable to the coronavirus, an 83-year-old male.
Statewide, the coronavirus infection has been confirmed in 420 cases, with 13 deaths.
The disease statistics as of March 20 shows an even distribution of cases: 49% male and 49% female, with 1% whose sex is not listed.
DPH reports 1,682 tests by commercial labs have resulted in 289 positives for the disease, and 704 tests through the state labs have produced 131 positives. A positive reading means that the individual has the disease.
A report from DPH and reported on AJC.com as of March 19 showed five females from Dougherty County in southwest Georgia have died as a result of the disease. Their ages were 42, 48, 67, 69 and 73.
Fulton County has recorded two deaths, both males, ages 58 and 62.
Counties now in double digits for confirmed cases are topped by Fulton with 79, followed by Cobb (45), Bartow (40), Dougherty (38), DeKalb (35), Gwinnett (20), Cherokee (13), and Fayette (10), DPH says.
Across Georgia, 42 other counties have reported from one to nine cases, while 24 cases have unknown home addresses.
Cases in adjacent counties are as follows: Fulton, 79; Clayton, 9; Henry, 6; Coweta, 5; and Spalding, 1.