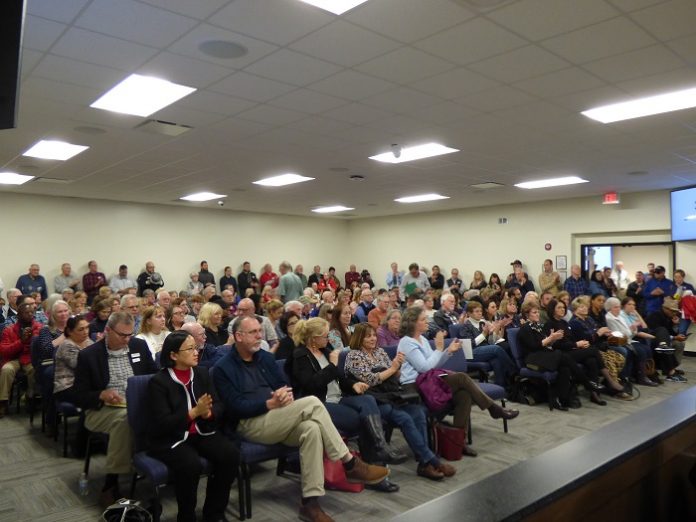 Parents slam new sex education courses; school board accused of failing to oversee flawed process; nearly 2 dozen speakers criticize school officials' choices — 
The Fayette County Board of Education at the Feb. 24 meeting got an earful from community members opposed to the proposed sex education curriculum that would take the place of the one used for years. Most of the 24 speakers in public comments opposed replacing that curriculum with one they said would bring aspects of sexuality they consider inappropriate into the classroom.
Meetings of the school board are often well-attended, at least at the beginning of the meetings where students and parents fill the room as children receive a variety of recognitions. Once that portion of the meeting is done, the room essentially empties, except for two to three dozen people, nearly all of whom are school system employees.
That was not the case on Feb. 24. After the 14 recognitions were complete, there were more than 200 people in the room and spilling over into the hallway. Based on the applause following the comments of the vast majority of the 24 speakers making public comments, it was clear that the audience supported those speakers questioning the proposed health curriculum that is causing controversy among some in the community.
The 13-member selection committee for the new Health and PE curriculum textbooks to be used in Fayette County public schools continues to meet, prior to the committee making its recommendation to the school board in the spring. There are some on the committee taking issue with portions of the textbooks being reviewed that deal with aspects of sexuality that they consider inappropriate for the classroom.
The mass of people at the Feb. 24 school board meeting was evidence that those on the selection committee opposed to some of what they have reviewed have support in the community.
One of those speaking in public comments was Dave Richardson, who said what is going on with the committee is unethical and illegal, and questioning why the school system administration would permit it.
Richardson noted that the majority of committee members are educators, which he said is not supposed to be the case according to state law. That law, Richardson said, specifies that the committee will be composed primarily of nonteaching parents who have children enrolled in the school system, and augmented by others such as educators, health professionals and community representatives.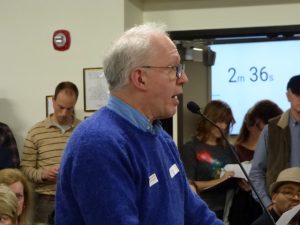 Richardson added that state standards are currently under review, making it inappropriate for the curriculum committee to be meeting without the completion of the revised state standards.
Chairman Scott Hollowell interrupted Richardson, saying that he was maligning staff, to which Richardson responded, "No, I'm not."
"Gentlemen, you're waiting on a lawsuit," Richardson said near the conclusion of his comments.
Another speaker, Randy Hough, said he was concerned about what educators might teach, adding that the school board has failed in its responsibility to see that the curriculum process is done correctly.
"Choosing the right curriculum for sex education is one of the most important decisions you make," Hough said.
Hough continued, saying, "It appears that based on the process failures (noted by Richardson), board members have directly or indirectly failed in their responsibility to properly oversee that the curriculum selection process was done correctly. Either way, should sufficient evidence be found that suggests that those who organized, selected, trained and directed public committee members may have done so with knowledge that what they were doing was not in compliance with existing laws and standards, then members of the board have no other choice but to suspend further action by the selection committee until such time as the violations are investigated and resolved. To do otherwise would be a clear breach of trust for which the citizens of this county will hold each of you responsible."
Carrying petitions from the Whitewater school district, Charles Bennett said even if opting-out of the sex education portion of the curriculum, kids would run the risk of being bullied by other students. That position was noted by other speakers during public comments.
"We want sex education with its social engineering removed from the school system," he said.
Among the public speakers were some who are former local educators.
One of those was Tammy Melton who said, "Changing the approach to sex education (from the 'Choosing the Best' curriculum offered locally for years) troubles me."
Melton said she was concerned about the consequences of using inappropriate material referencing things such as masturbation.
"This will bring (students) into sexual bondage," she said.
Lead Pastor Chuck Chambers of Woolsey Baptist Church noted the negative consequences of sex before marriage as a part of Comprehensive Sexuality Education (CSE) curriculum.
Another pastor, Josh Saefkow, who is also a parent and member of the health curriculum committee, requested that the school board freeze the textbook selection process and, for the time being, continue using the current Choosing the Best curriculum.
Those comments expressed Saefkow's sentiments in a recent letter to the editor at thecitizen.com (https://thecitizen.com/2020/01/19/pastor-warns-about-new-sex-education-books-being-considered-for-fayette-schools/)
Jane Owens, another selection committee member, asked the school board to stop the process, and to step back and review "how it got to this point."
Though nearly all the speakers were in opposition to the proposed curriculum, local physician Patricia Moore spoke in favor of it, citing the benefits of CSE. Noting that abstinence is important, Moore said there are consequences to actions, and if a student does become sexually-active they need to learn how to protect themselves.
CSE instruction increases the rate of those postponing becoming sexually-active, Moore said, adding that in the absence of CSE, a student can turn to other resources where they can get false information.
Another speaker, Ryan Duncan, was adamant that the school board works for the citizens, asking why the school board might want to make a change from the current Choosing the Best program that is working.
"Why would you want to change it? We want to know," he said, addressing Superintendent Jody Barrow. "You have to answer that question. We run this county. You work for us."
The school board at the conclusion of public comments voted 4-1, based on a motion by board member Barry Marchman, to address how the proposed change to the sex education curriculum came about at the March 9 work session to be held in the meeting room at 2 p.m. Leonard Presberg opposed the motion.
Portions of the books being reviewed by the committee deal with a variety of topics, such as abstinence, dating, declining a date, sexual orientation and gender identity (heterosexual, homosexual, bisexual, transgender, intersexual and LGBTQ), sexual awakening, masturbation, pregnancy, pregnancy termination, avoiding sexually transmitted diseases (STD) and "coming out."
Among the health textbooks/workbooks under consideration are "Glencoe Human Sexuality," "Comprehensive Health Skills for Middle School," "Pearson Human Sexuality," and "Glencoe Teen Health — Healthy Relationships and Sexuality."
In "Comprehensive Health Skills for Middle School," middle school students in the workbook are given a number of activities and lessons, with students given scenarios or questions, and space in the workbook to provide a written response.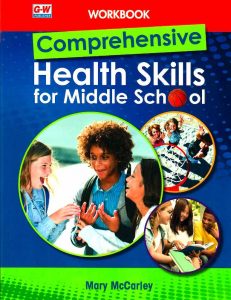 As an example, one of the middle-school-age scenarios states: "Carsen's sexual urges and emotions have increased since he began dating Katie. Katie is also very sexually attracted to Carsen. Home alone, they begin to kiss. Kissing leads to intimate touches, and both share the desire to have sex. Include at least three strategies for effective use of this method."
The student is asked to provide a written response to: How would you finish the story to help Carsen and Katie decide what they should do to reduce their risk of STIs (sexually transmitted infections)?
In the section entitled "Am I normal?" students are to imagine that they are responsible for managing a school blog that allows a safe place for eighth graders to ask questions about their sexual health. Based on that criteria, students are asked to give a written response relevant to the questions.
An example of one of the questions is: "I'm embarrassed to ask, but is it normal to ejaculate while I'm sleeping. I wake up and am surprised and uncomfortable. Am I normal?"
For his part, Marchman recently said, "I think some of the Comprehensive Sexuality Education (CSE) curriculum is too comprehensive, and not what I'd consider age-appropriate," adding that he has not seen the books being reviewed by the committee.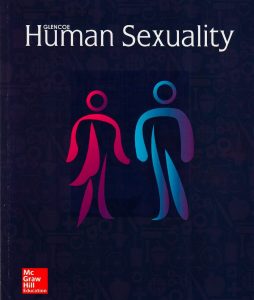 The texts are in both hard-copy and digital versions. One set being considered is the G-W Comprehensive Health Skills for Middle Schools, several pages of which The Citizen has viewed. The pages titled "Choose Your Own Ending," "Understanding Different Types of Sexuality," "The Effects of Homophobia," and "Am I Normal" contain this warning: "Copyright Goodheart-Willcox Co. Inc. May not reproduced or posted to a publicly accessible website."
Under "The Effects of Homophobia" (Activity C Lesson 19.1, page 219) the student is asked what the impacts of the following scenarios will be:
Transgender Carly has moved from one school to another to escape bullying, but at the new school is faced with "rude and inappropriate comments."
Iyanna makes the "difficult decision" to confess to her parents that she is bisexual and instead of receiving their support, "her parents made her feel like an outcast and unloved with their rude and threatening comments."
Under a "Key Terms Review" in the same G-W text, the "correct" answer to the definition "Irrational fear of homosexuality" is the term "homophobia." Under the definition "Referring to a person who chooses a gender identity different from the one assigned by society," the apparent correct answer is "transgender." The pages reviewed were free of religious or moral stances about sexual issues.
According to the United Nations Population Fund: "CSE (Comprehensive Sexuality Education) ultimately promotes sexual abstinence as the safest sexual choice for young people. However, CSE curriculums and teachers are still committed to teaching students about topics connected to future sexual activity, such as age of consent, safe sex, contraception such as: birth control, abortion and use of condoms. The most widely agreed benefit of using comprehensive sex education over abstinence-only sex education is that CSE acknowledges the student population will be sexually active in their future. By acknowledging this, CSE can encourage students to plan ahead to make the healthiest possible sexual decisions."
From another source: "This (CSE) ideology of arming students to most successfully survive their future sexual experiences underlies the majority of topics within CSE, including condoms, contraception and refusal skills," according to "Sex Education in California Public Schools: Are students learning what they need to know?"
If the proposed new sex education curriculum is adopted, school system spokesperson Melinda Berry-Dreisbach said parents will be able to opt-out if desired. She also noted that the digital copies to be used by teachers are the same as the hard copy books being reviewed by the committee.