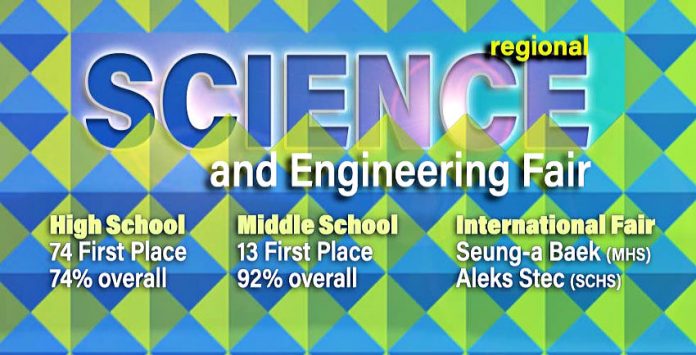 Students advance to the International Science Fair
Fayette's young scientists and engineers had their best showing yet at the Griffin Regional Science and Engineering Fair, securing nearly all of the first-place victories in both the high school and middle school divisions.
Fayette County students racked up 74 percent of the first-place wins in the high school division and took all but one of the first-place awards in the middle school division. All first-place winners are now headed to the state competition in Athens, Georgia March 26-28.
Seung'a Baek of McIntosh High and Aleksander Stec of Sandy Creek High had two of the top three projects in the high school division, and will represent Georgia at the Regeneron International Science and Engineering Fair in Anaheim, California May 10-15. This marks the fifth consecutive year that a student from McIntosh High has had the best overall project at the regional competition. This also makes the seventh consecutive year students from Fayette's high schools have represented Georgia at the international fair.
High school first-place winners advancing to the 2020 state competition are (Fayette County High) Sara Anis Ali, Justus Fields, Yarithe Karim, Arshi Noorani, (McIntosh High) Seung-a Baek, Lauren Chan, Sophie Hollowell, Alexa Markley, Joe Metzler Concepcion, Anna Nam, Carly Nixon, Karena Pemu, Aadhav Sundar, Dalton Toner, Marc van Zyl, (Sandy Creek High) Sydney Schulten, Aleksander Stec, Jocelyn Wilson, (Starr's Mill High) Charlotte Craner, Greg Gould, Evan Kern, Annabella Orndorff, Thomas Reininger, (Whitewater High) Leah Enterkin, Catherine Hayes, Daniel Holman, Cayden Shaffer, and Alina Sullivan.
Middle school first-place winners advancing to the 2020 state tournament are (Bennett's Mill Middle) Faizan Khaja, Tayana Sanders, Racheal Tinsley, (J.C. Booth Middle) Hyeonsu An, Paul Decker, Roshan Kolachina, Azlann Peerani, Harsh Singh, (Rising Starr Middle) Liam Begley, Ryan Sexton, (Whitewater Middle) Alex Keele, Tyler Klinger, and Carpenter Ray.
The Griffin RESA Regional Science and Engineering Fair is a competition for middle and high schools in the school systems of Butts, Fayette, Henry, Lamar, Newton, Pike, Spalding, and Upson counties.