Jennifer Lunsford and her husband, Jason, were driving home to Fayetteville from a University of Georgia football game in Athens late one night when their car conked out on I-285. This was the same car Jason used to commute to work in Sandy Springs on a daily basis, and after 220,000 miles, it was time for a replacement.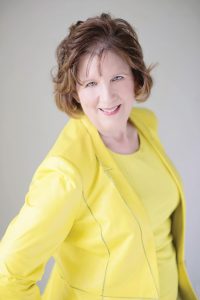 The first person Jennifer thought of was Wanda Cronic Howell of the Cronic Automotive Group in Griffin, where the Cronic family maintains three dealerships on North Expressway — Cronic Chevrolet-Buick-GMC, Cronic Nissan, and Cronic Chrysler-Jeep-Dodge-Ram.
"I knew that we could find exactly what Jason needed for his commuting, and I knew that we would be able to work out an incredible deal with Wanda and her team," Jennifer says.
As President of the Business Women of Fayette and Coweta, Jennifer has worked with Wanda on numerous projects and functions throughout the years.
"I have been down there with several BWFC functions and her people have always been so kind," Jennifer says. "Wanda is so giving to offer her space, time, and energy to our organization, so it was just a no brainer."
The Lunsfords researched online Cronic's cars that met their criteria—price, great gas mileage and good for accommodating golf clubs—and found several of interest. Jennifer reached out to Wanda for an appointment with her sales staff. Jennifer, a health coach studying business at the UGA Griffin campus, drove to the lot after class on a Tuesday afternoon to take a look around.
"I was greeted immediately by someone who said, 'Are you Jennifer Lunsford?' I said, 'I am.' He said, 'We were told to be on the lookout for you this afternoon.' I was blown away!"
That night, Jennifer drove one of the cars home so Jason could test drive it. The next day, she returned for another.
"They actually loaned us two cars to test drive and made it so easy," Jennifer says. "They were incredibly flexible and never pressured us to purchase. It was an incredible experience."
The Lunsfords settled on a Honda Civic from Cronic's large selection of previously owned vehicles, primarily because it was a good commuter car, but also because Jason's golf clubs would fit in the trunk. The Lunsfords financed their purchase through Cronic as well and walked out "very happy."
The Cronic dealerships are located on both sides of the North Expressway in Griffin, only a 20-minute drive from Fayette County. To learn more, visit CronicCars.com or call 770-228-1326.