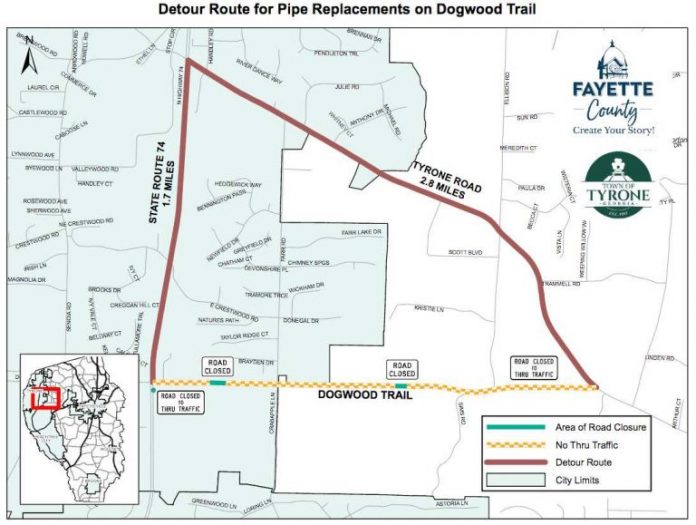 Fayette says gas company worried about safety issues in relocating gas line is the main hold up — 
The re-opening of Dogwood Trail to through traffic in February following a stormwater pipe replacement project has been delayed due to safety issues discovered by the gas company in September dealing with design features for relocating a 6-inch gas main. The project is currently expected to be completed by next summer.
Fayette County Public Works Director Phil Mallon said relocating the gas line has been, and continues to be, the work activity that is pushing stormwater project schedule back.
Utility companies have staff and departments dedicated to protecting and relocating their infrastructure. They have a huge number of projects to coordinate around and each relocation requires its own detailed design. Relocation costs for an individual utility (gas, water, power, etc.) on a typical county project range from moving a single pole to more than $1 million.
Commenting on the Dogwood Trail project, SPLOST (special purpose local option sales tax) project manager Courtney Hassenzahl said utility relocation continues to be the key task in moving forward with this project.
"Safety concerns with the gas company's original design for the 6-inch gas main relocation were discovered in September, causing a delay in the construction progress, Hassenzahl said. "The new design for a temporary modular bridge system for the 6-inch gas main is nearing completion, however the gas company is unable to provide a timeline for relocation completion until all the equipment and supplies required for the modular bridge are secured and delivered to the site."
Hassenzahl noted that Fayette County has little control over utility companies, but the contractor has been working diligently to get as much work accomplished as possible during the relocation delay.
An estimated completion date of late spring 2020 to early summer is being provided until utility relocation is complete and a more accurate date can be announced.