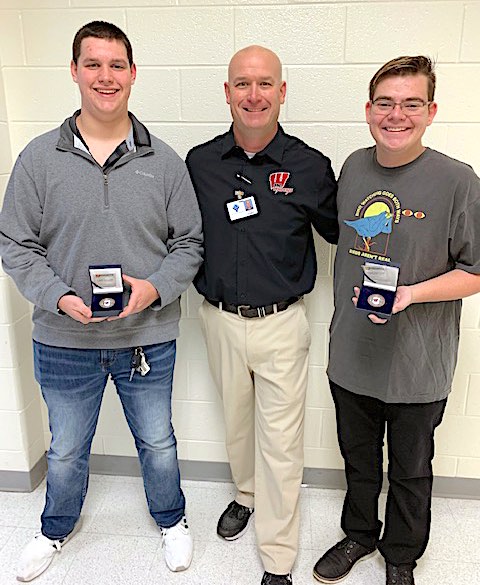 Funded by Fayette County Education Foundation grant —
Students who are meeting challenges in a positive way inside and outside the classroom are receiving a special token in recognition of their hard work and dedication to Whitewater High and the community.
Seniors Patrick Lampl and Jason Kirkbride are the first students in Scott Schmitt's public safety class to receive a special challenge coin for their outstanding character traits and exemplary academics. Both scored high on the End of Course Pathways test in forensics, they have maintained a 97 grade point average in their Public Safety pathway classes over a three-year span, and both are good citizens, according to Schmitt.
Challenge coins have been a military tradition for centuries, meant to instill unit pride, improve spirit, and reward hard work and excellence. The coins are also used to recognize persons in public service fields. Once a police officer himself, Schmitt realizes the significance of receiving a challenge coin and wanted to share that high level of recognition with his students who display characteristics of being respectful, accountable, responsible, and who are engaged during the school day and perform their duties to a high caliber.
Schmitt applied for and received a $1,000 grant from the Fayette County Education Foundation to purchase the coins that he plans to award monthly to one student in each of his classes.
"I was blessed to receive this grant for the challenge coins from the Fayette County Education Foundation, and I am so excited for the students of Whitewater and my program of study," Schmitt says.
The front of the coin features the school's logo inside a public safety badge with the words "Whitewater High School Public Safety Student of the Month." The backside of the coin has the new logo that the Fayette County Public School System rolled out this year along with the words "respectful, accountable, engaged, responsible" inscribed around the coin's edge.
At the beginning of each semester, Schmitt presents his students with a rubric outlining the characteristics he will be evaluating in order to determine who gets the monthly award. They include paying attention to detail, a teachable heart, willingness to change, showing kindness to others, high level of concentration when assigned an unpleasant task, voluntarily starting projects, and doing the right thing when no one is looking.
"Giving a coin as a reward for excellent performance builds pride and morale. Receiving one is a great honor and students work hard to get them." Schmitt says.
Schmitt's challenge coin grant was one of 12 that the Fayette County Education Foundation awarded to teachers throughout the school system this year; grant awards totaled over $9,560.
To date, over $180,950 in teacher grants have been awarded to schools since the Foundation handed out its first grants in 2002.
The Fayette County Education Foundations exists to solely support the Fayette County Public School System by providing funds for innovative, creative programs that offer the county's students the opportunity to have an enriched educational experience. The Foundation uses tax-deductible gifts to provide funds for opportunities above and beyond the normal operating budget of the school system.
The all-volunteer board meets monthly at the Fayette County Board of Education. Since the Foundation has no overhead costs, 100 percent of every dollar donated goes toward funding classroom and/or schoolwide projects that align with the curriculum being taught. — Article provided by Fayette County School System