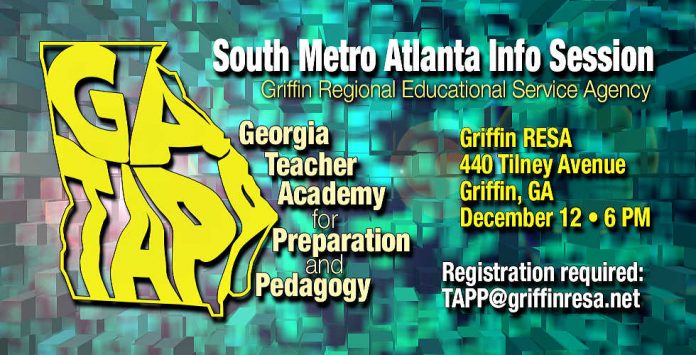 An information session about the Georgia Teacher Academy for Preparation and Pedagogy (GaTAPP) will be held at the Griffin Regional Educational Service Agency (RESA) in Griffin on December 12 at 6 p.m.
The GaTAPP program is designed to attract highly motivated professionals outside the teaching profession who hold a bachelor's degree or higher from a regionally accredited college or university, and are interested in pursuing a teaching career. Human resources directors from Butts, Fayette, Henry, Lamar, Newton, Pike, Griffin-Spalding, and Thomaston-Upson public school systems will be in attendance to provide information on prospective employment opportunities for the remainder of the 2019-2020 school year and for the 2020-2021 school year.
Space is limited and only those with reservations will be admitted. To reserve a space, send a reservation email to TAPP@griffinresa.net.
Griffin RESA is located at 440 Tilney Avenue in Griffin. Go to www.griffinresa.net for directions.