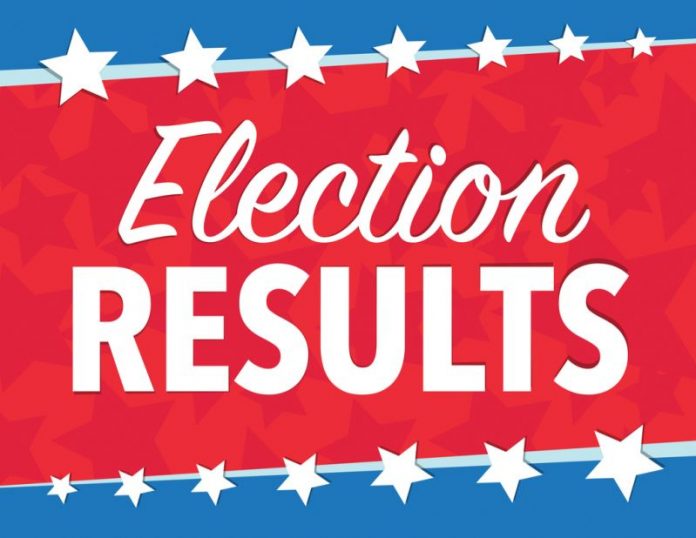 UPDATED 8:50 p.m. — Final vote totals posted:
Fayetteville incumbent Post 1 Councilman Harlan Shirley has been defeated by military veteran Darryl Langford. Though it was a 3-way race, Langford tallied 50.87% of the vote total (822) to Shirley's 34% (553). It's an historic win, putting the second ever African-American on the Fayetteville Council. Mayor Ed Johnson blazed the trail before Langford, first as a councilman and then as mayor. Johnson was unopposed and today won his second term as mayor.
Fayetteville Post 2 Councilwoman Kathaleen Brewer faces a runoff with Joe Clark. Brewer came in second with 470 votes (29%) while Clark led the 4-person field with 506 votes (31%).
In Peachtree City incumbent Post 1 Councilman Phil Prebor won over his two challengers by a hefty margin. Prebor received 1779 votes (62%) while challengers Morgan Hallmon and Oobi Childs were far behind at 695 (24%) and 386 (13%) respectively.
Post 2 incumbent Mike King similarly outpaced his two challengers with 1741 votes (62%). Steven Newton had 827 (29%) and Darryl Csicsila had 242 (9%).
Because Prebor and King won more than 50% of the votes in each race, no runoff is required.
In Tyrone, Post 1 incumbent Linda Howard was returned to office with 821 votes (71%) to David Barlow's 323 (28%).
In the Post 2 Tyrone race, Melissa Hill edged out Billy Campbell 422 votes (35.49%) to 413 (34.74%). Michael Edwards came in third in the open seat race with 351 votes (29.52%).
UPDATED 8:28 pm. — New screenshots of latest tallies below —
The added votes are in Peachtree City. Post 1 incumbent Phil Prebor's lead by been cut from 66% down to 62%, while challenger Morgan Hallmon has risen 2 points to 24%.
In the Post 2 race, incumbent Mike King's lead has been cut 3 points and second-place challenger Steven Newton has risen 1 point.
UPDATED 8 p.m. — In early voting tabulations tonight, Peachtree City Council incumbents Phil Prebor and Mike King are outpacing their competition by 2-to-1.
In Fayetteville Post 1 early vote totals, newcomer Darryl Langford is leading incumbent Harlan Shirley 51% to 37%.
Fayetteville Post 2 early totals show a possible runoff developing between incumbent Kathaleen Brewer at 31% and Challenger Joe Clark at 35%.
Tyrone early totals show incumbent Post 1 candidate Linda Howard headed toward a blowout of challenger and former Fayette County Commissioner David Barlow, 73% to 26%.
With no incumbent running for Tyrone Post 2, Melissa Hill and Billy Campbell are running neck and neck, 43% to 38%.
====================================
Polls closed as of 7 p.m. Tuesday evening, and only the tallying remains.
Peachtree City is likely to lag the other two municipalities tonight because it has a lot more precincts involved. Tyrone has one, Fayetteville has two and Peachtree City has 16 voting places. The first tally to show up tonight likely will be the counting of the early voting.
Since early voting represents a rough random sampling of all voters within a geographic area like a city, early votes can sometimes point to the final top vote getters. Watch that tonight.
Here's a screen shot of the final tabulations: