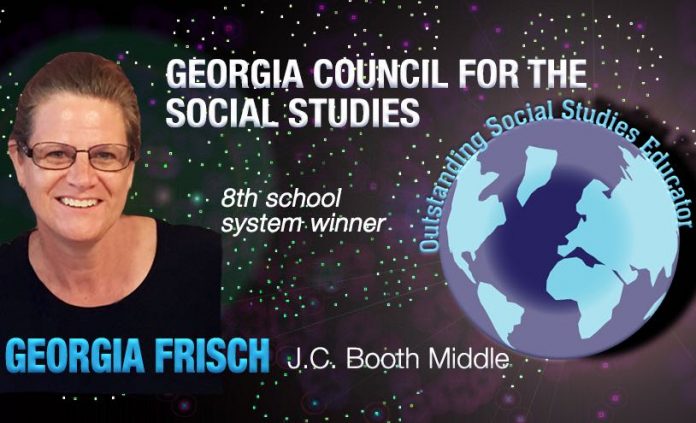 For the eighth time since 1995, a Fayette County Public Schools social studies teacher is the recipient of a once-in-a-lifetime award that is given to only the most accomplished social studies educators in the state.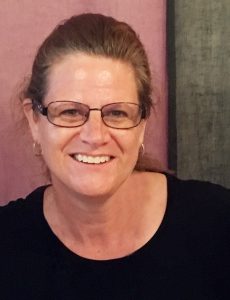 Georgia Frisch, who teaches at J.C. Booth Middle School in Peachtree City, has been awarded the coveted 2019 Gwen Hutcheson Outstanding Educator Award from the Georgia Council of the Social Studies.
The award recognizes educators who have made an outstanding contribution to the teaching of social studies. In selecting the recipient, judges evaluate nominees based on their activities that demonstrate significant service and foster the development of democratic values and citizenship in the classroom, school and community. Additionally, they consider professional involvement beyond the normal job requirements, efforts toward the improvement of student learning in social studies, use of multiple sources to enhance social studies instruction, articles published in professional publications, and conference and/or workshop presentations.
Winners receive a $250 cash award and a two-year comprehensive membership to the National Council for the Social Studies.
Frisch is the school system's eighth educator to receive the Gwen Hutcheson Outstanding Educator Award, joining the ranks of former Georgia School Superintendent and McIntosh High social studies teacher Kathy Cox in 1995; social studies coordinator Cathy Geis in 2003; current social studies coordinator Becky Ryckeley in 2004; former social studies teachers Jan Daniel (2005), Jon Gloer (2006), Janet Norman (2010), and Chris Cannon (2014); and Dr. Sally Meyer, instructional content coach for the school system, who won the award in 2017.
Frisch will officially receive the honor on October 10 at an awards luncheon during the Georgia Council for the Social Studies annual conference.