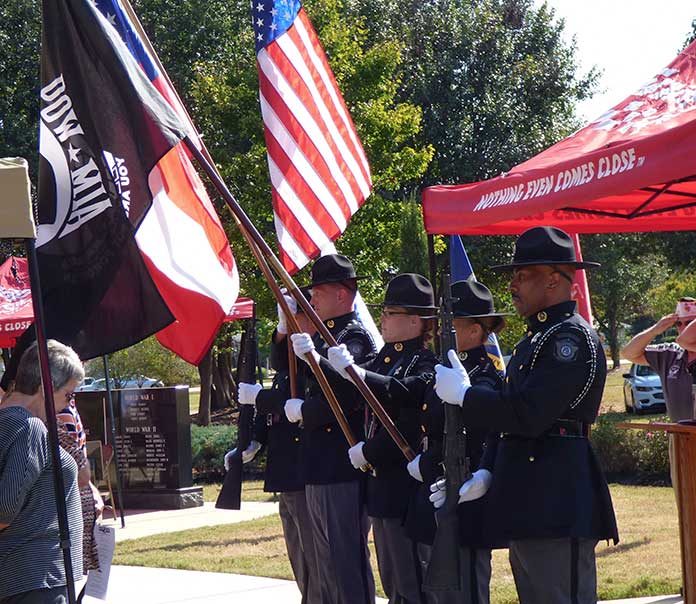 The POW/MIA Remembrance Day ceremonies held on Sept. 20 at Patriot Park in Fayetteville held special significance for the more than 100 in attendance. The event came with the announcement of the Gary Pate Memorial Highway that will extend through the town limits of Brooks.
Always a bittersweet occasion of cherished memories and agonizing loss, the annual POW/MIA Remembrance ceremonies at Patriot Park honored those who were prisoners of war, those missing in action and the families who have carried the burden of loss for what can seem like an eternity.
A special honor was given to former Brooks resident and Senior Master Sergeant Gary Pate, who was lost in May 1968, and whose dog tags were found in March 2009.
Brooks Mayor Dan Langford read a proclamation from the Brooks Town Council noting Pate's life and service, and announcing that Ga. Highway 85 Connector inside the town limits will be signed as Gary Pate Memorial Highway.
Fayette County Commissioner Chuck Oddo read a proclamation honoring Pate as part of the commission's recognition of Sept. 20, 2019 as National POW/MIA Recognition Day.
Members of Pate's family were in attendance.
Born in 1946 to Lloyd and Joan Pate, Gary Pate grew up in Brooks, where he spent time with his best friends, Ron Stubbs and Tommy Kerlin.
Pate joined the U.S. Air Force in 1965 and, after training, was assigned to the 374 ALFT wing, 7th Air Force.
It was on May 22, 1968, that Pate served as loadmaster on a C-130, and volunteered for a mission along the Ho Chi Min trail in South Vietnam. The mission, named Blind Bat 01, would allow him a six-month early-out.
At approximately 1 p.m. and flying inside the South Vietnam border, a surface-to-air missile took the plane down. Upon its failure to return, a search was conducted but found no wreckage.
It was in March 2009 that a search team found the wreckage, with the crew identified by their dog tags.
A memorial service was held October 2009 and Pate, along with eight other crew members, were interred in a single casket in Arlington National Cemetery with a large headstone including all their names.
The call sign Blind Bat 01 was never used again.
Gary Pate's nam can be found on the Vietnam Veterans Memorial on Panel 66E. line 3.
Fayetteville Councilman Scott Stacy (U.S. Air Force, Ret.) during the ceremonies noted that the intent of the gathering was to honor those who, since World War II, were prisoners of war or declared missing in action. And it is not only soldiers, Stacy said, noting that Air America pilots from the Vietnam War and women in World War II working for the Red Cross were also part of the loss endured by families across the nation.
The event was hosted by VFW Post 3650 and American Legion Post 105. The ceremony also included reading of the POW/MIA Proclamation, presentation of a memorial wreath, flyover by a U.S. Army helicopter, personal remembrances of local POWs and MIAs and the symbolic POW/MIA Table.