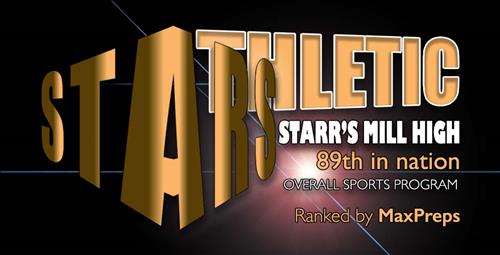 N
ot only is the athletic program at Starr's Mill High ranked first in the state by the Georgia Athletic Directors Association, but it is also one of the top 100 programs in the nation according to MaxPreps, America's source for high school sports.
MaxPreps has ranked Starr's Mill High number 89 in the nation for the best overall athletic program. Rankings are determined based on points schools accumulate for finishing first or second in state finals or finishing in the top 25 national rankings for a particular sport. Points are also awarded based on the size of the state, the popularity of the sport, the playoff classification for the sport played, and for the number of teams competing in that playoff classification.
Only three schools in Georgia were ranked higher than Starr's Mill on the MaxPreps list.
Starr's Mill earned points for winning state championships in boys cross country, girls golf, and girls lacrosse, as well as state runners up in girls volleyball, boys golf, and boys soccer.