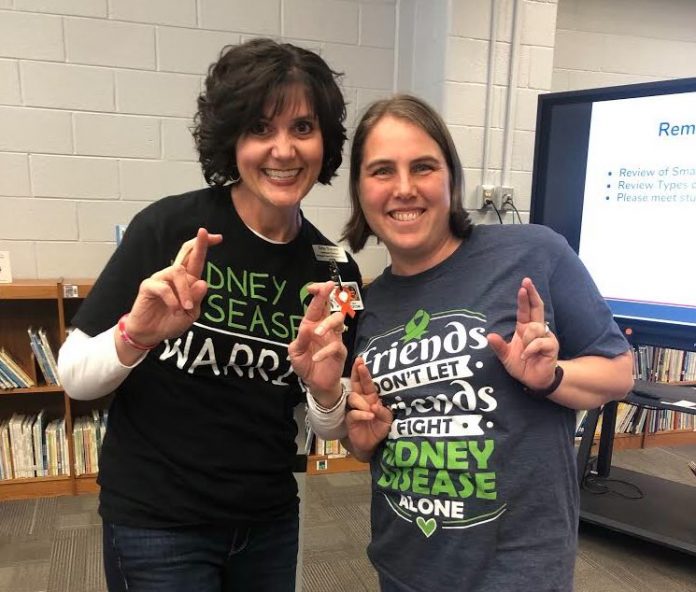 Crabapple Lane Elementary School Assistant Principal Erin Yocom, at left, on Aug. 16 will be receiving a kidney from donor and CLES parapro Rebecca Niederfringer. The school gave the two a send-off parade on Aug. 13. Photo/Submitted.
Acts of kindness and love come in many forms. One of those forms, and one not so common, includes literally giving a part of yourself to someone else. That is what is about to happen on Aug. 16 when a parapro from Crabapple Lane Elementary School will donate a kidney to the school's assistant principal.
Principal Margaret Davis in a letter to parents about the upcoming surgery said, Mrs. (Erin) Yocom, Crabapple Lane Elementary School's Assistant Principal, was diagnosed with Polycystic Kidney Disease in her early 20's. Although she has worked very hard to maintain a healthy lifestyle, her kidney function has continued to rapidly decline. In an effort to avoid beginning dialysis, she was approved and placed on the United Network for Organ Sharing (UNOS) Transplant List."
Davis said after months of evaluations, "Mrs. (Rebecca) Niederfringer, a CLES paraprofessional, has been approved as a donor match for Mrs. Yocom. The kidney transplant surgery is scheduled for Aug. 16 in Atlanta, and then they will both spend several weeks recovering at their homes."
The students and staff at Crabapple on Aug. 13 held a surprise send-off parade for Yocom and Niederfringer, with everyone wearing green to show their support, and to help bring awareness to kidney disease and how organ donors can save lives. The parade came complete with signs and banners from the well-wishers.
"It's absolutely the most precious gift anyone can give. I have no words to express it," Yocom said earlier in the week, remarking on her appreciation to Niederfringer. "It means the world to me. It's hard to put into words. I feel so grateful and blessed."
For Niederfringer, being a donor carried its own blessing.
"It's pretty amazing to be a part of it all," she said. "It's been quite a journey, with many tests for the past several months. People have shown up in so many ways to support us."
Niederfringer said that support came from across the school and from parents.
"I've had real peace every step of the way," she said. "I'm honored to be a part of Erin's story."
The pair are expected to be back at work after 6-8 weeks of recovery.