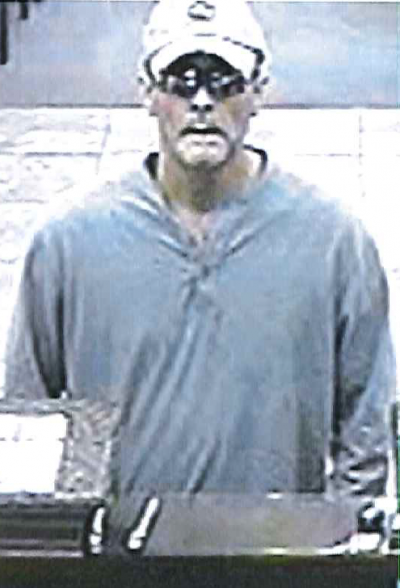 This man is being sought by Tyrone police in connection with an Aug. 6 bank robbery at United Community Bank. Photo/Tyrone Police Department.
United Community Bank located at 1528 Ga. Highway 74 in Tyrone was robbed Tuesday, Aug. 6 just after 2 p.m.
Tyrone Police Department spokesman Philip Nelson said the subject entered the United Community Bank, walked over to Teller #2, and showed her a note stating "give me all the money."
After receiving the money, estimated to be in the amount of $5,000 in cash, the suspect took the note back and exited the bank through the back doors, Nelson said.
The suspect was described as a white male, approximately 6'1", 180-200 lbs., with light brown or gray beard, and approximately 35-45 years of age.
Suspect was wearing a long sleeve shirt, appearing to be light blue or grey in color, a tan ball cap and sunglasses, Nelson said.
Possible involved vehicle is a Ford F-150, black in color, with possible stolen Alabama Tag: 1CM9284
Contact Det. Doug Morris at 770-487-4732 ext. 204 or dmorris@tyrone.org if you can identify the subject.