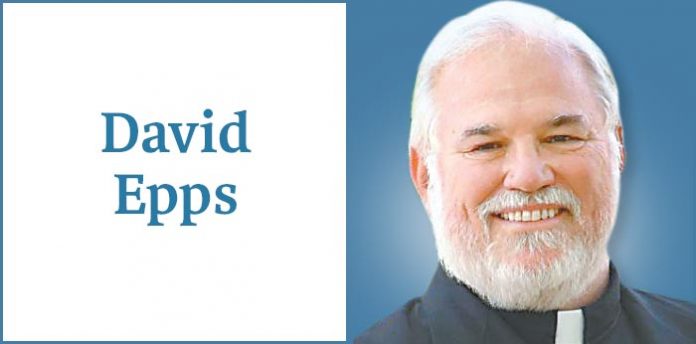 I have a red baseball cap on which is gold writing. I don't wear it very often, but then I rarely wear baseball caps. I grew up in a time when hats for men were not in vogue.
My father's generation, and the generation before that, wore hats, usually something similar to a fedora, but, in my time, I only wore a baseball cap when I was playing baseball or softball. I also wore hats in the Marine Corps. Not so much later on.
During hot weather, however, I have to remind myself that the Southern sun beating down on my head is not always a healthy thing. So, if I'm going to be outside for any length of time, I'll grab a cap.
So it was, in the not too distant past, that I headed out and grabbed the red hat with the gold writing on the front. I thought it would suffice and I also thought it conveyed my sense of patriotism.
I stopped at the supermarket to do just a bit of shopping, still wearing the cap. I noticed one woman staring at my hat with curiosity. Out of the corner of my eye, I observed that her expression changed from curiosity, to disapproval, to outright disgust.
I thought, "Uh-oh." Sure enough, she left her shopping cart and determinedly strode in my direction. Just before she began to say something, I turned to face her and, with a smile, said, "Good morning!"
She stopped, stared at the cap and her face changed from disgust to confusion. I said, "May I help you?" Her eyes widened as she read the lettering on my red baseball cap, which said, "U.S. Marine Corps Veteran." As they say, she was on the horns of a dilemma.
Without replying, she took a step back, whirled around, quickly walked back to her shopping cart, and disappeared from view. What she expected to read, I assume, was, "Make America Great Again."
But what if I was wearing the cap she thought she saw? What business would that have been of hers? What business is it of anybody who wants to wear an item of clothing that makes a statement?
If someone wants to wear a "Black Lives Matter" shirt, why shouldn't they? If someone chooses to wear a Che Guevara shirt, whose business is it? Of a Confederate flag shirt? Or a gay pride shirt? Or an NRA ball cap? Or a "Bernie for President" cap? Or an Impeach Trump shirt? Or even a MAGA hat?
It's nobody's business, that's whose. Except for the wearer. It is his or her business.
In the United States, we have this pesky thing called the Bill of Rights consisting of amendments to the U. S. Constitution. The very first amendment reads: "Congress shall make no law respecting an establishment of religion, or prohibiting the free exercise thereof; or abridging the freedom of speech, or of the press; or the right of the people peaceably to assemble, and to petition the government for a redress of grievances."
Note the part about "freedom of speech." While the amendment prohibits Congress from making a law to "abridge the freedom of speech," it is generally accepted that everyone has the right to think and say — even on a ball cap or a t-shirt — whatever they wish, as long as the public good is not harmed.
And it takes a lot to have harmed the public good. Even the Ku Klux Klan has the right to free speech.
The Department of Justice, on its website, states, "In general, it is the use of force, threats, or intimidation that characterize a federal criminal violation of an individual's civil rights." Note that to violate someone's civil rights is a federal crime.
How? Well, one means is intimidation. It is my opinion that the lady who chose to be offended by what she thought was a political statement had every intention of trying to intimidate me, in a public place, to remove the cap.
I'm not that easily intimidated, even if I was wearing a MAGA cap, which I wasn't, because I don't own one. But that's not the point.
The point is that every citizen has constitutionally protected rights and no one – NO ONE — has the right to try to shame or threaten someone into surrendering those rights.
If someone chooses to wear an item of clothing that promotes an idea, a sports team, a principle, a candidate, or a rock band, it's their business and their business alone.
If a person's religious faith mandates that they wear a Jewish yarmulke, a Muslim hijab, a Sikh turban, a nun's habit, or a priest's cassock, what is that to you? Or to me?
Somehow, we, or at least some of us, have devolved in our behavior to the point where we believe that we have no boundaries, no limits, no hesitation, and no common sense in the way we approach matters that do not concern us.
It's a thug mentality and it's unnecessary and it's unseemly.
You see, it's this simple: It's America and I can wear whatever I want and if that offends you then you have the problem and not me. Moreover, we can think what we want and, in most cases, we can say what we want.
Do I agree with what everyone says or even thinks? No, of course not. But they have the right to express themselves, however much I may disagree with them.
The concept of free speech is foreign to much of the world. The ability to think, to speak, to convey ideas — however beneficial or repugnant — is one of the unique aspects of our national life that sets us apart from much of the rest of the world.
Anyone — anyone — including well-meaning people in a supermarket who threatens that uniqueness is a threat to America itself and all she stands for.
So wear what you wish, think what you like, and say what's on your mind. You can do that here. You are in America.
[David Epps is the pastor of the Cathedral of Christ the King, 4881 Hwy. 34 E., Sharpsburg, GA between Newnan and Peachtree City (www.ctk.life). He is the bishop of the Charismatic Episcopal Diocese of the Mid-South which consists of Georgia and Tennessee and is the Associate Endorser for the Department of the Armed Forces, U. S. Military Chaplains, ICCEC. He may contacted at davidepps@ctk.life.]