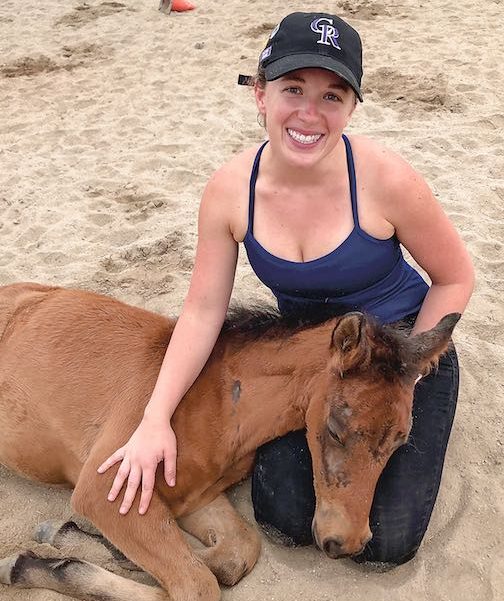 The move is on in Georgia to allow pari-mutuel horse racing, and with it will come breeding and auctions. Yet beyond the expected new jobs that would follow, there is another aspect of the equine racing industry, a dark side, that rarely sees the light of day.
Legislation that would have established the horse racing industry in Georgia was not successful in the 2019 session of the General Assembly, though another attempt will likely come up in 2020.
"As Georgia considers horse racing, we need to be aware of the humane elements of that decision, and decide what rules we'll have in place," said non-profit Flying Change Equine Therapy Executive Director Lissa Corcoran. Flying Change is located on Fairburn's south side, a short distance north of Tyrone.
Corcoran is supportive of the horse racing industry, explaining that it is a small subsection of the industry that presents concerns.
That subsection of the thoroughbred racing industry uses what is essentially an equine wet nurse, a "nurse mare," in place of the foal's natural mother who is used, instead, to quickly re-breed. Though able to supply nourishment to the offspring of the thoroughbred, the nurse mare's own foal suffers a different fate.
Often the foals in jeopardy are "nurse mare foals," Corcoran explained.
"When high-value race horses give birth, many farms re-breed them again almost immediately. The valuable race horse foal, which commonly can bring a price in the tens of thousands, then needs a 'nurse mare' to provide milk and nurture," Corcoran said. "Sadly, the nurse mares' own foals are usually abandoned to starve to death, are 'bumped' with a hammer and killed or sent to slaughter for 'pony leather.' Treated as useless by-products of the transaction between the nurse mare owner and the racing or sport farm, rescue efforts can only save a small percentage."
Corcoran said that, as newborns, the foals are often desperately weak and need immediate care when rescued, including medical stabilization and around-the-clock feeding using expensive replacement milk. A handful of dedicated rescues across the country are confidentially allowed to purchase the condemned foals for a few hundred dollars.
"Sadly, since foals are born at private farms, the public has been unaware of the dismal outlook for many baby horses," said Corcoran. "With the Jockey Club reporting 12,000 thoroughbred racing foals registered in 2018, and an unknown number of resulting nurse mare foals, rescues are unable to save them all. It is estimated that thousands of foals are abandoned or killed to meet the demand for nurse mares. Rescues also report many foals abandoned or destroyed when pregnant and nursing mares are sent to slaughter by owners no longer interested or able to care for them. So our passion is to create a win-win solution. There are many, many more foals we can save if we work together."
In June, Flying Change welcomed three such orphaned foals which are receiving round-the-clock care from volunteers.
"Our babies this year have tons of personality," noted Corcoran. "The bay likes to stick her tongue out, the chestnut is super affectionate, and the paint with 'tuxedo' markings is super fancy and knows it."
Flying Change is one of only five farms in the country, and the only one in Georgia, that rescues nurse mare foals. And Flying Change is the only one of those five to use the foals in therapy.
The current motivation, and in light of the potential changes in state law allowing horse racing, is to enhance the effort to raise awareness of these unwanted foals' predicaments, recruit rescue-minded volunteers and sponsors and provide an ethical answer for the sport horse industry through adoption, Corcoran noted.
For Corcoran, her mission is nothing new. Since 2000, Flying Change Equine Therapy has rescued 30 foals that would otherwise be killed. The difference today is that Georgia may be getting into the horse racing industry, and needs to establish rules that protect the offspring of nurse mares.
"Most of our therapy horses were originally rescues," said Corcoran. "These foals can help to heal hurting children, veterans with PTSD and others who participate in therapy at our farm."
Flying Change is currently seeking corporate sponsors who will receive the opportunity to name one of the foals. Past year's foals have had names such as Google and GQ.
As for recent and potentially upcoming legislation in the General Assembly, "Gambling legislation was not addressed by the deadline (in 2019). House Resolution 327, introduced by Rep. Ron Stephens (R-Savannah), would have allowed voters to change the state constitution to allow casino gambling. It required a two-thirds majority in the House and Senate to place the measure on the ballot. Senate Resolution 84 by Sen. Brandon Beach (R- Alpharetta) also known as the 'Rural Georgia Jobs and Growth Act' was not acted on, either. SR-84 seeks to create an equine industry in Georgia, touting its preferred climate and available space for horse farms. Sen. Beach has stated that he hopes to create a Keeneland, Kentucky-type facility that would attract the Breeders Cup. Gov. Brian Kemp's position on horse racing has apparently softened in recent history. While these bills did not make the Crossover Day deadline, it is likely that they will be pursued in the 2020 legislative session," according to www.votervoice.net.
Founded in 1996, Flying Change Equine Therapy pioneered one of the nation's first equine assisted growth and learning programs. Recognized internationally, Flying Change serves Atlanta schools, courts and agencies by providing outpatient behavioral healthcare through equine assisted psychotherapy and learning. In addition to the wide range of therapy services provided to the community, Flying Change has dedicated itself to rescuing unwanted foals and retired sport-horses. Flying Change also hosts workshops and training, as well as consulting nationally and internationally in program development.
For more information on Flying Change Equine Therapy visit www.flyingchange.org.