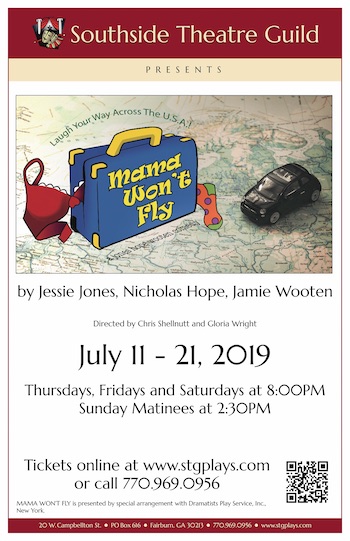 The fast-paced comedy, "Mama Won't Fly," continues through July 21, at the Southside Theatre Guild in Fairburn. Written by the team of Jessie Jones, Nicholas Hope, and Jamie Wooten, and presented by special arrangement with Dramatists Play Service, Inc., New York, and directed by Chris Shellnutt and Gloria Wright, this comedy is suitable for all ages, a great summer event for the entire family!
"Mama Won't Fly" tells the story of how an outrageously hilarious race against the clock begins when Savannah Sprunt Fairchild Honeycutt agrees to get her feisty mother all the way across the country for her brother's wedding. Savannah's problem: Mama won't fly.
With only four days to make it to the ceremony, this determined daughter has no choice but to drive cross-country with her equally willful mother, Norleen Sprunt. Rising above their age-old mother-daughter issues, Norleen and Savannah work together to get the nuptials back on track. In a surprising and heart warming resolution, they forge an exciting new path for their own relationship and welcome the new bride into their delightfully wacky family. This family-friendly comedy will have you laughing your way across the country and all the way down the aisle!
Performances are on Thursday, Friday, and Saturday evenings at 8 and a Sunday matinee at 2:30.
Adult tickets are $20 if purchased online and $25 at the door.
Special ticket prices for Thursday night performances are $5.00 off – only $15.00 for an adult ticket. Special discounts are available for children under 12 and groups of 15 or more, purchased at the same time. Tickets and subscriptions can be purchased online at www.stgplays.com.