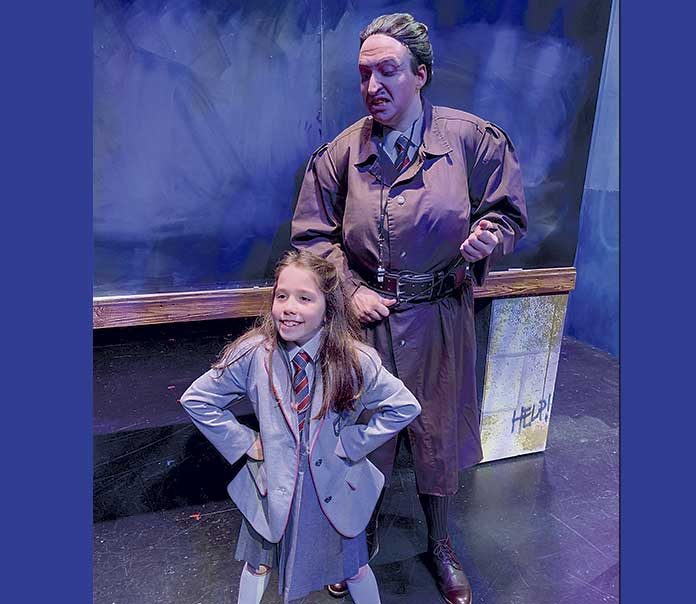 The Hit Broadway Musical "Matilda" is running all summer at the Legacy Theatre. This magical and inspiring show opened July 5 and runs through Aug. 4.
Winner of five Tony Awards, "Matilda" is a family-friendly musical, filled with laughter, enchanting musical numbers and a powerful message. Based on the 1988 children's book, Matilda, by Roald Dahl, the musical centers around a precocious little girl who loves reading, overcomes obstacles caused by her family and school, and helps her teacher to reclaim her life. The lovable story was adapted into a film in 1996 and turned into a musical in 2010 where it premiered in London. "Matilda The Musical" is a captivating masterpiece celebrating the power of imagination and following your dreams. Children and adults alike will be thrilled and delighted by the story of the special little girl with an extraordinary imagination.
Mark Smith will direct Matilda, following dozens of Legacy productions including the summer hits Beauty & the Beast and Hairspray. "We couldn't wait to produce Matilda at Legacy," says Smith. "It's a really fun story with a powerful message. It's full of wonder and imagination. I think it reminds us all that we can achieve whatever we put our minds to."
"I'm so excited about this show" says Executive Producer Bethany Smith. "The cast is full of incredible talent, including a large cast of kids. We knew it would be difficult to produce a professional show that demands a great deal of the child performers, but we have so many talented children and they have been working really hard. I know the audience is going to be blown away by what they are doing." 
The title role of Matilda will be played by two young actresses, Sarah Fowler and Lily DeMarcus. Legacy regulars Katie Patterson and Evan McLean return to play the loving teacher Miss Honey and evil principal Miss Trunchbull. Also included in the cast are Fracena Byrd (Hairspray, Mary Poppins), Claire Cassidy, Christina Cervone, Jessica Chunta, Mandy Corbett, Brady Dunn, Corry J. Ethridge, Travis Flynt, Brody Harlan, Dennis Hartman, Sean Michael Jaenicke, Hannah Stephens and Tyree Thornton. Matilda is music directed by Jodi Cotton, features a set design by Phil Male, lighting design by Bryan Rosengrant, sound design by Jason Polhemus, and costume design by Amanda McGee.
The Legacy's 13th season concludes with Matilda. Legacy's 2019-20 season will include "The Complete Worlks of Shakespeare"(Abridged)," "Sanders Family Christmas", "Mamma Mia," "Almost Heaven: the Songs of John Denver," and" The Wizard of Oz." Season subscriptions are on sale now and individual ticket sales will go on sale this fall.
Matilda runs July 5 – Aug. 4 wiih performances Tuesdays through Saturdays at 8 p.m. and Saturdays & Sundays at 3 p.m. Adult tickets are $30-$45 Senior and Student discounts are available as well as discounts for groups of 20 or more.Tickets and subscriptions can be purchased online at www.thelegacytheatre.org or by calling the Box Office at 404-895-1473.
The Legacy Theatre is located at 1175 Senoia Rd. in Tyrone.