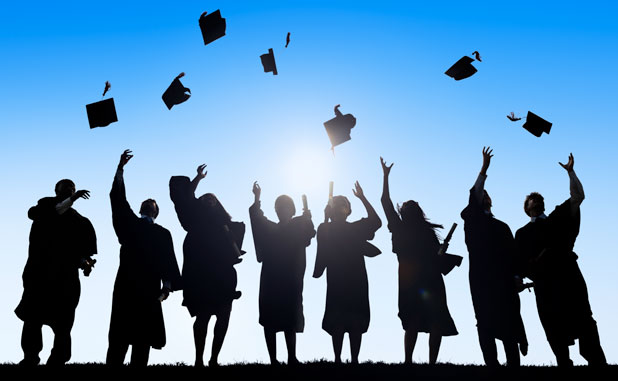 This post names the 2019 graduates of the Fayette County School System. The lists were provided by the system's public information department.
Following are May 2019 graduates of Fayette County High School, Fayetteville, Ga.:
Anthony Kalani Achiu
Judith Aguirre Hernandez
Celine Mayowa Akande
Urooj Akhtar
Odunayo Joy Aladeniyi
Oscar Mayolo Alcantara
Aaron Joseph Alford
Naya Amail Alford
Jacquez Quotiec Allen
Omar Ali Amin
Kayla Christine Anderson
Sahar Anis Ali
Umair Anis Ali
Chesa Keana Austin
Deryan Alexander-John Ballard
Kayla Alexandra Barbee
Zion Mikaela Barker
Maya Alicia Barkley
Kayla Jordan Barlow
Kalicia D'Shun Denise Bartnicki
Nathaniel Bernard Beamon II
Erick Benitez-Ramos
Jordan Louis Berube
Kyanna Zakia Bingham
James Matthew Bishop
Jazmyn Kyla Boiteux
Jaylon Jaquelle Bolton
Reginald Bernard Booker III
Jazmine Alexandria Boyd
Nina Kiari Denise Boyd
Ryeshad J. Bradford
Terrell Naseem Bradley
Jada Renee Brigman
Vaughn Eric Bronner II
Jada Alyse Brooks
Mariyah Lynn Brooks
Jakiah Scotkedra Brown
Jayden Ty-Ree Brown
Terrill Derrick Brown
Tahj Tremont Bruns
Tahani Saki Burt
Lindsey Deann Cagle
Samantha Ann Caldwell
Jada Symone Cameron
Genesis Jenae Campbell
Khaila Amari Campbell
Brian Christopher Canada
Victor Alexander Canas Mejia
Christopher Adam Carley
Kamille Monet Carpenter
James Immanuel Carr
Paige Morgan Carter
Leah Ariel Chambers
Tyler Bradford Chase
Y'Lexis Simone Chatman
Alec Jordan Cheeks
Wensley Jeffrey Cherilus
Christian Gabrielle Clark
Mahogany Coachman
Ty'Wantae Daishun Cody
Joy Fatima Dominique Coffi-Ahibo
Javon Robert Coleman
Taylor Laveranues Coles
Tyjah Renae Collier Thomas
Mark-Alexis Collins
Franchazz Preston Phillip Colmore
Nautica Khapri Colvin
Jamal Fred Cook
Zaria Mechele Cook
Laurence TeEdre Copeland
Briana Nicole Coreus
Gabriela Marie Cortes
Micahya Milan Costen
Cody Alexander Crooms
Raegan Michelle Dallman
Jordan Terrell Daniely
Jhane Zyedah Dansby
Kevin Allen Dasilva
Joshua Oluwadamilare Davis
Joelyn Rose Davis
Anthony Lee Dawson
Sara Dayani
Anabel De Jesus
Malick Coby Delva
Isabella Rose Di Lazzaro
Oumar Mouctar Diallo
Regina Gisel Diaz
Ty-re Lamont Dixon Jr.
Tucker Wayne Dorrity
Daina Dorothy Dove
Baylie Alexis Dunham
Joshua Sean-Patrick Dupree
James Terrence Dykes Jr.
John Orville Into Eamiguel
Destiny Renee Edwards
E'Lexus Nicole Ellison
Michael Benjamin Estvanko
Kameara LaShay Evans
Karsyn Nailah Evans
Audrey Nicole Fecteau
Skyler Duane Ferguson
Valentina Tamara Fernandez Milessi
Zachary Alexander Filmore
Ethan James Fitzgerald
Christian Ali Floyd
Mia Nicole Francis
Micah Kwesi Franco
Sarah Marie Franklin
Moriah Franklin
Isaac Burundi-Soweto Freeman
Olivia Kate Fritze
Joseph John Fumei III
Christian Alexander Funches
Breonna Ellysia Gaither
Jimmie Jicari Gaither
Eric Deon George
Laura Catherine Gibson
Ayana Monique Gillespie
Timothy William Goddard
Ariana Camille Godfrey
Damian Alejandro Gomez
Eliana Michelle Gomez
Marie Kathryn Gongola
Tamara Alani Marie Gordon
Raichel Veronica Griffiths
Amina Gul
Deja Symone Hall
Xavier Christopher Hamlet
Jada Renee Handy
Igeeonna Jamiah Hardy
Destinee Lavonne Harris
Ashlynn Simone Harris
Kamaria Ayana Harris
Laurence Raine Harvey
Jenna Noel Hastings
Aaron Thomas Hauck
Sean Michael Hauck
Nashlly Hernandes-Marmol
Anyssa Noel Hernandez
Andy Roberto Hernandez Lopez
Vincent Peale Hicks Jr.
Makayla Symone Hill
AyaSha Diane Hill-White
Adrianna Noel Hines
Ashton Brent Hinton
Bailey Nicole Holcombe
Adrean Quartez Hollins II
Joshua James Holston
Joy Timia Holston
Matthew Leland Hope
Isaiah Dantavius Horne
Carlee MiLeen Houston
Tara Michelle Hubbard
Tryphaina Joseph Hunter
Jordan Marie Ingraham
James Allen Irby III
Momoka Ito
Lotachukwu Ifunanya Iwuagwu
Alyssa Lauryn Verine Jackson
Ariyan Latia Elizabeth Jackson
Javonte Derrell Jackson
Kevon Patrick Jamieson
Kaylah Alexiz Jett
Valerie Anais Johnson
Joelle Brianna Johnson
Joshua Kahealani
Sebastian Johnson
Isiah Jay Abalos Jojola
D'Sean Elijah Jones
Destini Keiara Jade Jones
Zinia Adell Jones
Kamiah Myca Kelly
Mashood Ali Khan
Ahsan Ali Khan
Loren Alexis Kimbell
Ricky Knight Jr.
Jacob Joseph LaLicata
Charlotte Eileen Lambert
Cameron Elijah Latson
Aaron Robert Lattery
Adam Christopher Lattery
Jackie Myles Shamsid-Deen Lee
Shane Patrick Leinberger
Joshua Andrew Lewis
Zixin Lin
Aliya Angelica Lopez
Kayla Simone Lott
Andrew Tyler Lowry
Miguel Angel Lozano
Clay Michael Lute
Ryan Joshua Lyons
Khali Moniere Madison
James William Marshall
India LaShay Martin
Michelle Marlene Martin
Marc Cameron McDaniel II
Airiss Michelle McGay
Myles James McGuire-Haggins
Mariah Charlotte McMillon
Igor Michael Melnick
Kiayatta Dawn Mixon
Fizazehra Asadali Momin
Eliana Alejandra Montano Yanez
Malcolm Perry Montgomery
Ansley Michelle Moore
Benjamin Thomas Moore
Alanis Marie Moran
Joshua Stanley Morgan
Meagan Deanne Mosely
Thierrielle M. Moss
Levi Roy Mowrey
Amber Dominique Murray-Jenkins
Kahj Shyenne Myers
Chelsey Dhana'e Nash
Wesley Stephan Nelson
Kennedy Laine Nelson
Khiem Phu Nguyen
Annie Grace Noel
Joshua Nolton
Cody Justice Alleyne Norde
Diana Delia Nyarko
Chinendu Ann Ogadi
Veronica Vbayiro Princess Ogbemudia
Jaida Camelia Olverson
Desmond Osayi Omigie
Miracle Temidayo Oni
Kimberllee Wanni Oun
Makayla Denise Pace
Joi Daviyah Palmore
Niesha Dionne Parks
Lauryn Amanda Patterson
Callie Elizabeth Marie Peavy
Jaylen Lincoln Pettway
KaDarrian Tavar Phifer
Zachary Thomas Pierce
Ean Rajae Rudy Pinnock
Jasmine Cara Plowden
Empress Imani Porter
Bakhari Sulay Porter-Henry
Caleb Emanuele Pressley
Ramun Montavious Price
Ayaan Amin Pujani
Ayaaz Amin Pujani
Munir K. Punjwani
Tristyn Hope Ragsdale
Rafiq Rahim
Tiye Imani Rahmah
Jaipreet Singh Raina
Mirka Sarahi Ramirez
Gabriela Ramirez Chaparro
Alex Ramirez Maciel
Coriana Marie Raynor
Oneil Johnny Reeves
Antawan Shin Reynolds
Deion Jeremiah Richards
Justin Alexander Richardson
Carter Albert Ries
Aaron Harold Lee Riley
Kenzay Amasa Rivers
Triniti Elise Rives
Andre Jahmya Robinson
Ana Rosa Ruiz
Jose Antonio Ruiz Jr.
Edgar Joaquin Ruiz-Rodriguez
Fuad Kemal Safadi
Joanne Adaliz Sanchez Rivera
Omotolani Oyinkansola Sangoyomi
Stafford Levern Saxton II
Matthew James Schiro
Zachary Garrison Scott
Hallansa Anecia Teferra Sewer
Isaiah Matthew Shannon
Mohammed Foyzul Huq Sharker
Mekisa Atoya Simmons
Amontay Desmond Sims
Kaila Danielle Sims
Sidney Kiara Sims
Joel Denton Smith
Janeya Lanice Smith
Gregory Dion Smith II
Noushin Sohani
Benita Imani Spears
Malik Olen Steward
Yamilka Suarez Hernandez
Jean-Marie Sumo Jr.
Simran Hyderali Surani
Kelsey Danielle Sykes
Noah Christopher Sykes
Michayla Ranae Tally
Mariangelique Texidor Ramirez
Shaquora Shanice Theor
Kaitlyne Rae Thomas
Jeffrey Thomson
Kevin Austin Tiede
Destiny Lynn Tingle
Ruby Mae Truscott
Lauren Christine Tucker
Detra Lee Turner
Olivia Grace Turner
Talia Elizabeth-Marissa Valteau
Lea May Vandiver
Garandon LaTroy Varist III
Destiny Malek Vasrani
Natalie Jenee Veasey
Kendall Jamil Vernon
Kenyon Lamar Vernon Jr.
Ethan Aaron Voraotsady
Ashlei Renee Walker
Jhordyn Sharde Walker
Miazza Yamaris Walker
Rasheeda Ebony Ward
Shawntill Monique Warner
Jessica Rosie Warren
Brandon Marcel Watson
Kristian Jamal Watson
Genesis Gentry Watt
Jordan Alex Hyman Wells
Gabrielle Mary West
Stevonna Lorenza Wheeler
Eangelique Avaya White
Nadia Joi White
Jalyn Cameron Wilkerson
Kaiya Mone Williams
Kierra Shanel Williams
Nathaniel Walker Williams
John Anthony Wilson
Kayla Monet Woods
Jaylen Terrell Wright
Zachary Paul Wright
Tonine Sasha Young
============================
Following are May 2019 graduates of McIntosh High School, Peachtree City, Ga.:
Abdul-Rasheed Babatunde Agbaje
Mezba Uddin Ahmed
Doha Akid
Richard Anthony Alaimo
Zain Naveed Alvi
Zakai Ase Anderson
Diego Jose Angulo
Jared Anthony Ashburn
Ahmed Al-Najim Muhammad Ashley-Emory
Kathryn Lee Austensen
Diana Xcaret Avina
Seung-Joon Baek
Logan Christopher Banks
Lauren Marie Barnes
Andrew Joseph Bauer
Brantley Kaleb Bell
Olivia Anne Bell
Brendan Robert Bertram
Conlan James Bertram
Nathan Paul Besse
Kaleigh Madison Boland
Mary Ashby Boland
Fernando Enrique Bonilla
Taylor Alan Borngesser
Kaile-Jaden Vathsany Bouapheng
Ammar Boube
Sidney Ericka Bowen
Caren Marie Bowers
Jacob Nicholas Brachey
Jackson Leland Bragg
Eric Anthony Brandner
Erik Olivier Brandt-Nielsen
Sophia Breakstone
Magan Renee Briscoe
Juliana Bennett Brooks
Keenan Earl Brown
Zoriah Chanise Brown
Gavin Hill Bryant
Erik Christian Brzoska
Ian Edward Buckalew
John Albert Bukowski, Jr.
Gavin Xavier Burke-Colon
Ellie Nicole Busch
Ty Ward Butler
Collin Michael Byrne
Madelyn Elisabeth Caldwell
Rylee Melise Calhoun
Sylvie Soleil Call
Richard Fabian Camarillo
Riley Jack Campbell
Bruce Lamar Carpenter
Lilia Grace Carrington
Cally Brooke Casterline
Bennett Lane Cate
Ryan Lawson Cate
John Roy Chapman, Jr.
Mackenzie Janet Christensen
Kameren Ablesin Dean Clark
Andrew John Clayton
Joshua Austin Coleman
Courtney Marie Collins
Madeline Margaret Conlon
Timothy Kyle Jonathan Glen Cox
Sarah Ashlynn Crain
Jackson Daniel Crow
Matias Sebastian Cuestas Rodriguez
Kaitlyn Marie Cullen
Liandra Lucy D'Amato
Colleen Paige Daily
Jacob Todd Daily
Alissa Claire Dannehl
Joseph Lee Daprano
Addison Michael Dattilo
Lisa Danielle Davis
Safreen Sikander Dayani
Talia Maria De La Torre
Constance Blaise deGolian
Nicholas Jeffrey DeHart
Alyssa Marie Deland
Sarah Louise DeNell
Caden Clair Denison
Riya Suleman Dhani
Marcus Antonio DiBattista
Ronald Derek Dickerson, Jr.
Kylie Irene Dickinson
Daniel Joseph Diletti
Madeline Sara Diragi
Taylor Andrew Dobbs
Katie Belle Dodgen
Shawn Mitchell Dolak
Emilio Takumi Doreste Nagashiba
Hannah Elizabeth Dowdy
Ashley Nicole Dunlap
Luke Thomas Dunphy
Evelyn Duran
Benjamin Ryan Easter
Abigail Grace Edwards
Payton Faith Edwards
Hannah Grace Elwell
Kerrington Sidney Estrada
Naya Isabel Cortez Evangelista
Austyn Taylor Evans
Kylie Ann Eves
Hannah Maryam Ezzaoudi
Brayden Andrew Fairrel
Maricruz Fambro
Brandon Demetrick Fambro, II
Frazier Conner Farrell
Daniel Ignacio Fernandez
William Daniel Fincher
Jakob Ryan Flores
Calvin Lamont Flowers, Jr.
Abigail Marie Foncannon
Duncan Kumar Forester
Ryan Jackson Formel
Owen Robert Fritz
Shellby Elizabeth Fuentes
Sierra Brooke Fullerton
Elizabeth Nicole Gaddis
Steven Lewis Galindo
Yajaira Crystal Garcia
Arisa Mary Gauvin
Kalani James Gella
Hannah Louise Gibson
Alyssa Romero Ginn
Cecilia Anne Giordano
Wendy Irene Gomez Carrilo
Lisa Emily Goodall
Joseph Brett Goss
Morgan Elizabeth Gossett
Alexander Robert Greco
Edwin Weaver Griffiths
Carrie Alise Grimes
Lorenz Haas
Sabrina Zainab Haider
Emily Anastasia Hall
Jermaine Malcolm Hall
Jermal Martin Hall
Faith Marie Hambrecht
Nicholas Edward Hamlin
Cailey Denise Hardman
Jillian Mei LiJie Hart
Johnna Katherine Haskew
Colton Alexander Hayes
Destin Ashley Hebert
Iain O'Brien Hemenway
Owen John Henahan
Abbigail Suzette Henke
Meredith Elaine Henry
Reason Carl Henry
Pricila Hernandez Cano
Reece Aaron Hildebrand
Domaja Renee Hill
Amaan Hirji
Jade Dhane Holloway
Rebecca Dale Holloway
Sophia Elizabeth Hook
Sebastian Orlando Huerta Vasquez
Devonte Noel Huggins
Claire Alexandra Ivory
Zachary Thomas Jaeger
Thomas Eric James
Grace Evelyn Jarosz
Mya Ann Jarosz
Chandler Nathaniel Jenkins
Patrick Adams Jewell
Ethan Michael Johnson
Madelyn Kate Johnson
Ryan Ginn Johnson
Ella Blue Lytzhoeft Jones
Kay Isabella Jones
Shayaan Ahmad Kabir
Shane Raymond Karafanda
Adrianna Noel Kaszonyi
Bettye Grace Kilgore
Cyhyeon Kim
Shi Ho Kim
Dane Anthony Kinamon
Kasey Faye King
Sydney Anne Knudson
Parker Adam Korn
Justin Alexander Kramm
Amanda Grace Kronenberger
Oliver Lawrence Krupa
Benjamin Thomas Kuchenbaker
SungHyuk Kwon
Shannon Marie Ladefoged
Dorothy Lai
Inaara Lalani
Alaysha Janae Lamb
Brendon Christopher Lane
Halle Rebecca Yuan Lane
Michael Lamar LaTella
Nicole Elizabeth LaVigna
Clayton Lamar Lawhead
Genibert Esteban Lecusay Rodriguez
Yuheon Lee
Jaeun Lee
Sarah Kathryn Leroux
Mincheol Lim
Chandler Jeffrey Liming
Samuel Liu
Alyssia Nichole Lopez
Bailey Alexander Lopez
Sofia Nicole Lopez
Haley Jane Lord
Edward GeorgeLord, III
Yareli Lorenzano Guzman
Asia Alexis Lucas
Owen Fuller Lucich
Jennifer Leigh Lyon
Simon Douglas Mahler
Byron William Main
Erik Jeffrey Malasek
Caroline Nicole Malloy
Paul Mahal Marapao, Jr.
Blake Aaron Marks
Kennedy El'leah Marsh
Reese Elaine Marshall
Gwendolyn Ann Martin
Dominic Anthony Mastronardi
Ryan Patrick McBride
Jacob Seth McCann
James Huxford McCollum
Matthew Wayne McCullough
Miles Cort McLeod
Sean Parker McMarr
Abigail Leigh McMichen
Hannah Jane Miller
Kacie Lauren Miller
Kennedi Faith Miller
Spencer Ray Miller
Tariah Lauren Miller
Chloe Gabrielle Minor
Jimena Miranda Trevino
Katherine Grace Mitchell
Kathryn Jia Monheim
Alisha Yamin Monroe
Charlotte Vale Moore
Macie Ruth Moore
Monserrat Camille Morgan
Liam Alexander Morse
Michael Hagen Mrizek
Anna Coleman Muh
Sakinah Michele Muhammad Worsham
Emma Marie Murray
Karim Ahmed Murtaza
Hakim Ismail Mustafa
Yebin Nam
Christopher Anthony Nastasi
Shivani Natarajan
Taylor Edward Naugle
Jordan Dyanne Nelson
Nathan Jude Milton Netto
Mark Guo Ni
Tiana Noelle Nichols
Bridget Maria Cecilia O'Connell
Andrew John Ogle
Daniel Ryan Ogle
Justin Ok
Joselyn Stephany Olivares La Chica
Arman Mehdi Ostadazim
Elisa Dominiquie Ostrander
Noah Preston Oul
Brooke Carolyn Owen
Kaitlyn Nicole Parietti
Chaeyeon Park
Sewook Park
Haleigh Nicole Passarella
Akash Shregalbhai Patel
Bharvi Birjukumar Patel
Jasmine Bhavin Patel
Yash Vinit Patel
Kaitlyn Nicole Patterson
Wyatt Anderson Patton
Hannah Elaine Penson
Jesse Nicholas Perry
Daisha Renee Petty
David Rudolph Petty, III
Cole Sullivan Pickering
Andrew David Pinckney
Mallory Jane Plunkett
Grace Defelice Podolski
Dylan Patrick Poole
Naomi Grace Xiaodi Post
Gillian Marie Pressel
Reece Daven Prokop
Sydney Marion Pruitt
Nicholas William Pruner
Catherine Rebecca Quarles
Alondra Ramos Torres
Matthew Thomas Randolph
Bayro Rangel-Molina
Brooke Elyse Raniere
Elizabeth Ann Renick
Christina Joy Richardson
Mikayla Lorene Rivers
William Donald Roach
Ryan Keith Robertson
Yajaira Marie Rodriguez
Mackensi Logan Rohn
Mikaela Jordan Rohn
Stephen Brian Rossetti
Cassidee Sabryna Rotolo
Courtlyn MikRay Rotolo
Dakota Caleb Rowan
Angel Jesus Salinas-Magana
Logan Wesley Sandal
Jason Ryan Sanders
Steven Clint Sapp
Nylah Justina Saunders
Jack Thomas Savoie
Mia Eleanor Scarbrough
Kolbie Charles Scheetz
Lauren Elizabeth Schimandle
Jillian Alexandra Schreiber
Vivian Taylor Scott
Zion Tyrone Sellers
Ashley Oury Senghor
Anna Marie Seville
Man Kandarpkumar Shah
Jocelyn Lee Shelfo
Ryan Fletcher Siegel
Utkarsh Singh
Emma Karen Skaggs
Ethan Micah Slepian
Alexa Marlene Smith
Caroline Christine Smith
Tiffany Noelle Smith
Niambi Patricia Snowden
Samuel Hayden Snyder
Harrison Glenn Soles
Jesse O'Neal Statton
Shelby Lynne Steen
Kody Ryan Stephens
Alec Carlton Sterne
Devon Martin Stock
Lucy Susan Stone
Alexander Joshua Stowman
Katherine Sanders Strickland
Jonah Alan Sussman
Takuma Suzuki
Jill Christine Talbott
Erica Ohashi Tang
Samuel Edward Tarajos
Ethan Alexander Tehrani
Milena Isabella Terrell
Kaitlyn Yi Thompson
Matthew Maximillian Paredes Toledo
Emma Elizabeth Toner
Kamryn Elizabeth Torr
Braden Mark Towers
Morgan Elizabeth Tracy
Claire Shin-Ann Traylor
Marissa Lynn Trebuchon
Zachry Alan Tredo
Emmanuel Lee-Jordan Tullis
Andrew James Valladares
Robert Connor van Zyl
Lucia Marvelle Vazquez-Brajus
Abigayle Brooke Venn
Grace Ellen Waddell
Chancessey Faith Waldrop
Andrew Michael Walter
Tyler Holloway Watkins
Madison Bailey Weaver
Leigh Aura Wheeler
Jason Christopher Wheeler, Jr.
Alisa Ann White
Emma Grace Hess White
Nelson Tola Hess White
Kaden Blaise Whitehead
Ava Victoria Whiteley
Matthew Guy Whitson
Ryan Timothy Wijaya
Kyla Tarae Williams
Skylar Ann Williamson
Caryanne Randolph Wilson
Claire Grace Wilson
Riley Christopher Wilson
Timothy Michael Wilson, II
Luke Daniel Wonderley
Lane Elizabeth Wortmann
Elizabeth Susan Wright
Kyle Thomas Wright
Matthew Todd Wuehler
Cymmone NiShawn Dior Yancey
Stephanie Marie Yi
Silviya Yordanova Yordanova
Annalise Nichole Young
Jin Uk Yun
Raad Zakir
Chen Long Zhang
Jonathan Zhiyuan Zhang
Taylor Alan Zuzek
Tristan Alfonso Zuzek
================================
Following are May 2019 graduates of Sandy Creek High School, Tyrone, Ga.:
Joshua Robert Adams
Julian Aaron Alexander
Anderson Robert Allen
Kayla Jean Alston
Benjamin Jacob Cagle Altizer
Keylissa Renee Amos
Ashley Ntozake Andrews
Trevor Max Anglin
Rodney Anthony
Niya Marie Antoine
Olakunle Lemuel Busayomi Aremu
Albert Victor Arjun
Jordan Lashea Armour
Colton Blake Ashley
Ngozi Nwakaego Awachie
Joshua Dishon Baldwin
Jada Brenee' McKenzie Ballard
Gabriel Fernando Bartolomei
Micheal Basulto
Joshua Charles Battle
Fletcher Lilie Bazard
Randall David Bell
Tyler Amil Berry
Nandita Karisma Bhagwandin
Timothy Lee Bickerstaff
Brooke Erinn Bolling
Jordan Isaiah Booker
Jessica Trinity Branch
Desmond Nelson Braxton
Amaya Taylor Brinson
Brandon Anthony Brodie
William Robert Browning
Cary Bruton
Emma Delean Bryan
Jordan Xavier Bunkley
Jared Mackenzie Burgess
Tayla Marie Burns
Alexxis Jerae Campbell
Janna Sapphira Campbell
Emmanuel Cardenas Mendoza
Tammie Lynn Carder
Cassy Ann Carpenter
Kuyora Caraine Devette Charles
Marley Jean Charles
Fanny P Cheng
Trevon Demetrius Chestnut
Dallas James Clark
Jasmine Nicole Clark
Derrick Jermaine Clay
Omarian Marcel Clemons
MacKenzie Lyn Cole
Maria Vanesa Cordova Palacios
Shadai Kera Crighton
Jade Victoria Croslan
David Christian Cunningham
Maya Nyali Dacres
Elliott Alexander Darr
Jillian Constance Davis
Madison Bea Davis
Marlon Edward Davis
Marvin Errick Davis
Langdon Walker Dial
Lindsey Shantel Dodson
Callie Meredith Dow
Adreyna Morrel Duncan
Akilah Khari Duncan
Brenden Charles Duncan
Dominic Andrew Dutton
Sarah Grace Eason
Nyasia Mone Edwards
Otha Means Edwards
Laurenton Charles Elcock
Avery Dawn Elmore
Cameron Lee Etheridge
Allysha Gwyndoline Feggari
Bernard Marquis Finch
Connor Ryan Ford
Samantha Maria Tori Ford
Vanessa Gamez Tejeda
Jennifer Garcia-Martinez
Duncan Tillery Garvin
Madisen Alexandra Gatheridge
Chyna Monet Gibson
Zachary Miguel Gilbert
Mikayla Gianna Gilstrap
Najah Imani Glasco
John Christian Glass
Jamila Nicole Godfrey
Miroslava Gorgonio
Katalin Ilona Gossett
Samantha Arrieana Grant
Demirez Rashard Grier
Whitney Joy Guest
Daniel Jonathan Gunnells
Abigail Beth Haines
Aleesia Desire Hairl
Alexander Devante Hairl
Sienna Taylor Hall
Victoria Rose Hammock
Toni Andrea Hampton
Aden Devon Hand
Jamar Armon Harris
Destani LynnHaynes-Thomas
Tristan Paul Hendrickson
Tierra Aliyah Hill
Shawn Montrell Hobson
Rueben Jamal Hodge
De'Trawn Xavier Hooks
Benjamin W Hou
Benjamin W Hou2
Connor McKinley Housley
Roney Howard
Zoe Maria Hsu
Andrea Delali Huisso
Ryann Imani Ingram-Woodard
Enrique Khallid Jackson
Adam Andre' James
Breah Michelle Jeffrey
Carlys Tytionna Ala Jenkins
Kyle Jonathan Jenkins
Dionne Maleka Jennings
Nicholas Robert Jennings
Jalen Norman Johnson
Kelsey Marie Johnson
Audra Chanel Jones
Dominick Gabriel Jones
Ian Edward Jones
Julissa Angela Jones
Madison Tyiana Jones
Lorenzo DeWayne Jordan
Marguerite Alleyah Keith
Corey Emmanuel Ben-Job Kerr
Mariele Arie Kimmey
Trenton King
Justin Tayler Kinninger
Ethan Knight-Scott
Skyler Druw Knox
Cole James LaBaff
Arianna Normari Lama
William George Lawton
Jaquille Desean Lee
Jamal Dante Lewis
Rose Catherine Nneoma Livinus
Lauren Taylor Lockhart
Nathan Alexey Loewer
Isabella Grace LoMonaco
Fatima Lopez
Jaqueline Letycia Lopez
Nina Cherie Lum
Brian Matthew Lyle
Tiana Ashani Lynch
Fernando Franquez Madera
Gabrielle Akita Madison
Alex Kim-Long Mai
Olivia Dene' Mann
Tiffany Sierra Manning
Sara Mascheroni
Caiden Jamari Chez McCoy
Rylen Michael McCrary
Jacob Alexander McCurry
Jahvi Ali McDaniel
John Collins McDaniel
Kanoti DaeQuand-Isaiah McDaniel
Diamond Victoria McElhaney
Lynnesia Alexis McGahee
Morgan Andru McKnight
Abigail Lauren McLemore
Ja'Nethia Janea Means
Kamryn Valli Meikle
Haydee Vanessa Mendez
Marisa Melina Mercado Badillo
Lily Victoria Metsker
Kendric Deyon Miller
Tabitha Kaylene Miller
Azucena Molina Jimenez
Mario Andrew Moreno Esqueda
Abigael Kaylah Morris
Stephanie Elizabeth Morse
Sarah Brook Nalley
Keyshawn Eugene Nelson
Damyra Abigail Nevers
Tuyet Anh Tran Nguyen
Abraham Ochoa
Hannah Steele Ohlmeier
Makeila Okorowo
Nnamdi Blaise Osanu
Wannera Easter Oun
Edgar Antonio Pacheco Martinez
Lindsay Claire Papasodero
Anna Marie Pate
Brianna Jamie Paul
Summer Daryl Paul
Tyler Austin Peavy
Mark Hamilton Penson
Sandra Peralta
Kyla Nicole Person
Gianna Thanh Phan
Vainzina Neoy Pheach
Marcus Clayton Phelps
Joshua Damon Phifer
Randall Ponder
Randall Ponder2
Michaela Marie Price
Elijah James Prudent
John Henry Rawls
Autumn Mone Reddick
Allison Ming-Lai Reid
Dylan O'Neal Rice
Tyler Marguerite Ricks
Ariel Dulaney Rucker
Andrew James Russell
Andres Osvaldo Sanchez
Ariz Jebien Simon Sayson
Eric Justin Seay
Janasia Niqari Seneque
Michael Patrick Siler
Mika Patricia Siler
Emily Belen Silva
Tyler Ahmad Sims
Micaiah Chanise Slaughter
Chynae Carolyn Smith
Darien Nyles-Julian Smith
Ian Jeannette Smith
Malia Nicole Smith
Skylar Marie Smith
Zion Jacoby Sontag
Sarah Anne Sorme
Delores Nicole Spangler
Matthew Alexander Sparkman
Kameron Antuan Staple
Neil Alan Staples
Isabella Stefania Stec
Danielle Steinberg
John Carter Suess
Roberto Andre Tamayo Guillen
Davis Gibson Tapp
Christian Ramon Tate
Dominique Jenna Taylor
Andre Teague
Leonela Jamilex Tenemaza Quinde
Paris DeMiah Thompson
William Robert Thornton
Nicolas LaFayette Toomer
Rhaychel-Ellyne Elessabeth-Maye Towns
Alexandria Nicole Trotter
Ryann McKenzie Troutman
Justin Alexander Tukes
Emuvoke Stephanie Ishe Tuoyo
Lucious Turner
Roshaun Payton Turner
Sereybandit Ty
Toni Gisele Chidinma Uboh
Alexis Valadez
Hunter Davis Vaughn
Julia Elisabeth Vazquez
Jordan Alexis Walker
Kris Cateel Walker
Leon Lewis Walton
Cameron Alexander Washington
Nayah Jae' Weston
Lauren Ashley White
Sierra Rain White
Christopher Elijah McDonald Williams
Destiny Marie Williams
Janae Denise Williams
Lauren Marie Williams
Nailah Rain Williams
Xavier Denzel Winfield
Bitanya Taye Woldegabriel
======================================
Following are May 2019 graduates of Starr's Mill High School, just south of Peachtree City, Ga.:
Katie Leigh Alldredge
Ryan Stephens Allen
Nathan James Allison
Lauren Elizabeth Ambrose
Natalie Ann Amella
Oreoluwa Oladunni Amosu
Laura Mariella Anderson
Caroline Grace Andrews
Alyssa Rae Angelo
Kellie Camille Arnold
Liam James Artman
Kate Leigh Ashmore
Bailey Leigh Austin
Jack Vincent Baker
Oluwatooni Oluwademilade Bamiro
Donivan Alan Barth
Abigail Mackenzie Beaulieu
Jonathan Charles Belcourt
William David Belcourt
Sophia Helene Bender
Adam Mark Bennett
Luke Michael Bennett
Jaden Bryce Berezinski
Elisabeth Maria Bergmann
Emily Katherine Beseau
Grace Helen Beseau
Jansen Anthony Beuten
Jahde Ayana Blair
Providence Alexa Blalock
John Erskine Blaum
Samuel Carl Bohdan
Filip Johan Borjeson
Cody Ryan Borovsky
Jordan Daniel Botte
Isabelle Grace Bowman
Gwyneth Leigh Brannon
Camber Maria Bransky
Gracie Nicole Britt
Rayford Lee Broomfield
Ayanna Shamia Brown
Allanah Kristina Bryant
James Michael Burnett Jr.
Mya Elizabeth Burns
Harrison Lee Burrus
Eloise Anne Camp
Tre Mikale Cannon
Audrey Elise Carroll
Chloe Anne Carter
Carolina Judith Castillo Hernandez
Trent Pierre Chardac
Saijleen Kaur Chawla
Hayeon Choi
Hunter McCutchan Chu
Logan Patrick Cognac
Jordan James Cole
Carol-Anne Kaitlyn Collins
Sarah Grace Collins
Caroline Ayres Colston
Matthew Phillip Composto
Madison Michelle Corkill
Steven Joseph Corrado Jr.
Matthew Roe Craig
Caroline Elizabeth Crockett
Kerry Elizabeth Cronin
Zoe Madison Daly
Dorothy Anne Daniel
Andrew Allen Dantzler
Rebecca Eleanor Davis
Tara Elizabeth Davis
Tori Teresa Davis
Rachel Elizabeth Davison
Kristen Taylor Decos
Kevin Douglas Dee
Hannah Grace Defler
Joel Dominick Delmonico
Jordan Kennedy DeLoney
Rachel Lynn DeMarcus
Mary Michele Dennis
Joseph Keegan Dente
William Michael Doil
Sarah Elizabeth Dorr
Alexander Michael Drouillard
Jacob Matthew Duben
Lea Marie Duben
Tyler August Duben
Auston Taylor Duckworth
Evyn Rianna Dunn
Serenity Starr East
Julia Paige Edwards
Sarah Grace Edwards
Emily Elizabeth Egan
Santiago Daniel Espinosa Salas
Liza Jin Eubanks
William Chad Evans
Claire Emily Grace Fagan
Grayson Scott Faircloth
Emily Marie Falla
Aidan Daniel Lane Fenwick
Joseph Francis Ferraro
Ian Thomas Fertig
Shelby Louise Foster
Megan McLelland Fox
Andrew Fitzpatrick Fry
William Hudson Fry
Momoka Ashley Fukuyama
Harrison Carter Fultz
Zachary Matthew Garcia
Sebastian Garzon
Jeffrey Alan Gesswein
Mackenzie Lynn Gibson
Elizabeth Graham Gilmer
Myah Lindasia Gilmore
Zion Justus-Simeon Glenn
Caitlyn Michele Gloriod
Armani Ashley Goffe
Jacob Alexander Granger
Jonelle Rae Granger
Sierra Renee Gray
Hailey Marie Grebeck
Ryan Thomas Grisamore
Garrett Alexander Guillard
Kelly Nicole Haas
Jan-Peter Hahn
Trevor Jordan Hall
Molly Paige Hancock
William Alexander Handy
Jordyn Taylor Haney
William James Harper III
Ava Rattray Harris
Mitchell Reid Harris
Preston Robert Harris
Reid Spencer Harrison
Abrianna Mary Elizabeth Hausman
Cassidy Caroline Haycock
Michael Edward Heatherly
Blake Rodd Helms
Ryan Patrick Henderson
Danielle Elizabeth Herr
Athena Vera Higgins
Caleb Shelby Higgins
Conor Roche Highland
Carson Heidt Hines
Jonathan Lang Hooper
Harrison Jeffrey Hopkins
Sara Huang
Ethan Blount Humphrey
Jacob Anthony Hunt
Mary Madeline Hunter
Jordan Christopher Huntington
Matthew Eric Hyle
Christina Nicole Jackson
Delaney Rose Jackson
Logan Shezan Jalil
Katherine Nicole Johnson
Sarah Jeanette Johnston
Edward Ziji Jones
Wiana Nicolette Julien
Jacob James Just-Buddy IV
Carson Amyr Kamal
Geoffrey Hamilton Karli
Sarah Louise Karol
Collin Kraig Kasler
Sarah Elizabeth Rose Kelly
Ana Rose Kewley
Tatmeen Khimani
Reka Erzsebet Kilgren
Michael David King
Sean Patrick King
Caroline Grace Kingsley
Sarah Katherine Kirby
Madison Riley Knowlton
Kaitlin Jean Kojali
Michael Nathan Koscho
Tiffany Kriel
Eric Philippe Lacourly
John Luke Lamneck
Colby Nicholas Lance
Sara Frances Landgrebe
Michael Jeffrey Lantz
Jacqueline Danielle Laureano
Aaron Mitchell Lawson
Sarah Elizabeth Lawson
Jalen Markal Lazenby
Kaylee Helen Leachman
Megan Lindsey Lee
Henry James Leonard
Carson Wade Lester
Guyi Liang
Qi Ru Lin
Elizabeth Anne Lindley
Katherine Anne Linkner
Allison Paige Little
James Edmund Lock
Vanessa Marie Lopez
Jamesie Kay Lussos
Joseph Michael Garcia Lynch
Julian Isaiah Lynch
Nada Ahmed Mohamed Aly Mahmoud
Alexander Thomas Mahr
Abigail Ainsley Mapel
Allyson Rene Marlow
Cheryl Allyson Marshall
Madison Ann Martin
Mason Talbot Mayfield
Lauren Elizabeth McBryde
Samuel David McElreath
Sarah Catherine McNulty
Natalie Rene Menniges
Brady James Meyer
Maxwell Connor Meyhoefer
Marissa Jo Mezosi
Devon Michael Moan
Isabella Mei Moc
Maysoon Fawzi Mohammad
Kennedy Elizabeth Morgan
Kylie Mae Moses
Ben Matthew Mrosek
Colton Ray Mullins
Ryan James Mullins
Samuel Navarro Michel
Sean Nima
Christopher Alexander Noell
Ethan Riese Nuqui
Nicklas Gustav Nyman
Gracen Quinn O'Neal
Katelyn Claire O'Shields
Tyler Matthew Walton Odom
Manuel Alejandro Olivares
Kevin Arthur Olszeski
Amy Elizabeth Orr
Else Lee Ortega
Ansley Elizabeth Osborne
Gillian Sage Owens
Ofeenel  Paredes Trinidad
Meritt Elaine Parker
Grant Andrew Parry
Om Dharmesh Patel
Alexcia Patricia Patelles
Thomas Andrew Patterson
Jake Mackenzie Paupe
Noah Ray Pavel
James William Pecoraro
Timothy Neal Pepper
Rhett William Perry
Erin Grace Pham
Sean Patrick Phelan
Alyson Grace Phinney
John Joseph Piceno Jr.
Destanie Leeann Pogue
Kalib Ayden Poirier
Brian Patrick Port
Emma Lee Posey
Luke Allen Presley
Madison Rachel Prillaman
Kelsey Marie Proffitt
Anthony Dean Quina
John Thomas Radcliffe
Lauren Nicole Ratinaud
Jordyn Indola Reeves
Kaitlyn Elizabeth Reiss
Kegan Daniel Roberts
Kobe Nathaniel Roberts
Parker Alexander Robichaud
Nolan Vincent Robichaux
Lydia Grace Robinson
Madelynn Rose Rockwell
McKenna Elaine Rockwell
Ronald Charles Romuno II
William Seth Rosenhoover
Blake Radcliff Ryan
Jenna Catherine Sanders
Alivia Anne Sapienza
Wakana Melody Sato
Derek Matthew Saylor
Madison Brooke Schmidlkofer
John Paul Schneider Jr.
Adam Michael Secor
Laura Morgan Sellers
Leah Marie Serratelli
John Cole Shadinger
Adam Shanab
Ryan David Shanahan
Kelsey Marie Shelton
Sabrina M Siddiqui
Cameron Clark Sinclair
Carson Albert Skinner
Kaitlyn Anne Smillie
Dylan LaMont Smith
Harrison Christian Smith
Rebecca Lyn Snyder
Bree Arkell St. Julian
Stephen Michael Stalzer
Rilee Maxwell Stapleton
Zemmie Lynn Steger
Rose Maureen Stephens
Aubrey Kathleen Stewart
Brooklynn Rose Sullivan
Christin Angela Syblis
Ansley Georgiana Taubert
Nicholas William Tawadrous
Brannon Noah Taylor
Rylie Kathryn Taylor
Vladimir Taylor
Luis Alejandro Tellerias Rijo
Blythe Bonner Terry
Kylee Mellissa Thompson
Shelby Elise Thomsen
Annslee Savanna Tokar
Caroline Sue Trimble
Jonathan Allan Ulversoy
Naomi Gabriella Valeich
Taylor Elizabeth Valenta
Emma Grace Valli
Emily Nicole Vano
Logan Thomas Veres
Ansley Grace Wallace
Neil Christopher Ward
Abigail Paige Weaver
Jack Kenneth West
Kelvin Dale Weyl
Brandon Robinson White
Clarence Edward White III
Samuel Kristopher White
Nicklaus Lee Wiest
David Nelson Wildermuth
Andrew Jacob Williams
Emily Elizabeth Williams
Mykell Moszell Williams
Samuel Floyd Williams
Walter Ethan Williams Jr.
John Patrick Wilson
Leanne Claire Windon
Taylor Reese Winter
Tyler Alexander Winter
Cole August Wittbrodt
Valen Rhys Yeager
Dylan Alexander Yost
Ethien Alexander Zambrana
Jacob Scott Zellen
===================================
Following are May 2019 graduates of Whitewater High School, just south of Fayetteville, Ga.:
Anna Lee Agi
Michael Ofori Agyeman
Hamza Anis Ahmed
Kaley Hope Allen
Katelyn Michele Allen
Onyedika Adaoma Anachebe
Kate Elizabeth Anderson
Alexandra Arevalo
Jacob Allan Atha
Emily Ann Bacallao
Lexie Lee-Ona Maima Bai
Donovan Lenard Baker
Shaye Nicole Baker
Rachel Elizabeth Barnes
Leonardo David Barranco
Ethan James Barton
Baylie Anne Bates
Derek Isiah Baughan
Lucia Carolina Bauza
Samara Latrice Benefield
Jordan Danielle Beslow
Ansley Grace Betsill
Zachary Patrick Betsill
Jenna Elise Bishop
Jalen Arthur Blevins
Isaac James Bohrer
Jackson William Bonner
Adelyn Grace Bousson
Michael William Bowman Olay
Ethan William Broderick
Audrey Raeann Brown
Jonathan Andrew Brown
Kileigh Renee Brown
Samantha Marie Brown
Spencer Jarrell Brown
Matthew James Brubaker
Megan Elizabeth Brubaker
Natalie Dawn Buck
Derrick Lewis Buie
Peyton Hudson Bunn
Hayden Maxwell Burns
William Matthew Burtz
Landon Sean Busby
K'Won Kinte Bush
Tyler Lyvell Byrd
Lisa Renae Calvert
Logan John Cannella
Christian Andrew Captino
Chandler Preston Carabajal
Taylor Victoria Carroll
Austin Taylor Chason
Grant Gilman Chenette
Maloree Virginia Christen
William Quinn Clark
Jada Leonne Claude
Charles Stephen Cofer
Ashlyn Elizabeth Cole
Juan Jose Collazo-Figueroa
Danielle Brooke Colvin
MaKenzie Trenae Compton
Joniyah Lanae Cooper
Silvia Cossu
Cassidy Marie Coupanger
Ca'Naan Thomas Crowe
Derek Richard Danley
Matthew Jacob Darby
Quanisha Ielisa Davis
Dresden Lee Day
Joshua Neil Diamond
Elsy Dominque Diaz
Xavier Elliott Dillon
Jordan Mikal Alexand Doggett
Leah Raquel Dolsak
Halley Nichole Doster
Austin Robert Duncan
Sydney Paige Edwards
Morgan Sarah Emerson
Emily Ailene Ennis
Daniel Alexander Evans
Connor Michael Ferguson
Shania Rose Figueroa
Abby Liju Fink
Kate Marie Flanagan
Cole Haydon Fourqurean
Robert Stephen Francis
Genesis Julieth Funes
Lilyann Chey Gable
SarahGrace Anne Gable
Joshua  Anthony Gardner
Madison Martinez Garrett
Margaret Rose Gaston
Kaden Frederick Gentzke
Hannah Marie Gibbs
Caitlin Genae Gillead
Alyssa Danae Givance
John Eric Goodman
Joshua Jackie Gordon
Jason Cole Gordon
Isaac Joseph Goza
Lacie Ann Graham
Anna Renee Gray
Curtis Derrell Green
Kija Marie Green
Hanna Makana Greer
Noah Makana Greer
Latrice Marie Griffin
Jocelyn Nicole Guerrero
Richard Scott Halbert
Stuart Brandon Hall
Christopher Merit Hamilton
Cameron Joseph Hammond
Byron Wyatt Hand
Seren Nikkohl Gabrielle Hardy
Christopher Blake Harrison
Kaylyn Arielle Harrison
Brieann Lee Heinssen
Madison Alexis Helmbold
Morgan Elizabeth Helmbold
Naafiah Alayna-aliyyah Hennie
Emma Caroline Hernandez
Sarah Michelle Higgins
Nia Anisse Hodge
Lauren Sohra Holcombe
Christina Elizabeth Holder
Haylie Michele Holmes
Kyron Addison Holmes
Ellison Grace Holt
Avery Marguerite Hopkins
Aaron Timothy Hornbuckle
Eugenia Lee Houston
Garett Thomas Hughes
Cody Dalton Hulings
Grayson Savannah Hunt
Ashley Nicole Hyde
Lance Roland Ibarra
Elise Amelia Inveen
Isaac Elliott Inveen
Copeland Simuel Jackson
Dione Joshua Johnson
Jacob Gary Johnson
Morgan Constance Johnson
Scott Joseph Joiner
Jared Henry Jones
Micah Alicia Jones
Monique Antoinette Jones
Skyler Alexis Justice
Spencer Allen Kalafut
Onwuka Paul Kalu
Christopher William Karki
Haley Rebecca Kendrick
Susannah Leigh Kendrick
Dakota Mason Killingsworth
Jacob Bailey King
Nia Michelle Knowles
Emily Ann Uzar Kobie
Hannah Carrington Kreuziger
Larissa Jonet Labohne-Flournoy
Kaya Jade Laudicina
Erin Paige Ledbetter
Damon Stephon Lee
Jasmine Grace Lee
Brandon Dean Lester
William  Richard Lewis
Josephine Ann Lipton
Justyn DaVon Loper
Adrian Isaac Lovingood
Justin Kenneth Lyle
Delaney Elizabeth Lyons
Grace Elaine Mallon
Joshua  Nauje Marks
Alejandro Marquez
Lia Mazorra
Brianna Kelly McAlister
Jalen Mekhi McCloud
Alec William McCrae
Brandon Josiah McDowell
Riley Jane McElveen
Levi Jason McElwaney
Lauren Olivia McKay
Thomas Doyle McKenzie
McKenzie Alexandra McManaman
Nicholas Brett McPeters
Austin Philip Meier
Sara Gabriela Mendoza
John Cameron Menley
Jackson Tyler Mensinger
Jakob Benjamin Mercer
Jaelyn Nicole Metzler
Madeline Kate Meyers
Nicholas Edward Milavec
Terry Jermaine Miller
Tyson Joshua Miller
Charles Wiley Millson
Jordan Ciara Milton
Tyler Daniel Minter
Kendall Michael Missel
Taylor Bethany Mitchell
Christin Kay Moody
Kerrianne Erinn Moon
Matthew James Moore
Matthew Allen Morgano
Dylan Todd Morris
Joshua Sterlings Morris
Brandon Patrick Morton-Leach
Carlos Manuel Mosco
Connor William Moss
Jennifer Grace Moulton
Geordan Delaney Mundy
Sengpasard Drake Munnicha
Andrew Scott Munsey
Parker Riley Myers
Iyana Dominique Naas
Rebekah Frances Nash
Eric Sterling Navaja
Olivia Anne Newsome
Kristine P. Nguyen
Octavia Ngoc Nguyen
Sabrina Yen Oanh Nguyen
Andrew Reed Nichols
Noemi  Nolasco
Carson  Augustine Ochabauer
Hunter Asa Ochabauer
Sarah Christine Oliver
Kavita Kaylana Olley
Micah Renee Ollis
Bounma Jake Outhavong
Jordan Tanner Outhavong
Raquel  Padilla
Katelyn Elizabeth Pasquarella
Khusbu Jaymin Patel
Courtney Elizabeth Patterson
Trisha Duong Pham
Shawntavio Emerson Phon
Abigail Marie Pickett
John Charles Pickett
Sarah Taylor Pierce
Katelyn Marie Pittman
Dylan Zachary Pitts
Jeremy Ellis Poitevint
Alexis Dominique Powell
Logan Parker Pridgen
Liam Finley Puckett
Sarah Khowaja Punjwani
Stephen Derrick Rader
Adavion Monkaj Ray
Hannah Noelle Redding
Marcus Scott Reed
Brittany Beth Marie Rice
Cody James Evan Rice
Gabriel William Richmond
Harrison Lee Riley
Kensey Leigh Robbins
Hayden Cole Roberts
Nolan Keith Rodriguez
Anna Rebecca Rogers
Thomas Eugene Romine
Sarah Elizabeth Ross
Jayla Leann Russell
Kaden Everett Ryan
Jolie Isabel Ryff
Mehak K Sahney
Ava Renee Sanford
Hailey Preston Sanford
Kevin Thomas Schell
Jaida Dawn Schram
William Jeffrey Scurry
Tytiana Amira Shaheed
Christopher Stone Shimer
Chyna Starr Shinall
Remington Thomas Shockley
Jason Robert Shrader
Trevor Alexander Simpkins
Sydney Gabrielle Sims
John Anthony Skibiel
Courtney Renai Smith
Emma Adele Smith
Matthew Alderman Smith
Megan Elizabeth Smith
John Timothy Solomon
Sydney Manda Soumamane
John Thomas St. Martin
Jordan Christine Staley
Heber Ryan Stanton
Nicholas Walker Stark
D'Asia Courtniana Starkes
Olivia Grace Starkey
Joshua  Andrew Stevens
Eden Grace Stoessel
Gabriel Brigham Stoker
Victoria Iona Stopford
Jonathan Gillham Stover
Nicholas James Sutherland
Ashliegh Nichole Sweatman
Martina Ayuk Takang
Joseph Anthony Taravella
Colin Adams Taylor
Carrington Dominique Terrell
Victoria Terry
Theodore Quentin Thayer
Julia Elizabeth Thomas
Regina Maurica Thompson
Tarah Gabrielle Thompson
Tireq DeKarlus Thorne
Nikolas Hayes-Edward Toney
Naomi Torres-Santos
Chase Addison Townsend
Alexa Elizabeth Tringali
Kelci Abrianna Trotter
Madison Rae Turner
John Hudlow Utley
Jackson Cobb Van Meter
Truitt Clayton Van Meter
Bailey Morgan Vessell
Melanie Lynn Wagner
Camille McKenzie Walker
Collin Douglas Walker
Elizabeth Annette Walker
Hannah Grace Walker
Bryce Joseph Wallace
Gracie Abagail Wannemacher
Alexus Selena Ward
Emilie Marie Warner
Drew Bailey Watson
Nicolas Webb
John Taylor Whetstone
Hunter Douglas Williams
Lawrence DeWayne Williams
Shakina Breonia Williams
Tharron Justin Williams
Alexis Ann Willis
Taylor Alexander Wilson
Matthew David Windon
Crystal Leigh Wood
Ella Kate Wood
Madison Leigh Wright
Warren Burt Young
Kayla Sasha-Solteria Zachary
Amir Rashid Zahir
Matea Enedina Zepeda