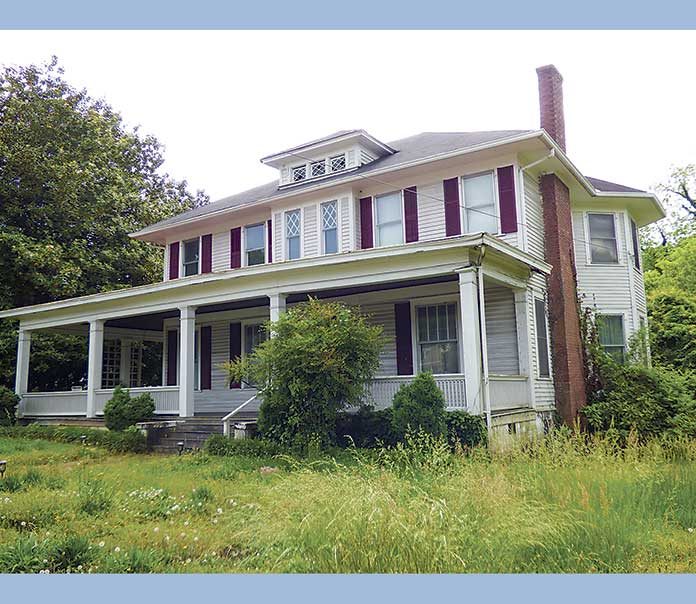 The Redwine House has been a fixture in downtown Fayetteville for more than 100 years. Though planned for use by the developer of the recently-approved Meridian on the Square mixed-use project, the condition of the house made that idea untenable. Instead, elements of the house will be incorporated into the new development.
Developer Miles Hill when originating plans for Meridian on the Square had the idea of using the house, constructed in 1910, as a leasing office or as a clubhouse for the residential component, said Fayetteville Downtown Development Director Brian Wismer.
A structural assessment of the house caused those plans to change.
The assessment by Walt Broom Real Estate Services noted that, "Overall, the property is deemed to be in very poor condition. According to Mr. Redwine, the house has been vacant with no type of maintenance for more than 12 years. Based on our observations, the poor condition of the property would support his claim as numerous critical repairs to the property have not been performed resulting in extensive degradation of the property."
Among the issues found were the roof in poor condition with significant evidence or rotting and leaking, some rotting on the porch area, needed repair or replacement of windows and gutters, numerous cracks in the foundation and interior damage due to the condition of the chimney.
The report also noted the presence of mold in the interior, with floor covering requiring replacement. Rotting was also found in the attic due to roof leaks. And the report noted finding lead paint and asbestos in the house.
Noting that the house is not designated as a historical structure, Wismer said even moving the house to a different location was found to be prohibitive because, structurally, the house could not withstand a relocation.
So what to do about the house since it cannot be used? Wismer said the developer plans to incorporated some of the architectural elements of the house into a display in the residential community room along with historical information.