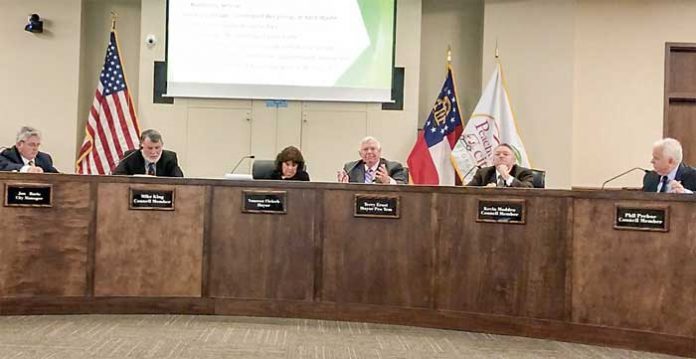 UPDATED MARCH 13 — Mandatory participation may be off the table, but Peachtree City is still seeking bids for a single garbage pick-up provider for every house in Peachtree City, according to an email March 13 from City Clerk Betsy Tyler.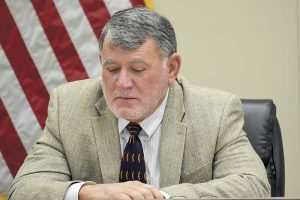 "There's no desire tonight for a one-provider hybrid approach" [to citywide trash pickup], said Peachtree City Councilman Mike King at the March 7 council meeting. That apparently didn't mean what this reporter thought it meant.
Here's a correction and clarification statement from City Clerk Betsy Tyler about the front-page story in the print edition:
CORRECTION and CLARIFICATION
"At the March 7 meeting, Council was finalizing a Request for Proposal for single-provider trash service and made several changes, but did NOT change the single-provider focus:
"1. The RFP is still asking for proposals from companies to serve as the single provider in all Peachtree City neighborhoods with publicly-owned streets — a clarification was provided that neighborhoods that privately own and maintain their streets may opt in or opt out and contract with a separate provider for their neighborhood. This affects about 25 neighborhoods out of over 200.
"2. The 'mandatory service' component was removed, meaning the requirement for all single-family homes to contract for trash service was taken out. If people choose to take their trash to the Fayette County Transfer Station, they could continue to do so.
"However, if they live on a public street and want to contract with a curbside provider, they would have to contract with the franchisee (if Council grants a single-provider franchise — this is true now, and they can only contract with the three companies currently holding a franchise).
"3. I believe Council Member King's quote about 'no desire tonight for a hybrid approach' referenced the hybrid services highlighted in the presentation, that combine a single provider PLUS an internal department for different components of the garbage/recycling/yard waste components. Milton, Newnan, and Roswell all have this type of contract, which [City Manager] Jon [Rorie] verbally called a hybrid and I listed as a 'Combination of Internal & External' under the options.
"As you noted, Council voted 4-1 in favor of sending out the revised RFP to trash service companies for response. The RFP, with the changes Council discussed at the meeting, was sent out on Monday (posted at http://maps.peachtree-city.org/purch/). The proposals will give Council actual prices to help evaluate whether moving to the single provider makes sense, versus some of the other options." — Betsy Tyler, City Clerk.
Thus, city staff has sent out a request for bids from any interested residential solid waste companies intended to give the council information about what steps to take next.
Removed from the request for proposal was the notion of mandatory participation by more than 10,900 households.
City Manager Jon Rorie said the revised RFP seeks bids on weekly curbside garbage pickup plus a biweekly schedule of recyclables. "Mandatory" participation by all city residents will be removed from the RFP, Rorie said.
What seemed to gain some traction was the notion of adding about $42 a year to every home garbage bill in the city to pay for repairing damaged residential streets. Since trash pickup bills are mailed out quarterly, that would be $10.32 added to the bill for each house every three months.
The controversy stems from the city's stark need to find additional money for repair and upkeep of mainly residential streets, money that's not now available with the current tax and fee structure.
Fixing streets is the first skirmish in a costly struggle to maintain city facilities.
City staff said one trash truck causes more damage to residential streets than more than 7,000 cars, and more than 40 UPS or Fed-Ex trucks. Rorie said it would take the equivalent of a 1 mill increase in the city property tax rate to pay for street repairs caused by the big trucks over the next several years.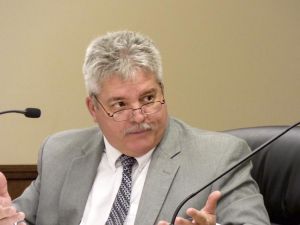 Using the city's soccer fields as an example, Rorie said, "You don't have to look at all the math to recognize that the more feet on the grass, the time, effort and money we spend on maintaining those fields is directly related to the number of feet that touch it every week."
Staff presented data that said the road wear and tear caused by one garbage truck was the equivalent of 7,037 cars, or 32 neighborhood delivery trucks from FedEx or UPS.
One citizen who spoke against the monopoly proposal noted that the city calculations omitted another type of large vehicle: a fully loaded school bus.
As for residential streets, "if I put 10 cars on, then 20 cars, then I get twice as much use, and use leads to degradation faster." In another example, if the streets were restricted to only golf carts and trash trucks, "2 million golf carts equal the damage of one trash truck," Rorie said. "In the end, damage is simply caused by use, overuse and abuse."
A city engineer said a recent laser analysis of the city's streets resulted in an average grade of 61 citywide on a scale of 0 being the worst ("down to dirt") to 100 being the best ("basically brand new pavement").
After last year's repaving of 14.5 miles, "we moved that number up to 64."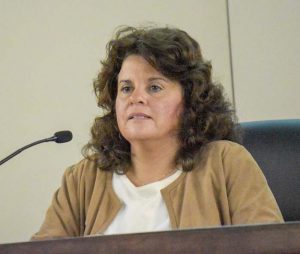 "How many years will a road at 64 last," Mayor Fleisch asked.
A road condition of 64 means that the road is past due for full-scale removal of its topping down to its gravel underlay and replacing it with all new pavement, which represents about three times the cost of simple repaving, the engineer replied. "We're in recovery mode," which must come before routine maintenance can be employed.
So what are the options? According to city staff, there are six:
• Open market for trash companies with no franchises or fees, and "no calls to staff."
• Non-exclusive franchise (the current situation with three companies from which residents may choose.
• A new city department devoted to picking up all residential trash.
• Combination of internal city responsibilities plus external vendors.
• Increase in franchise fee.
• Single-provider contract/franchise.
"If we do nothing, or stay the same, we're looking at about $450,000 a year in increased paving costs," Rorie said, representing about a $27 a year increase in what an average home pays in city property taxes.
"Or we can reduce the number of garbage trucks on residential roads," Rorie said. "Or, we can do the same thing and have three or four different vendors, and we're going to assess a sanitation franchise fee of $10.32 a quarter to make up the difference in that additional paving costs. So that's $41.28 per year per customer to make up for that $450,000 cost." The franchise fee would be added to the current vendors' bills to customers. That counts using available sales tax collections from a special purpose local option sales tax that ends in another five years.
"Or you could do nothing," Rorie said. In five years, after the SPLOST money runs out, "We will have to move our general fund budget from $1.8 million to $4.3 million" to pay for required repair and repaving.
"That's a 1 mill increase, just to reduce the backlog," Rorie said, plus the added $450,000 a year, about another quarter mill increase in local property taxes.
In the end the council consensus was that the extra money to repair and rebuild neighborhood streets had to come from somewhere.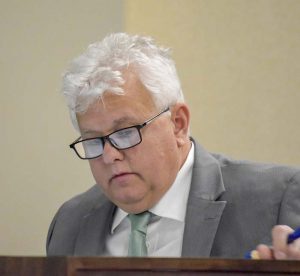 "We're not going to sit here tonight and make a decision on whether or not we are going to one provider," Councilman King said, with at least three other council members agreeing audibly. "This is going to be a hybrid approach going forward. It was never intended to be one or the other. Someone may want to opt out, and I see no reason why they can't. They may have to pay that $10.32 surcharge, but that option needs to be there." This quote was taken directly from The Citizen video of the meeting.
Councilman Phil Prebor asked for more flexibility in the bids, providing people a chance to opt out of the mandatory approach.
Councilman Kevin Madden wanted more information gathered through the RFP process. "We owe it to the people of Peachtree City to find out if … it's possible to save money, that the roads might last longer. We don't want to make the mistake of past councils" [in taking no action on pressing maintenance issues].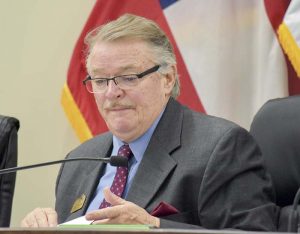 Mayor Vanessa Fleisch suggested an alternative approach might be to add $10.32 to everyone's quarterly trash bill to pay for the extra costs of repaving streets damaged by the heavy trucks from multiple companies.
"How do we make up the difference of $450,000 with three providers?" Mayor Fleisch asked. "We could skip the RFP process and just add $10.32 to everybody's quarterly bill, and everybody can keep their provider. It'll still be competitive, we just add $10.32 to everybody's bill, and that's something that all it would take is a vote. That way we wouldn't have to worry about collusion, or kickbacks or a monopoly."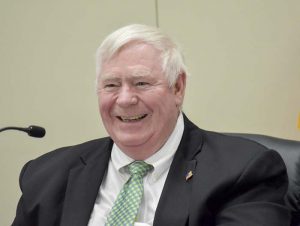 "I wasn't elected by the citizens of Peachtree City to tell them what color they can paint their houses," Councilman Terry Ernst said. "My feeling here is exactly the same. I don't think I was elected to tell you who can pick up your trash."
He was the lone vote against sending out an RFP. The modified proposal passed 4-to-1.
What has turned into an information-seeking RFP is being sent to all waste pickup companies that express interest, City Clerk Tyler said. The companies then have 30 days to respond, putting the results of the information gathering well into April.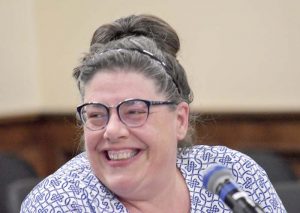 Currently, residents can choose among three different companies, according to the city's website: Pollard Residential Waste Services, Republic Services (incorporating Allied Waste, Allsouth Robertson, BFI, EPI and Environmental Partners) and Waste Industries (incorporating CLM, Cardinal Sanitation, Dependable Waste Services, Integrated Waste Solutions, Raintree Sanitation, Titan and Waste Management).
The quarterly base rate for Pollard is $49, for Republic $52.50 and for Waste Industries $46.
Prior to 2009, the city had no part in which companies offered their services to residents. "In 2009, the mayor and council approved contracts with four sanitation companies to provide residential curbside garbage and recycling collection," according to the city website. One of the four no longer participates.