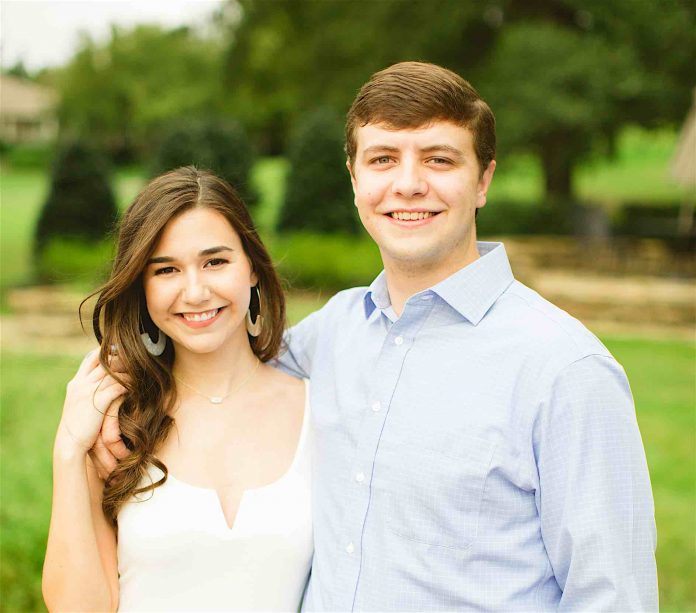 Ron and Cele Eifert of Peachtree City, Georgia are pleased to announce the engagement last January 2018 of their son Robert Charles Eifert to Hannah Elizabeth Winn Higgins, daughter of Joe Max and Tammy Higgins of Columbus, Mississippi.
The groom-elect is the grandson of Mrs. Anne Lawver Hoffman and the late Captain (USN) Robert Bernard Hoffman of San Diego, California and Mrs. Anita Schoepp Eifert and the late Reverend Clarence Charles Eifert of Wheaton, Illinois. The bride-elect is the granddaughter of Mr. and Mrs. Jerry Winn Lafe of Paragould, Arkansas , Mrs. Clara Jones and the late Mr. Jerry Jones of Paragould, Arkansas, and Mrs. Peggy Higgins and the late Mr. Max Higgins of Jonesboro, Arkansas.
Robert is a graduate of McIntosh High School in Peachtree City and a 2016 Summa Cum Laude graduate of Mississippi State University in Starkville, Mississippi, where he was a G.V. Sonny Montgomery Leadership Program Fellow and the top graduate in Business Administration major. Robert is a member of Alpha Tau Omega. He is an Investment Relationship Manager at Fidelity Investments in Westlake, Texas.
Hannah is a graduate of Heritage Academy in Columbus, Mississippi and a 2017 graduate of Mississippi State University, where she earned a degree in Interior design. Hannah is a member of Delta Gamma. She is an Interior Designer with Corgan Architecture and Design in Dallas, Texas.
The wedding is planned for March 2019 at Old Waverly Golf Club in West Point, Mississippi.