McIntosh High School soon will be the first school in Fayette County to dedicate a Wall of Honor to former students, faculty and staff who served their country in the U.S. Armed Forces.
Two cases located in the upper hallway at McIntosh will showcase these former students and employees with a photo and biography of their military service. The Wall of Honor is designed to include any McIntosh graduate or employee who currently or previously served as an officer or enlisted member of the Army, Navy, Air Force, Marines or Coast Guard.
Dr. Dan Lane, McIntosh principal and a strong supporter of the effort, said, "We hope the outstanding examples of service to our nation in our Wall of Honor will not only show our pride in the military careers of our graduates and staff but also encourage current and future McIntosh students to consider the possibilities for personal growth and professional achievement offered by serving their country in the Armed Forces."
Some notable honorees from recent years who will be included in the Wall of Honor: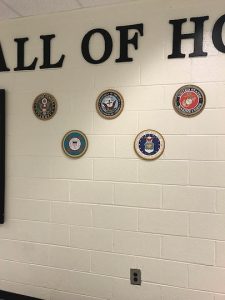 • Major Tyler Schultz, Class of 2003, USAF A-10 Combat pilot and recipient of the Distinguished Flying Cross and the Mackay Trophy, awarded for the most meritorious flight of the year
• Sergeant-Major Chuck Buckle (Ret.), McIntosh faculty 1981 To 2013, US Army Reserves, Sergeant Major, Operation Enduring Freedom 2002-2003. Legion of Merit.
• Major Chris Taylor, Class of 2003, USAF Test and Combat Pilot, F-35 Panther, F-15E Strike Eagle and F-16 Fighting Falcon
• Major John Powers, Class of 2003, USAF Combat F-16 pilot and graduate of the prestigious USAF Weapons School
• Captain Libby Taylor (Tiffany), Class of 2010, USAF HC-130J Combat Search and Rescue Pilot with the Combat Kings, just returned from a combat tour in Iraq.
• 2nd Lieutenant Megan Plunkett, Class of 2013, Medical Student at the Uniformed Services University School of Medicine.
Organizers are seeking information on all McIntosh students and faculty or staff who currently or previously served in the U.S. military for inclusion in the Wall of Honor. For additional information, please contact Kim Taylor, taylorfamilyptc@yahoo.com or 678-471-6398.