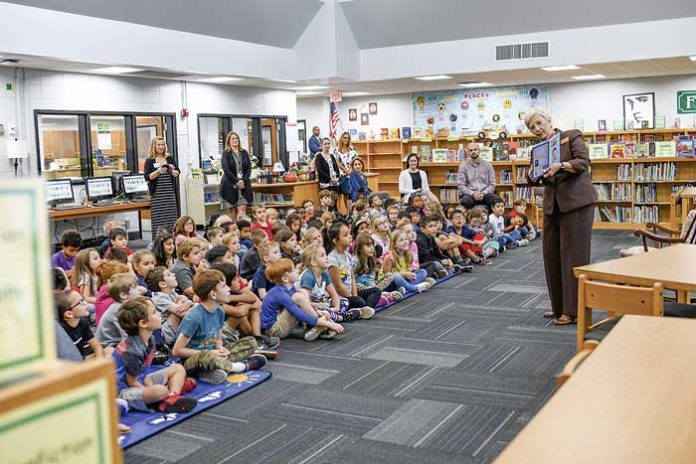 Whispers of "Is that her?" "I think I can hear her" "She's coming! She's coming!" came from an anxious group of second graders awaiting the arrival of Georgia's First Lady Sandra Deal. 
Deal visited recently and read to five Fayette County elementary schools – Cleveland, Braelinn, Oak Grove, Kedron and Huddleston. 
The visit was part of her Read Across Georgia initiative.
From creating different sound effects to characterization, kindergarten students at Braelinn Elementary were actively engaged as Deal read "The Three Little Fish and The Big Bad Shark" by Ken Geist and Will Grace. 
At Oak Grove Elementary, Deal was greeted by BRAVE ambassador Ella Greenberg who escorted her to Dana Popiel's pre-K classroom where students also enjoyed "The Three Little Fish and The Big Bad Shark." 
The royal treatment continued at Huddleston Elementary as student ambassadors also greeted Georgia's First Lady with a gift and escorted her to the library where Deal announced that she would be reading one of her favorite books – "Will Powers" by Coy Bowles – to an excited group of second-graders.
Deal taught students the importance of practicing and never giving up on their dreams.
Pre-K students at Kedron Elementary and Cleveland Elementary enjoyed listening to Deal read "Pete the Cat." 
Peachtree City's Mayor Vanessa Fleisch also joined in on the reading fun at Kedron Elementary. Kedron's pre-K students welcomed Deal with a banner, a flower, hand-made cards, and a CD full of songs from the pre-K students – they even performed a song for her. 
Each school was left with a special gift from the First Lady – a new book for their library.