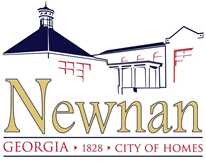 Newnan's annual Christmas parade rolls into downtown Saturday, Dec. 8, at 6 p.m.
The parade will begin at Armory Road and travel against traffic on LaGrange Street, making a right turn on North Court Square going around the square to turn right on East Court Square, ending at Greenville Street. The parade is expected to include various floats, walking groups, decorated cars, trucks and more.
This year's theme is "A Parade of Christmas Trees," and participants are encouraged to incorporate Christmas trees into their floats.
"Each year, the parade is an anticipated activity for the city. We're looking forward to spreading the Christmas cheer to onlookers attending this year's event from the youngest all the way to the young at heart," said Ashley Copeland, Newnan's communications manager.
Bill and Anita Headley will serve as this year's parade grand marshals. Bill is a retired construction contractor and founder of Headley Construction. Anita is most notably known for her philanthropic work throughout the Newnan-Coweta area and as a supporter and patron of the art community, as well as being active as a member of Central Baptist Church.
"They are both great contributors to the community as a whole, and they both represent what hardworking folks can do for the community," said Norma Haynes, chair of the city's Christmas Commission Committee.
Each year there is a float contest that goes along with the parade. Winners will receive a monetary prize and a parade plaque in these categories: Large Business; Small Business; School; Church; Civic/Non-Profit.
In addition, there will be a People's Choice Award in which this category is an after-parade award designed to drive more people to the city's Facebook page. "We're looking to make this event more social media friendly, and get on lookers more involved," said Copeland.
The float with the most unrepeated "likes" on the city's Facebook page wins. To be eligible for this award the float must have won in one of the five categories on the night of the parade.
The deadline to apply for the parade is Friday, Nov. 29. The entry fee is $35.