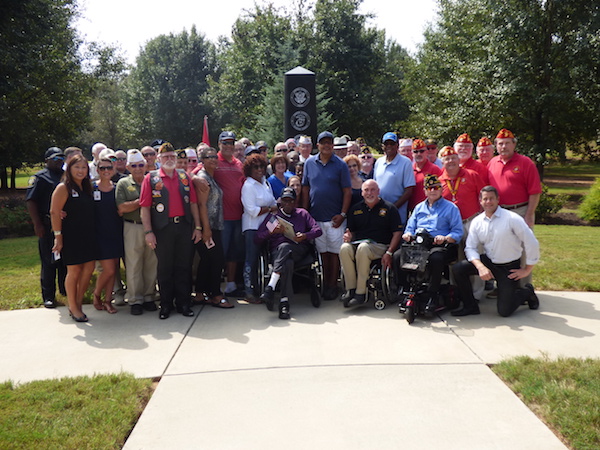 A group of nearly 100 veterans and well-wishers on Aug. 24 helped Master Sgt. Willie Miller (Ret.) celebrate his 94th birthday at Patriot Park in Fayetteville. Photo/Ben Nelms.
It was a different kind of birthday for Master Sgt. (Ret.) Willie Miller. A former member of the Montford Point Marines, Miller was honored by a crowd of nearly 100 at Patriot Park in Fayetteville on Aug. 24, the occasion of his 94th birthday.
Miller served from 1943-1968 in World War II, Korea and Vietnam. Serving with the Montford Point Marines, Miller and his fellow Marines received the Congressional Gold Medal, signifying their efforts as the first African Americans to serve in the Marine Corps.
At point during the brief birthday ceremony, Miller was handed a small American flag.
"There's nothing like this anywhere you go in the world," Miller said, gazing upon the flag.
The large crowd at Patriot Park included many veterans, military service organization members from throughout Fayette County, elected officials, staff from Fayetteville and Fayette County and staff from Southern Grace Hospice in McDonough where Miller resides.
The birthday ceremony also came with a wealth of recognitions, presentations, proclamations and memorabilia from fellow vets.
Among the organizations making presentations were The Marine Corps League, Fayetteville VFW Post 3650, Peachtree City VFW Post 9949, Fayetteville American Legion Post 105 and Peachtree City American Legion Post 50.