Kenty goes the distance for the victory; just 2 wins away from the title game
WILLIAMSPORT, PA — Peachtree City Little League's defense continued to hold as it took on the Great Lakes for its second elimination game in three days.
Jansen Kenty, who lifted a game-tying home run in the bottom of the sixth inning against the Southwest, went the distance with a six-inning complete game to help down the Great Lakes 4-3 on the 20th game of the Little League World Series.
---
Above, Peachtree City's Jansen Kenty stands on the field after pitching a complete game to help knock off the Great Lakes 4-3. Photo/Brett R. Crossley.
---
Kenty crossed the 85-pitch mark during the final batter of the game, pushed his totals to ninety, and completed a gem that saw him give up just four hits. Kenty threw strikes on 66 of his 90 pitches and faced just four batters over the limit throughout the entire game.
"I was just worried about throwing strikes," Kenty said. "I wanted to keep my pitch-count low."
Kenty only needed nine pitches to get through the first inning, but his total ballooned to 31 at the end of the second inning. It appeared Southeast Manger Patrick Gloriod was going to have to make a pitching change at some point.
The outlook all changed in the third when Kenty ended the inning with a six-pitch strikeout. He went on to retire the Great Lakes' hitters in order through the fourth and fifth innings before a one-out single in the sixth finally closed the run out.
Kenty retired eight consecutive batters, but more importantly kept his pitch count low, which allowed him to finish off the game with a strikeout.
It wasn't without a little drama as Jarrin Purify, who hit a home run in the third to end an 11-pitch at bat, reached first with a single in the sixth. He advanced to put the game-tying run at second with two outs.
"That kid is just a really incredible athlete," Gloriod said of Purify. "He's just so fast, but we knew they had a sub up who was going to try and bunt. I would have preferred he not get on base, but I wasn't too worried to be honest. I told the coaches if they score and tie the game we were going to come back and win it in the bottom of the sixth."
Gloriod wouldn't have to manage his way through another late-inning rally as Kenty ended the game by striking out Brennan Hill on six pitches.
"The run support was very important, because it gave me a lead and a lot of confidence," Kenty said. "It just really helped me out."
Peachtree City's offense scored four runs over the first two innings to give Kenty plenty of early run support.
A walk from Tai Peete and singles from Kenty and Jack Ryan helped Peachtree City score two runs in the bottom of the first inning.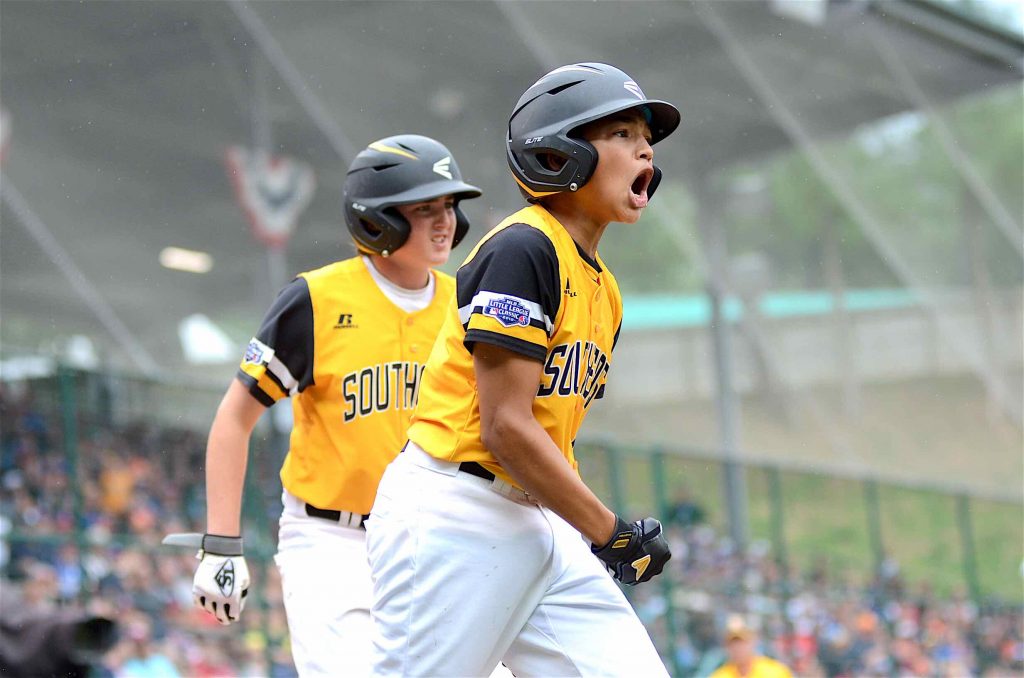 "I knew there was an opportunity to score runs and I saw the ball and hit it," Ryan said. "The shortstop was playing the ball up the middle and I saw it go through the gap and we scored two."
In the second, after the Great Lakes was able to tie the game with a home run from Oliver Service, singles from Will Clem and Wills Maginnis, who scored the game-winner against the Southwest Monday, helped put Peachtree City back in front.
"We knew we had Tai Peete to come in for relief," Gloriod said. "Typically, Kenty goes into the sixth. We went back and looked over regionals and he was averaging about five innings per game. We felt pretty good about it." — Reported and photographed by BRETT R. CROSSLEY, Special to The Citizen
====================================
Southeast 4, Grosse Pointe 3
GP 021 000—3 4 1
SE 220 00X—4 6 0
Brennan Hill, Reggie Sharpe (2), and Jake Martin. Jansen Kenty and Chase Fralick.
WP: Kenty. LP: Hill.
Top Grosse Pointe hitters: Jarrin Purify 2-3, HR, run, RBI. Top Southeast hitters: Wills Maginnis 2-3, run; Jack Ryan 2-3, 2 RBI.
Records: Grosse Pointe 2-2. Southeast 3-1.
Next: Southeast vs. Mid-Atlantic/West at Lamade Stadium, Thursday, 7:30 p.m. Grosse Pointe is eliminated with the loss.