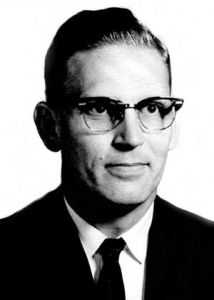 Dr. W. David Wimmer died on Sunday, June 24, 2018.  He was born in Anderson, Ind. on January 1, 1928. He married Audrey Young in 1957.
Dr. Wimmer was a member of Sharpsburg Nazarene Church, Sharpsburg, Ga. He graduated from Daleville High School; Indiana Wesleyan University, BS; Ball State University, MA and Psychometric Certification; Indiana University, Ed D.  Dr. Wimmer did post graduate work at Case Western Reserve University, and U.S. Army Management Engineering College.
Dr. Wimmer's teaching career included high school math in Indiana and Ohio; Huntington College, Indiana University; Jacksonville State University; and U.S. Army Reserve Schools.
He served with the 28th Infantry Division, United States Army in Germany and in the Army Reserves.  Dr. Wimmer retired from U. S. Civil Service at Fort McClellan, Ala.
Dr. Wimmer was preceded in death by his wife, Audrey, and his son Douglas Wimmer.
He is survived by his daughter, Lana (Tyrone) Jones, Peachtree City; sister-in-law, Brenda (Gil) Hartman, Decatur, Ala.; eight grandchildren; and eleven great grandchildren.
A funeral service will be held at 11 a.m. on Saturday, June 30, 2018 at the Chapel of Mowell Funeral Home, Fayetteville.  Burial will follow the service at Westminster Memorial Gardens, Peachtree City.  The family will receive friends from 9:30-11 a.m. prior to the service at the funeral home.
Carl J. Mowell & Son Funeral Home, Fayetteville – www.mowellfuneralhome.com.